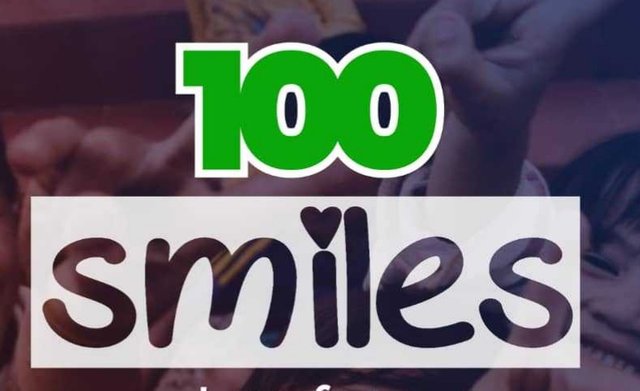 This Christmas, hundreds of children from around the world will go to bed with hunger pangs. They would watch as their mates dress up in nice clothes and fancy Christmas shoes, they would wish that they too could join in the fun but if wishes were horses…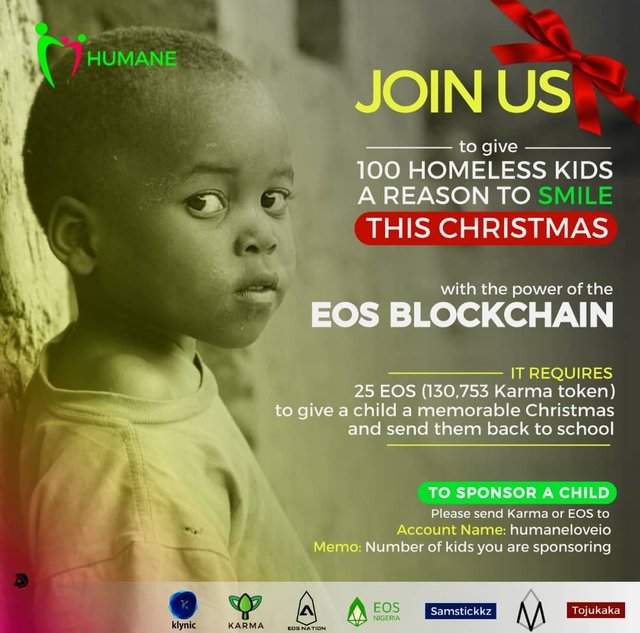 100 Christmas Smiles is the first humane project. This yuletide, with the support of the EOS Community we are going put smiles on the faces of 100 destitute children in the slums of Nigeria.
It costs 25 EOS to feed a child this Christmas and send them back to school. We need 2,500 EOS (25 x 100 EOS) to cater for 100 children.
WHAT THE TOTAL BUDGET (2500 EOS) WILL COVER
Provide a special sumptuous meal for 100 Children on Christmas Day (breakfast, lunch and dinner).
An EOS Christmas party in 5 slums across Nigeria, decorated with different EOS swags (open to 30 homeless kids in each location)
5,000 Customized EOS branded books (ABC of EOS Blockchain at the back of each book), pen and pencils.
2 school uniforms for each of these special 100 kids (20 from each of the 5 states)
Customized EOS t-shirts for these 100 kids that reads "EOS BLOCKCHAIN GAVE ME A DREAM"
Visitation to 5 different orphanages with relief materials and food
Free medical checkup for the kids
EOS BRANDED BOOKS
The front (1) of the exercise books for the kids will have EOS logo in front of it with a child drawing EOS logo on a big book. The back (2) will have ABC of EOS with definitions of some terms on the EOS ecosystem.
ABC of EOS Blockchain at back:
A: Airdrop
B:Blockchain
C:carmel
D:Dapp
E:Eva
F:Fork
G:Github
H:Hirevibes
I:ICO
J:Jungle Test Net
K:Karma
L:Launch
M:Mainnet
N:Network
O:Open Source
P:Private Key
L:*******
R:RAM
S:Scatter
T:Token
U:Unstake
V:Vote
W:Wallet
X:***
Y:*****
Z:Zimbra
**** = no dapp or keyword yet with that initials. The books will also have customized simple definitions of some keywords like BLOCKCHAIN, SMART CONTRACT, AIRDROP, DAPP etc The book will be published in 5 top Nigerian languages, we have already contacted translators for this purpose.
Location for the Slum Christmas party
Port-Harcourt - 25th December 2018
Abuja - 26th December 2018
Lagos -27th December 2018
Ibadan -28th December 2018
Uyo -29th December 2018
CONTRIBUTIONS/FINANCE
If you would like to contribute towards our project please send EOS or Karma to our EOS account.
EOS Account: @humaneloveio
Our account is transparent for everyone to view on the EOS Blockchain. https://bloks.io/account/humaneloveio
CONTACT US
TWITTER: @humaneloveio
INSTAGRAM: @humaneloveio
EMAIL: humaneloveio@gmail.com
STEEMIT: @humaneloveio
LOCATION: Nigeria
WEBSITE: Coming soon
KARMAAPP.IO:Coming soon
Show love, be humane!