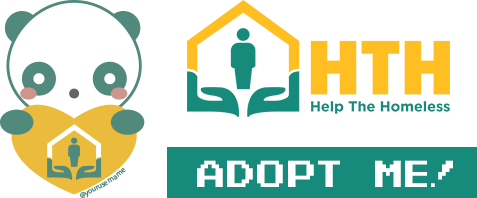 Join HTH discord server http://discord.gg/xqJxYKK
---
The Panda bot has been activated in #HTH discord server and now it is a ton more fun! You can get $HTH even easier :D
So to celebrate this new engagement tool I designed 4 Panda pets you can adopt with $HTH.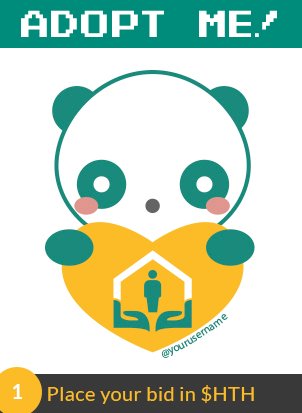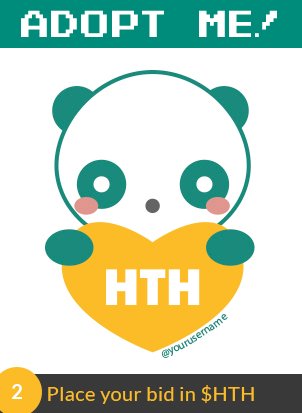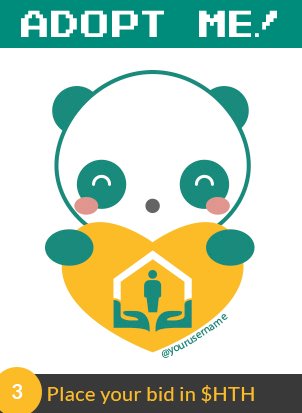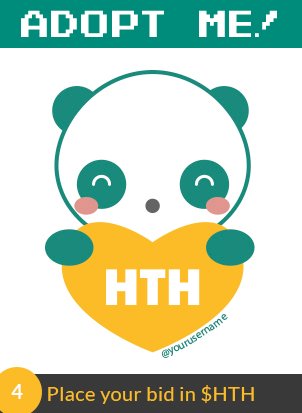 ---
How to adopt?
Select a panda: 1, 2, 3 or 4.
Place a bid in $HTH here in the comments section or in the HTH discord server discord.gg/xqJxYKK , tell me what panda it is for.
I will tell you if your bid is accepted.
If your bid is accepted no one else can bid for the same panda anymore. So if someone's else bid was accepted you can't bid for that either.
What do I get?
A high resolution image of the panda with transparent background with your username or website on it.
Where will the funds go?
All will go to charity.
You can select any of these charities to donate:

Grassroots Crisis Intervention

The Salvation Army of Athens, Greece

Help The Homeless Worldwide
How to get $HTH?
You can donate HTH directly to any of these charities if you want:
Landforthehomeless.org http://www.landforthehomeless.org/
HTH Address HFWpQU9VbEFMvEnNgdXjH6xC5zdUvKEadr
Grassroots Crisis Intervention http://www.grassrootscrisis.org/
HTH Address HUrsYtBYQqCPCqezHN5k51vKWXpFiNpwrz
The Salvation Army of Athens, Greece http://www.salvationarmy.gr/
HTH Address HQvnLwk1wvzY8jPjVtDdx8JVBnD3i6G5zk
Help The Homeless Worldwide https://helpthehomelessworldwide.org/
HTH Address HF5rjaXU7s3QCKuSb6uYJvAeVa3qWC3MKm
---
I hope you like this pets!