HTC.CASH is the next generation cash that base on blockchain
Blockchain now is very popular now a days that is why many big business company now is going into blockchain and we can hear it now and then to international news. They riding on the cryptocurrency's bull run specially on Bitcoin and Ethereum.
In blockchain technology some problem also occur because of many users use that blockchain network, they are having congestion like we can see right now in Ethereum and the effect on that is transactions are getting slow and the transaction fees are very high. Imagine if you send token using Ethereum network now the transaction fees is ranging 30$ to 75$ even the value of the token you want to send is just 10$. Ooh! that's a huge transaction fee.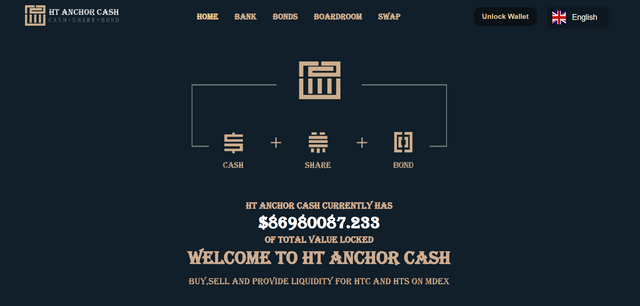 Now we have a new Project that is already positioning it self to solve that problem because it is built in Huobi Chain or HECO. Huobi Token (HT) is the basic asset on the Huobi Ecological Chain (HECO), and with the continuous development of the HECO ecosystem, there transaction speed is fast and the fees are soo low , it will just less than a cent per transaction. This is perfect for every one doing business online , doing business on cryptocurrency trading stuffs etc.
The project is HTC.CASH the first Algorithm Stablecoin pegged to HT on Heco Chain and this will be the best solution for every one that always on the go, in there businesses in cryptocurrency space. Htc.cash site is very elegant and the interface is very easy to use , you can see also there products like Bank, Bonds, Boardroom and Swap. The project is just starting and developing just give them a little time and we will see more products and features in there site. Since Htc.cash is a Defi you can do investment in there site like farming, mining , staking , add liquidity, and deposit your HT token to HTC or HTS token. This is the best time for every one to get in to this project will it is just starting because you can choose what investment product you want to go in. They have also Swap you can see it here https://ht.mdex.com/ but for now they are still developing it. The Bonds will be start on 94 hours from the time I write this blog. For more info you can visit HTC.CASH here: https://www.htc.cash/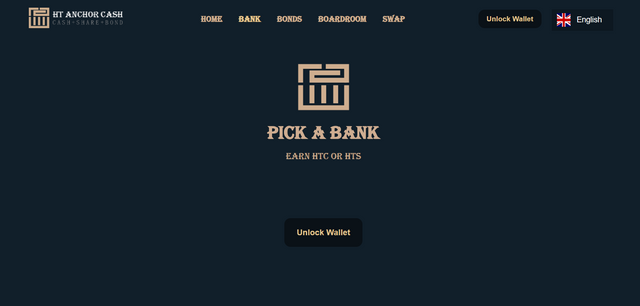 In HTC.CASH you will no longer roaming to other site because its already a one stop shop. HTC.CASH has it all. The ingredients you need as a crypto investor or a trader is already in here. If you want to stake you HT token or any assets that in HECO chain you can do it in HTC.CASH and If you want to mine HTC you have to add a pair of assets to liquidity pool and locking up for a period of time. That's the advantage of the Defi project right now you can mine or stake your token to earn more rewards while waiting for the price to go up. That is why I was not surprise that the Defi is blooming now a days in the crypto space and I believe there's more to come and much funds will pouring on it because investors chasing on it , for they know they can double there money in a very short period of time. If you want to know more about HTC.CASH project you me visit there website https://www.htc.cash/
I recommend this project to every one to buy HTC Token now before it will go to the exchangers because we all know that if a token is already in deferent exchangers the price will be ten time higher. This is your best opportunity to have it , buy HTC token now. If you want to make money in the bull trend of the crypto, this is the time to full your bag and you can stake it to earn more while waiting for HTC token goes to the moon.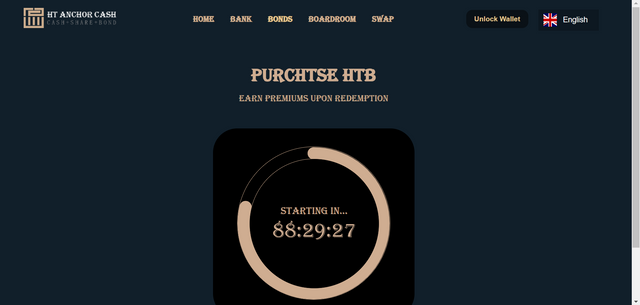 If you will go to the chart of 1 HUSD = 0.01312 HTC ($1.00) and the 24 hours volume is $373,943 a perfect time to buy early so that you can position your self and hold more HTC toke for the bull run. The 24 hours volume is a prof that this project will definitely successful and it will compete to the top cryptos that is listed in the cryptomarketcap.
There are many Defi project online to day that office ICO that is why for safety you need to make sure the legitimacy of the project if its a scam or not and you need to do your own precaution by not investing what you can afford to loss. Guy come to the legit one, it is built in HECO chain ask I know the Huobi chain screens all the project that is built on HECO chain to make sure that no scam or shit token can enter on the system and we all know the reputation of Houbi Exchange it self. If you want more information about the project HT ANCHOR CASH you can vist there website here: https://www.htc.cash/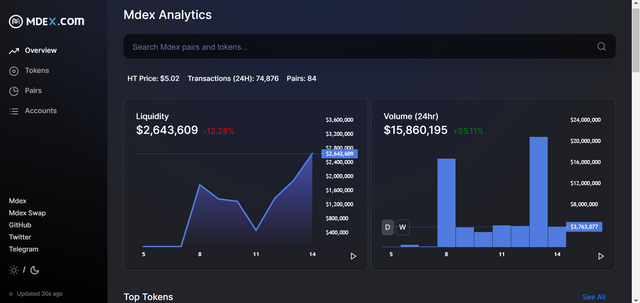 The HTC.CASH has three deferent token and it can be distribute though mining in there website. I you can see they have already $86 980 087.233 Of Total Value Locked, that's a huge of money already and many investors already invested on it.
#HTCCASH #HTC #DEFI #HECO #HuobiEcochain
The first Token is HTC.CASH or HTC token that has a Total supply 11001 HTC
Second Token is HT ANCHOR SHARE or HTS that has a Total supply 2100001
And the Third Token is HT ANCHOR BOND or HTB it will be coming soon
You can also visit their social media here:
Twitter : https://twitter.com/HtcCash
Telegram: https://t.me/HTC_CASH
GTI Book : https://htanchorcash.gitbook.io/htc/
#HTCCASH #HTC #DEFI #HECO #HuobiEcochain
---
---
Altcointalk username: spiderlee
Forum Profile Link: https://www.altcoinstalks.com/index.php?action=profile;area=account;u=2945
Telegram Username: @DlogHsur
Wallet Address: 0xF7116B38932B4890993220763e7b8CdA5078A159