How to make altered steampunk bottle: How to: Weekly contest by @tonie
Hello, artisan steemians! Do you have any waste materials at home and you just throw it away? Wait! Let's reuse it by making a DIY artistic project! Let's have fun and be creative! Today I will show you a step-by-step tutorial on how I made my steampunk bottle. This is an upcycling on how to transform your waste materials into a classic altered steampunk design. This is my first steampunk project and I enjoyed doing it. I always wanted to try this long time ago and finally, I made it. If you have empty bottle either glass or plastic and some other small pieces like buttons, buckle, paper clips, etc then start to make a new one. Duration of this project only takes a few minutes if you use a hairdryer to dry the paint faster. So let's get started and follow the instructions if you would like to do it yourself.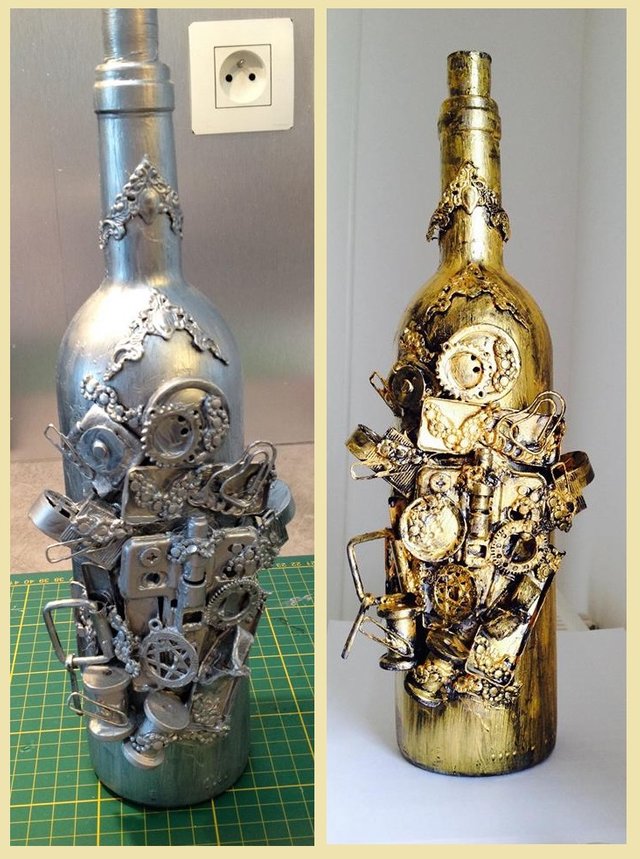 You will need the following materials: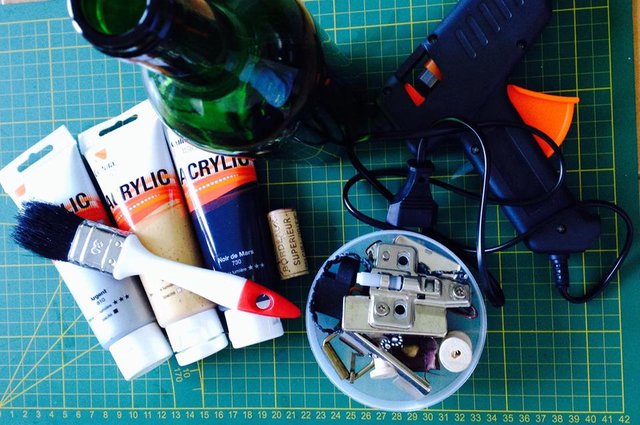 Empty bottle
Embellishments (metal, plastic or wood)
Acrylic paint (gold, black, and silver)
Paintbrush big and small
Newspaper
Glue gun
Glue stick

Let's begin and follow the simple instructions:
Step 1.)
Clean your bottle with soap and water then let it dry. Apply black acrylic paint all over the bottle. To dry it faster, use a hairdryer.

---
Step 2.)
Once the paint is dried, take your glue gun and start to decorate your small pieces embellishments like plastic or metal and etc. Be careful in using a glue gun. In decorating, feel free to stick the pieces close to each other. Lay the bottle on the surface for the best position in decorating.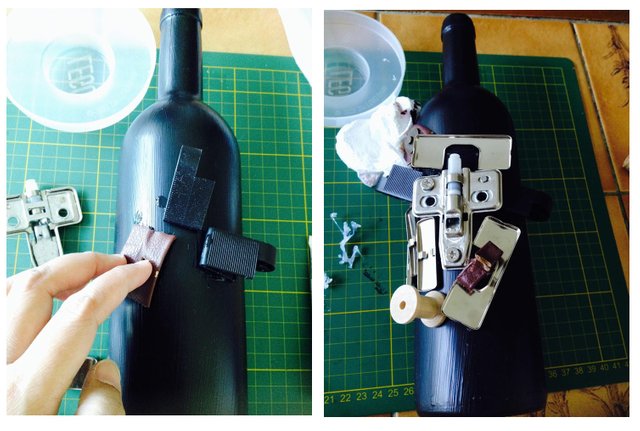 ---
Step 3.)
After decorating, apply silver acrylic paint and use a small paint brush for a better result. I'm using a soft brush. Then let it dry for the moment.

---
Step 4.)
So, this is the result of the painting.

Now let's add another black acrylic paint all over. Let it dry then add a gold acrylic paint for the last coat. You can paint it gently using brush, a tissue or your finger for the embellishments. But I prefer to use a paintbrush. Then I used paper towel to tap the paint gently while it's still wet. It depends how you do it, but I chose to cover all over with gold acrylic paint. Some other option once it will dry, you can use a sandpaper for the vintage or rustic effect or altered.

---
Our project is done and ready to display at your home, sell or offer to someone. This is just an easy project and affordable. I'm planning to make another steampunk soon but not in a bottle. There's a lot of things you can transform a recylce materials into arts. So let's do the DIY together and don't just throw away your things. Hope you like my DIY project for today.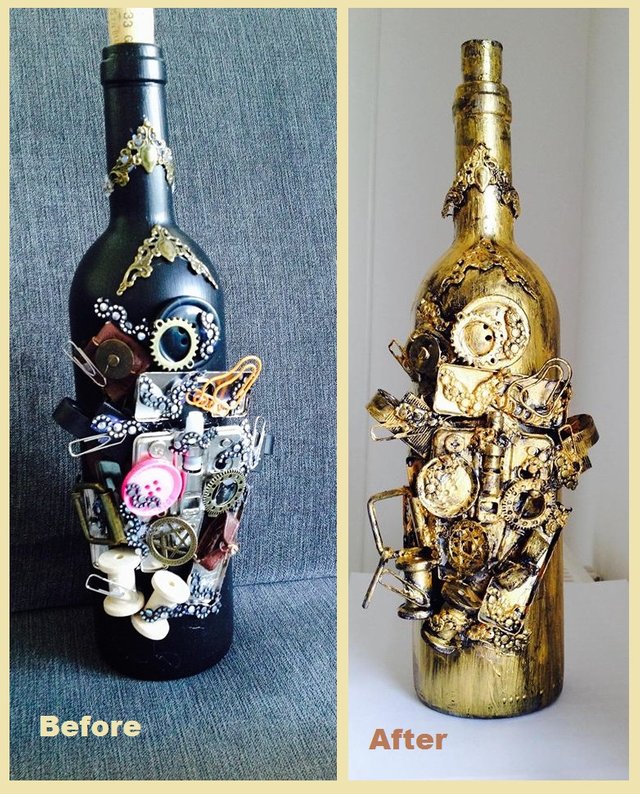 This is my entry for the weekly contest by @howtoweekly which created, sponsored and judged by @aoart and @roscoeh. Thank you for this initiative contest. For more details about this great contest, please check the link here.
Thanks for dropping by! See you in my next crafty blog! Have a great day ahead! Keep calm and be creative!
---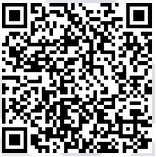 My Ethereum QR

This work is licensed under a Creative Commons Attribution 4.0 International License!