Late this afternoon, I was too busy doing our laundry and cleaning the house. Indeed, rest day at work means full-time duty at home. But, it's the most wonderful feeling. I am always happy being with my family even if it means a lot of household chores to do.
While my kids are away, I decided to cook "Palitaw" in english Sticky Rice Dumplings.
Palitaw is a Filipino word which means "to surface"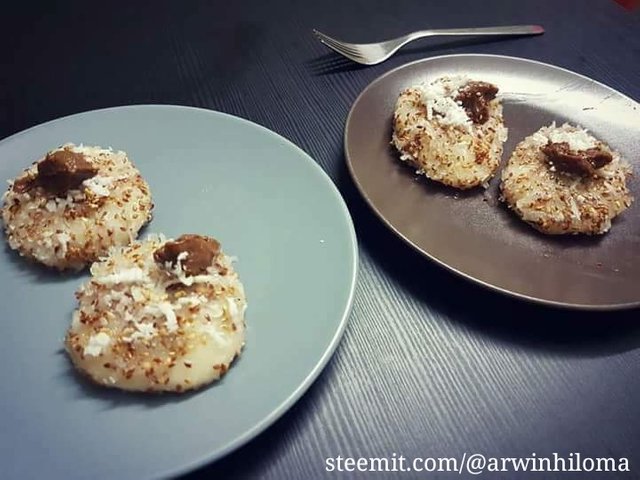 HOW TO COOK "PALITAW"
INGREDIENTS:
⚫ 4 cups glutinous rice flour
⚫ 1 cup granulated sugar
⚫ 2 cup water
⚫ 1 cup sesame seeds, roasted
⚫ 2 cup grated coconut
⚫ Yema spread

INSTRUCTIONS:
⚫Mix glutinous rice flour with water until dough is formed.
⚫Scoop a small portion of dough and formed a ball-shaped, then flatten it using the palm of your hands.
⚫In the cooking pot, boil water and put the flattened dough. When it floats, remove them, and set aside.
⚫In a bowl, mix sugar and roasted sesame seeds.
⚫Roll the sticky rice dumplings in a grated coconut then in sugar-sesame mixture, then top with yema spread.

Serving size: 8
Thank you,
Arwin