Google: best practices or PowerUp your daily searches
Hi there, steemers. Everyone of us use Google Search on a daily basis. Most of us use it not only on life and work matters but also when preparing articles for SteemIt. Today I want to show you how you can easily move to the next level of using Google Search. Tips shown in this research will help you become more efficient and save your time. This is easy-reading article that will be useful to most of people here. Don't forget to teach your friends this tips or just give them a link. Let's raise our productivity.
 In today's post I will not bore you with lots of technical staff but will cut to the chase. I will give you 3 very powerful and useful tips for Google Search with practical examples. And of course links to additional reading to Google's dry technical manual at the end.
1. "site:" search option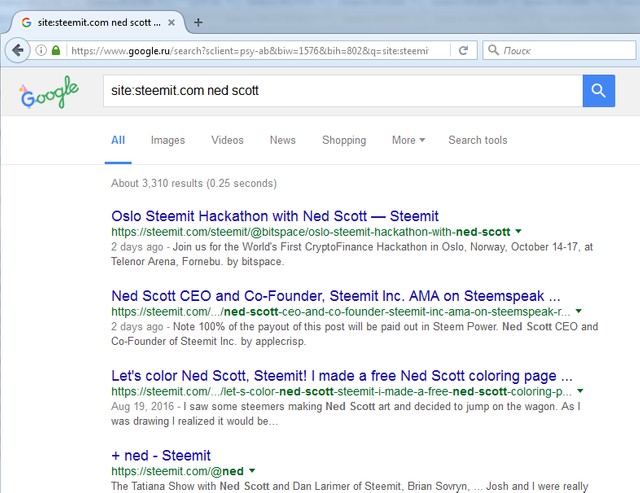 Just right after this option (no spaces) we put URL address (with 'http(s)://' or without as you like) under what only we want to perform our search. The results will be show from this site only under page given by you. Yes, you can type exact page not only site. Results will be searched on this page and under it using links from it but only under the provided URL address. 
This is very useful feature. Lots of sites provide not user-friendly search user interfaces or even do not have search engines. Steemit.com is one of them by the way. It uses Google's Custom Search which gives almost same results as our search with "site:" option. What exactly is Custom Search and what differs it from "site:" option is subject to another article. For now go try and play with "site:" yourself. You will love it and will use it on daily basis I am sure.
  2. "-" dash or minus symbol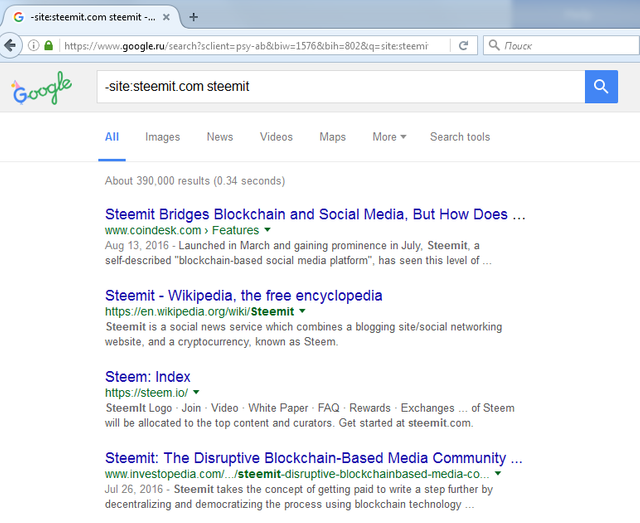 Wow, some special character now. What does it do? It excludes results with that word or on that site (URL) from your search results. In our example "-site:steemit.com steemit" we use dash to exclude results from steemit.com because we want to know how steemit is mentioned on other world wide web pages. You can also perform searches exluding words as I already mentions. Try that for yourself and guess your own example.
3. Timing period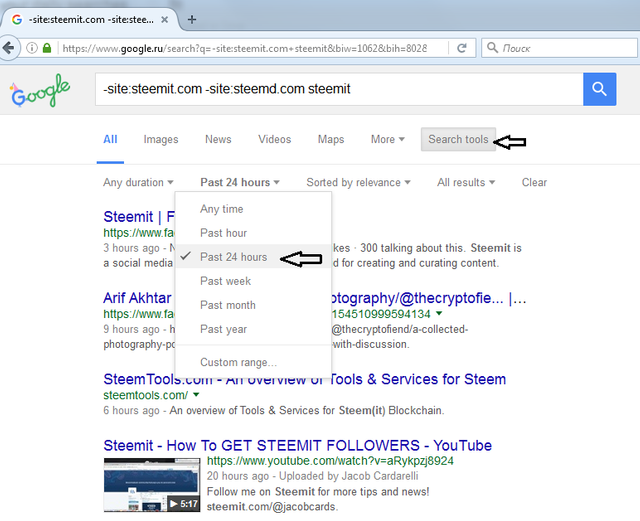 To search only pages added to Google's results during the last 24 hours (or choose when) you should press buttons as on screenshot. This "search tools" button appears only after first search and you can not see it on front page without any search results already in place. So in our example we search for SteemIt related articles, videos and news all over the World Wide Web except steemit.com itself (and steemd.com) added during last 24 hours. Why we want this? We're placing our hand at the pulse of how the Internet reacts to SteemIt. And how SteemIt users promote it all over the WWW.
So that's it for today I will not bore you with more. Go to google.com and play with various combinations. Add this post to bookmarks so you will not forget powerful tips. Stay tuned for more. 


Here are the sources I used if you want to know everything right away without mine explanations:
Search operators: https://support.google.com/websearch/answer/2466433
Search tools and filters: https://support.google.com/websearch/answer/142143