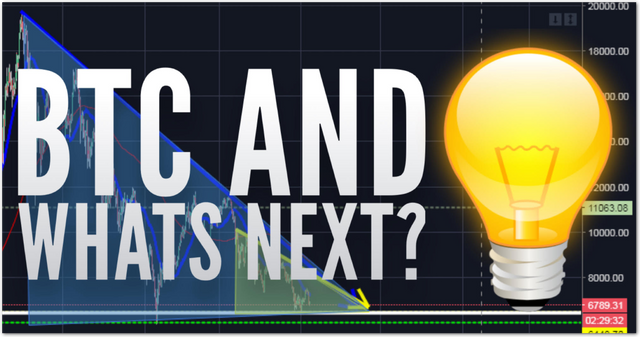 Don't Follow All the Hype
I think it's important to keep a clear head when paying attention to the news about Bitcoin prices going up and down. The media likes to dramatize things because it helps to sell clicks. One day you read "IS IT OVER FOR BITCOIN, PRICE DROPS TO $7000" and next day, "Bitcoin price increases 5%, are we back in a bull market?"
Just because they post "good news" about BTC increasing from $6,800 to $7,300 doesn't mean the storm is over. So how do you get your bearings?
Technical Analysis: The Fuzzy Crystal ball
It's not an exact science, but it will always give you a probability of what may happen next. TA is about a calculated guess, based on past experience and the psychology of what the masses may do next.
Keep in mind, I'm no expert in this an I'm always learning more, but these are the tools I use today to give me an idea of what's going on and where we may be heading.
Start with the Big Picture: Day Chart
This helps me to understand where it's been and maybe where it's going. I can see how quickly it's been moving and ask myself:
Has it been moving too quickly or slowly?
How long has this existed on this exchange?
Whats the biggest high it's had?

Day Chart: Trendlines
I'm not too dogmatic about these trend lines. It's just a general guide to show me the direction it's been trending. I'll draw one going up and down and I see, how many peaks do I touch on those trendlines? This shows me how relatively strong those trends are.



Now, when you see this type of a Triangle or a "wedge" forming, this is meaningful. This usually indicates a price "breakout" where it could shoot out dramatically in either direction. Depending who you ask, they may see this as a "rising wedge" or a "falling wedge". This is kind of hard to tell because it's not 100% clear. I look at it like an arrowhead and ask, "which way is the arrow pointing too?"

A "Rising Wedge" would indicate the price is about to reverse in the other direction, hence a price drop.


A "Falling Wedge" would indicate the opposite, the price is about to go up.

1-Hour Chart: Trend Lines and Channels
Now we can take this a bit further and look for "channels" in the chart. This is yet another way to spot resistance points. This doesn't have to be done on the 1-Hour chart only...this can be done on any timeframe.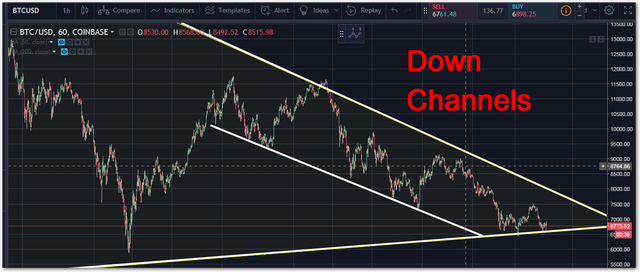 Resistance and Support Lines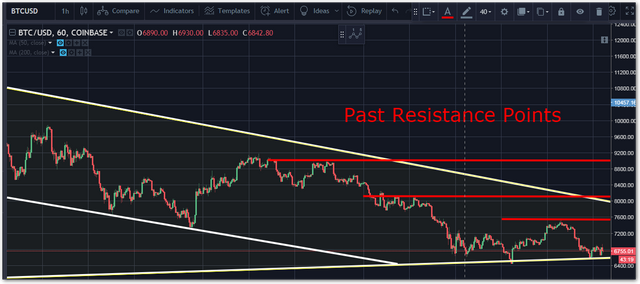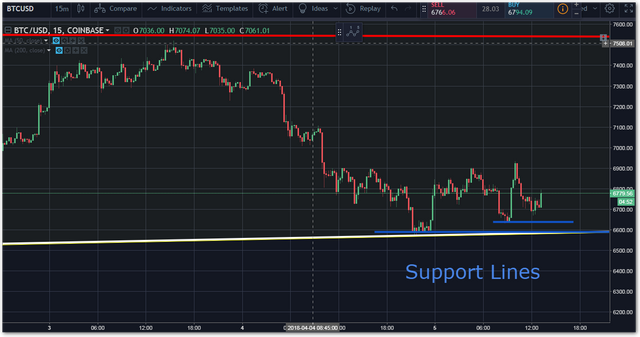 Putting It All Together
Based on all the info thus far, I'd estimate that it has temporarily hit the floor for now. It will rise to about $6,894 and then reverse back down.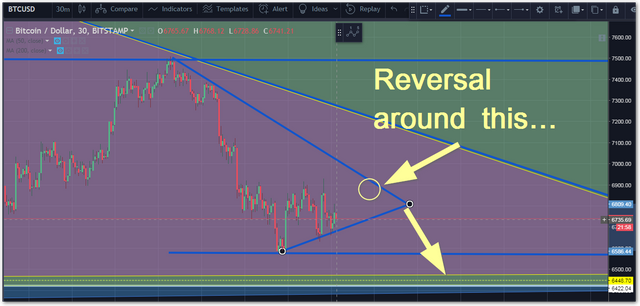 Overkill
Don't overdo it...or you'll just confuse yourself and lose track of what's going on.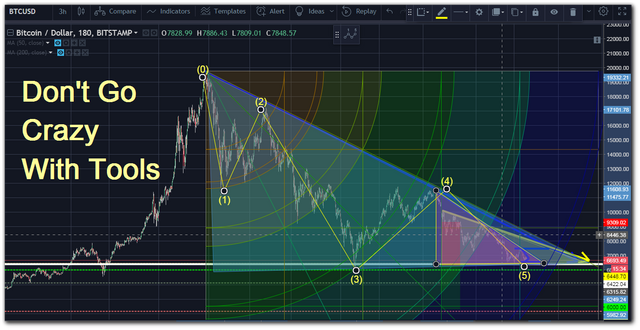 In Summary
This is how I do my technical analysis. Of course, I also look at a few other fundamental factors. Such as, what's going on in the news world. Is there FUD going on about some country going to arrest anyone dealing with Bitcoin? All those things can cause price drops as well. But, this is the basic idea.
Question:
---
Legal Crap
The above references an opinion and is for information purposes only. It is not intended to be investment advice. Seek a duly licensed professional for investment advice.
---
Sources
All images are of my own creation.
Screenshots taken from Tradeview