In this article I want to give you a more detailed tutorial how to exchange your SBD into BTC with the blocktrades-exchange-service and how to sell them for Euro/USD. This is only one opportunity to do it, there are many more ways to sell your BTC´s. If you like tutorials like this, of course I will give you more examples in future articles.
Today I want to show you a combination of the blocktrades.us platform and the cex.io exchange, where you can sell BTC´s for Euro or USD. From here you can make a payout to your credit card/bank account, after you exchanged it to Euro/USD.


[German] In diesem Artikel möchte ich euch eine detailliertere Anleitung geben, wie ihr mit dem Blocktrades-Tausch-Service eure SBD in BTC umtauschen könnt und wie man sie für Euro/USD verkaufen kann. Das ist nur eine Möglichkeit dies zu tun, es gibt noch viele weitere Wege um eure BTC´s zu verkaufen.
Heute möchte ich euch eine Kombination der blocktrades.us Plattform und dem Exchange cex.io zeigen, wo man seine BTC´s für Euro oder Dollar verkaufen kann. Falls ihr diese Anleitungen mögt, werde ich euch natürlich gerne noch mehr Beispiele in zukünftigen Artikeln zeigen.
---
1. Go to the blocktrades.us website and choose SBD/BTC as exchanging pair:

[German] 1. Gehe auf die blocktrades.us Seite und wähle SBD/BTC als Tausch-Paar: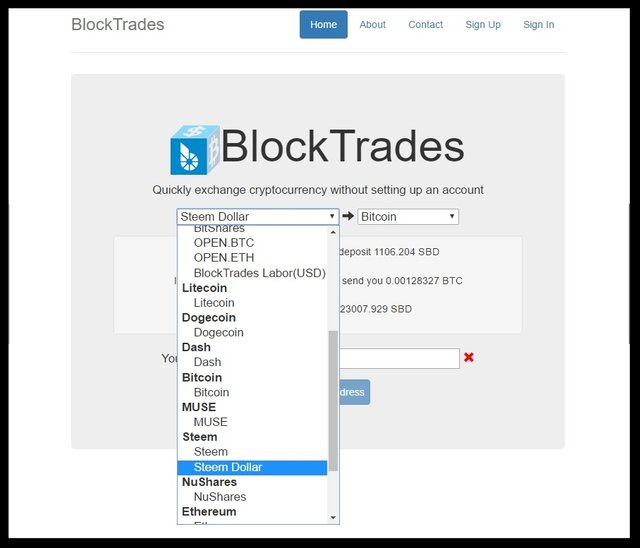 2. Go to the cex.io exchange and click on "Deposit" to get your receive address and copy it:

[German] 2. Gehe auf die cex.io Handelsplattform und klicke auf "Deposit" um deine Empfänger-Adresse zu erhalten und kopiere sie: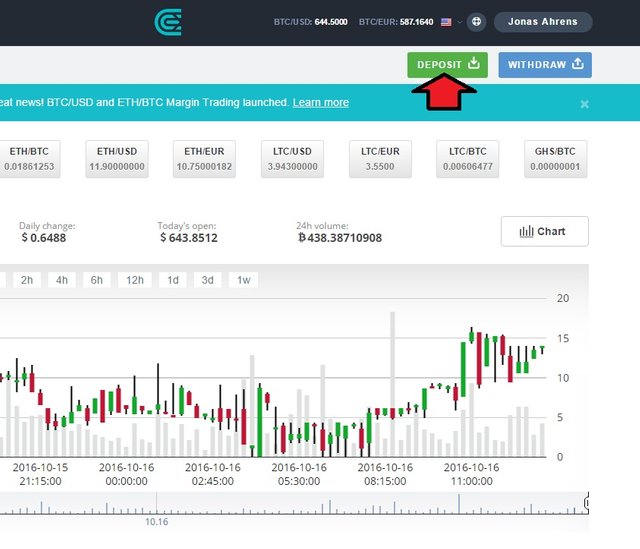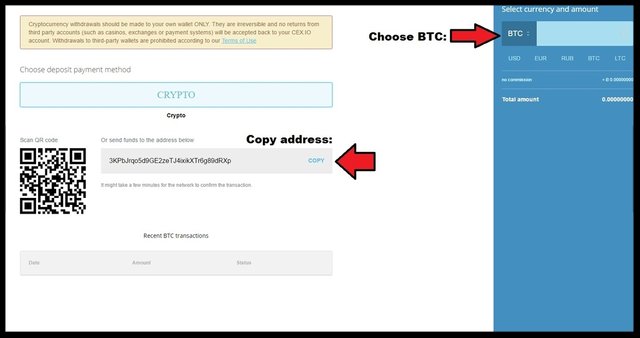 3. Paste the receive address in the field at blocktrades.us and click "Get a new Deposit Address" to get your unique memo code:

[German] 3. Füge die Empfänger-Adresse in das Feld auf blocktrades.us ein und klicke auf "Get a new Deposit Address", um deinen einzigartigen Notiz-Code zu erhalkten: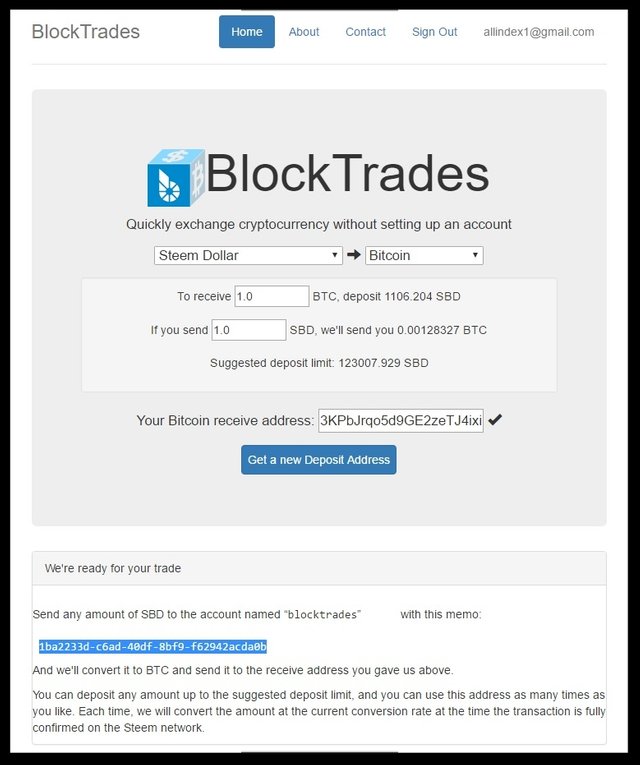 3. Then open your Steemit wallet and send the SBD to the Steemit-Member @blocktrades:

[German] 3. Gehe dann in dein Steemit-Wallet und sende die SBD an das Steemit-Mitglied @blocktrades: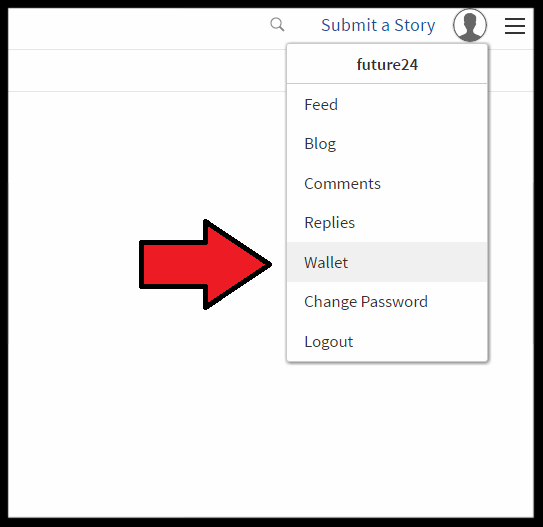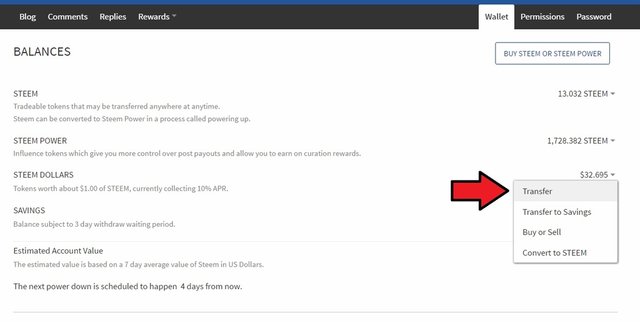 Don´t forget the memo code, it is important that the transaction can be assigned to you!

[German] Nicht den Notiz-Code vergessen, denn er ist wichtig, damit die Transaktion dir zugeordnet werden kann!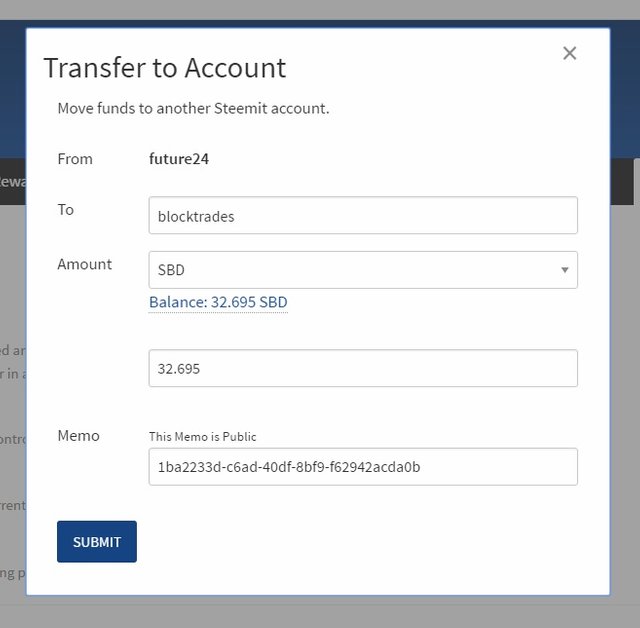 4. After only a few seconds/minutes you can see that blocktrades.us received your transaction:

[German] 4. Nach nur wenigen Sekunden/Minuten kannst du sehen, dass blocktrades.us deine Transaktion erhalten hat: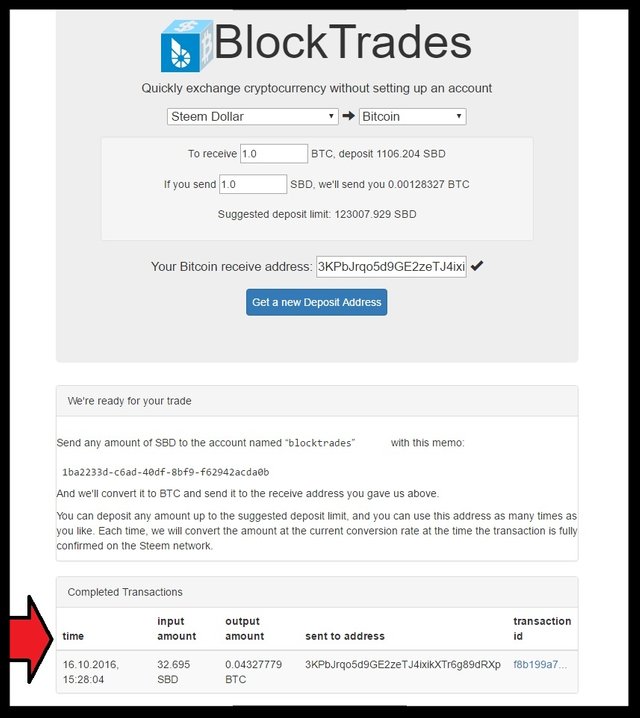 5. The transaction will arrive at your cex.io wallet some minutes later and you can see it under "Recent BTC transactions":

[German] 5. Die Transaktion wird ein paar Minuten später auf deinem cex.io wallet ankommen und du kannst sie unter "Recent BTC transactions" sehen: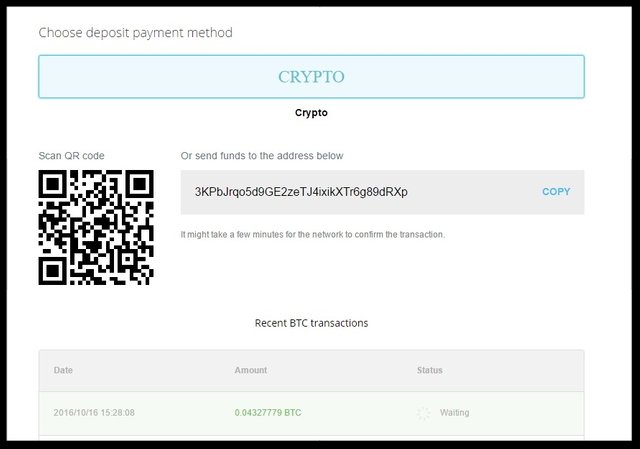 6. When the transaction is received successfully and the status is not "pending" anymore, you can sell the Bitcoins at cex.io for Euro/Dollars as at any other exchange. Then you can click on "Withdraw" and you can withdraw the money to your credit card or bank account:

[German] 6. Sobald die Transaktion erfolgreich erhalten wurde und der Status nicht mehr auf "pending/wartend" ist, kannst du die Bitcoins auf cex.io für Euro/Dollar verkaufen, so wie bei jeder anderen Handelsbörse. Dann kannst du auf "Withdraw" klicken und du kannst das Geld auf deine Kreditkarte, oder dein Bankkonto auszahlen:

---
If you have any questions, feel free to ask them in the comments!

[German] Falls du irgendwelche Fragen hast, stelle sie gerne in den Kommentaren!
---
Best regards and hear you in my next article!

[German] Beste Grüße und wir hören uns in meinem nächsten Artikel!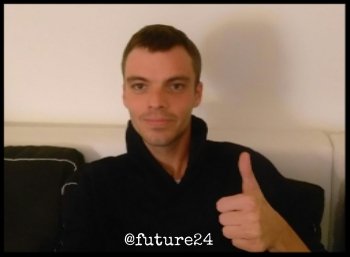 Jonas Ahrens