Getting Started
Hello everyone! My dad challenged me to make a tutorial on how to start investing in ICOs for beginners and newbies. I will go step-by-step throughout this tutorial with you. (Definitions at the bottom)
What's an ICO?
ICOs are the future. They are opportunities to invest into upcoming crypto businesses with ease and trust. If you have ever participated in crowd funding like Kickstarter or Andigogo it is very similar.
Thanks to the Ethereum's block-chain smart contract feature, there will be no foul play. Smart contracts verify and execute protocols without any interferences. This makes it a very trust-worthy system. Once you invest into a ICO you will receive a stock referred to as in crypto terminology, a ER-20 Token(s).
Utilizing ETH
To invest in an ICO you would first need to buy Ethereum, usually referred to as ETH. ETH acts as I mentioned earlier, is a smart contract platform. To buy ETH you can go to multiple exchanges. One exchange I'm keen on is Coinbase. Coinbase is very trust-worthy and quiet frankly, the most reliable exchange.
Signing up is very easy plus Coinbase is even accessible on your phone as an app. After you gain your ETH, it will be in your exchange's wallet and most importantly, exchanges do not have the ability to receive tokens.
Besides, it is not the smartest idea to store your assets on an exchange (exchanges are prone to hacking). In our situation, we are going to be using a short-term wallet to make our transactions, Metamask. Metamask is an extension to most all web browsers.
Metamask is quite unique. Metamask has a built in wallet made specifically for these transactions. Access this tutorial on how to setup an account. For long term storage though, I would recommend MEW or MyEtherWallet it is an easy access wallet that is secure! Setup takes less than a minute. Access this tutorial on how to setup a MEW account..
Sending ETH from Coinbase to Metamask
Once you have successfully made your account from Coinbase and wallet from Metamask you will have to send your assets.
Sending is simple and easy.
First, you want to copy your receiving address from Metamask by logging in and then clicking the three minuscule dots, there should be an option to copy to your clipboard.


Next, go to Coinbase and send your assets across (NOTE - there is a small fee for sending ETH)


Congratulations! You have successfully moved assets into your Metamask wallet. All the tokens you buy through the steps of this tutorial will be sent to this wallet. You can check if everything went through correctly by going to Etherscan.io and pasting your Meta address in the search bar. You will see all the history with the address.
Etherdelta?
Etherdelta Is an amazing decentralized exchange for buying tokens, providing both confidentiality and a pleasant experience. Etherdelta is the only exchange I use for tokens with that being said, let us get into this!
From Metamask to Etherdelta
First we are going to have to register our Metamask ETH address so it knows where to send the tokens. Click the little fox in the corner and it will ask for your password

After you are logged in, you have to deposit your ETH from your Metamask account into your Etherdelta account.


A prompt will pop up, asking you to verify on Metamask, now we are in business!

From here you can buy whatever token you would like, I will provide an example.
Let us say you have 0.45 ETH in your Metamask and you want to exchange it. So you would move it to Etherdelta. However, be aware you'll need to use a little ETH to cover the fee for this transaction.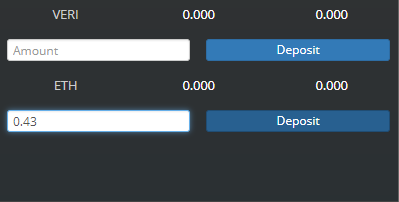 Now you have the 0.43 ETH in Delta, now you decide to pick VERI as a token you want. You'll be buying 0.20 ETH worth

Clicking the downward-arrow will allow you to select any of the numerous tokens.

You would click the red row in the order column and then it you would show a prompt asking how much you would like to order.

Now you that you have confirmed it once more, tadah you have made your first transaction! Your assets are in your EtherDelta account!
Withdrawing from your EtherDelta account
But wait? what about the remaining 0.23 ETH and the VERI you just bought?
With the remaining assets you can easily withdraw it. NOTE - take into account that you will need ETH for the transaction fee that the exchange will charge.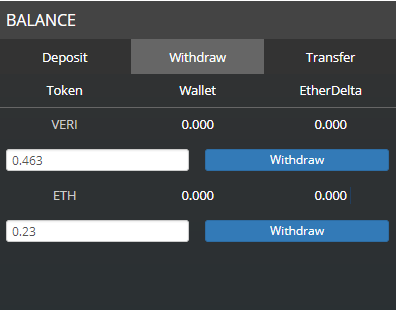 You will be able to view if the transaction went through without a hitch by clicking the fox again.
Conclusion
In conclusion, realize that this venture in crypto investing is a gamble. There is always the risk that you will lose all the money you invested. So never use money you cannot afford to lose. I wish you all good fortune in this booming industry :). (If you have any questions ask away in the comment section, I'll answer everyone I see.)
Definitions
VERI - Veritaseum; A magnificent idea, a decentralized platform aimed at creating a peer to peer exchange.
ETH - A Smart Contracting Platform; A high-ranking currency that nearly always included in ICOs.
A Token - A ER-20 token is a decentralized piece of stock.
ICO - Initial Coin Offering; Participating in an ICO usually consists of crowd funding a token by pre-ordering at a discounted price.
ER-20 token - The Standard Token; The ER-20 token runs on the Ethereum block-chain and is currently the most commonly used type of token on the market.