Violent night (2022) movie review / Critique du film (FR / EN)
** version en francais plus bas**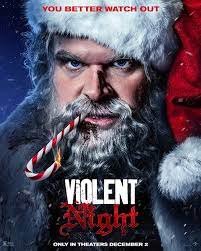 It is an American action type horror film with some comedy which was released in 2022.
The real Santa Claus, a little jaded with his role on Christmas Day, he makes a delivery to a house of a rich family and decides to spice up his evening by helping himself in the family bar and falls asleep on the spot.
The ad I've seen that says it's a mix of Die Hard and Home Alone is true.
I give it a score of 7.7 out of 10.
---------------------------------------------------------------------------------------
C'est un film d'horreur américain du type action avec un peu de comédie qui est sortie en 2022.
Le vrai père noël un peu blasé de son rôle la journée de noel, il fait une livraison dans une maison d'une famille riche et décide de pimenter sa soirée en se servant dans le bar de la famille et s'endort sur place.
La publicité que j'ai vu qui dit que c'est un mélange de Die Hard et Home alone est vrai.
Je lui donne la note de 7.7 sur 10.