Jeepers Creepers reborn (2022) movie review / Critique du film (FR / EN)
** version en francais plus bas**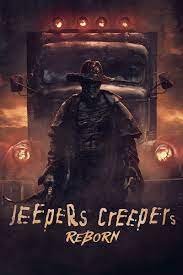 It is an American slasher-type horror film that was released in 2022.
A couple decides to go to a horror convention where the events of the first jeeper creeper movies take place...
The revival of this franchise is a failure especially with bad CGI and the attempt to transform the creepers into Jason Vorhees.
I give it a rating of 4 out of 10.
---------------------------------------------------------------------------------------
C'est un film d'horreur américain du type slasheur qui est sortie en 2022.
Un couple décide d'aller à une convention d'horreur ou on lieu les évènements des premiers films jeepers creepers...
La renaissance de cette franchise est un échec surtout avec des mauvais CGI et la tentative de transformer le creepers en Jason Vorhees.
Je lui donne la note de 4 sur 10.