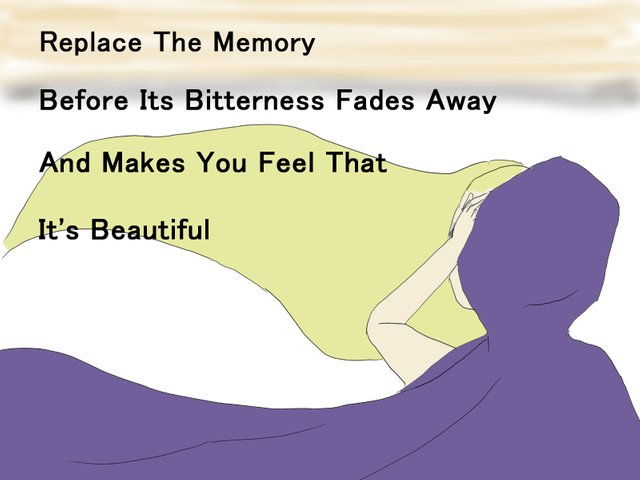 If you have a dilemma or conflict, you may find a solution to it.
It is more like suggested by someone else, rather than coming up with a new idea by yourself.
For example, let's say you have a dream, but you cannot earn money with it at this moment.
So you have been searching for a job with which you can chase a dream and earn some money.
And you finally find one.
Or, let's say you are to choose a man with a stable income or a man with whom you feel so comfortable.
And you decide on the first one by taking the time to understand each other so you can feel comfortable with him one day.
However, such a solution may be a rocky road.
I think the road is more challenging than you think.
I want to advise you to find a road which lets you be who you are with fewer efforts.
Tomorrow, a situation tends to make you short-sighted, and force you to decide on something which is not the best for you.
Think in the long-term.
You have got a dream and found real you by having challenged this year, and it is not right to abandon them and accept a boring job offer just for a stable income.
ここ最近、ジレンマや対立に悩んでいたのであれば、何か解決策が見つかるのかもしれない。
その解決策はたぶん、あなたが見出すというより、他の誰かが提案するのかもしれない。
例えば、やりたいことがあるのだけどそれでは稼げないので、やりたいことと両立可能な仕事を探してたのが、見つかるのかもしれない。
例えば、フィーリングの合う相手と、収入の安定してる相手と、どちらを選ぶかを迷っていたのであれば、収入の安定している相手とじっくり関係を温めることで、フィーリングが多少ずれてても上手くいく道を模索していこうとするのかもしれない。
なんだけど、それはいばらの道かなあとも思う。
たぶん、あなたが思っているよりもその道は険しくて。
もっとあなたが自然体でいられて、そこまで頑張らなくてもよい選択肢をもう少し考えたほうがいいのではないかとも思う。
状況に追い詰められて、「この選択肢しか私にはないから」的な発想をしがちなんだけど。
もっと長期的なスパンで見た方がいいかなと思う。
やりたいことがあるのに、「せっかく掴んだ正社員採用だから」と就職に固執したりとか、よくないかなと思う。
試しに就職してみるというのはありだけど、今までの挑戦で発見したあなた本来の姿を捨てて、最近出会ったばかりの会社に殉ずる契約を結ぶっていうのはあまりお勧めしない。
Posted using Partiko Android