EN - Send a text Message to 8847 with the text: "TERAPIE" to donate 4 EURO for the therapy of children with autism
Help the children with autism - donate 4 EURO for their therapy
---
First, let me tell you the story of the Little Prince Resource and Reference Center in Autism from Bistrița.
The purpose of this children's help center is to provide recovery therapy for children with autistic spectrum and disorders.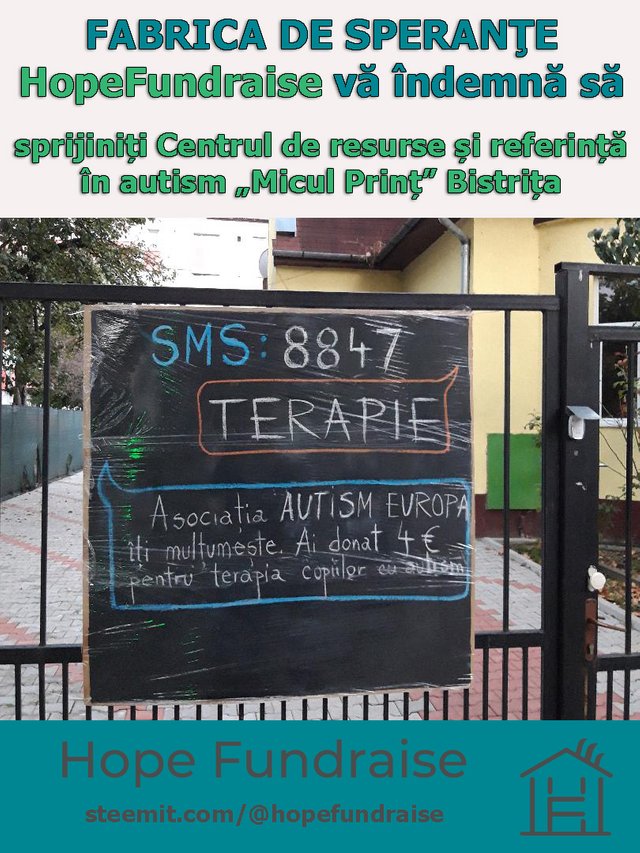 Autism Europa Bistrița Association is a non-governmental organization founded in 2007 by parents and friends of autistic children with 40 direct beneficiaries and hundreds of indirect beneficiaries. Since its begining they were providing information, awareness, counseling and education services, training courses for the benefit of children with autistic spectrum disturbances in Bistrita-Nasaud County, their families, specialists and the community.
During 2008, through a project funded by the Bistrita County Council, the "Little Prince" Autism Resources and Reference Center was set up within the Bistrita County Hospital, in a building with an advanced stage of degradation. Here, in a small room, equipped with funds from the Bistrita County Council, and with own contribution, information, counseling, support groups for parents and children, as well as activities for coordinating the projects carried out in partnership with institutions public and NGOs in the country and abroad.
The Center's activity has become complex and recognized at national level and since 2016 it has been operating in a rehabilitated space provided free of charge by the Bistrita-Nasaud County Council and which needs extension to provide the necessary services to all children enrolled. Parents' information, parenting and therapy services of this Center benefit children with TSA and their families from several localities in the county and country. The center has become a successful therapeutic model at the initiative of parents in collaboration with local authorities and at national level.
If you want to find out more about their activity you can watch the video below and visit their website at : https://www.crra.ro/
Now let us tell you how we found out about them and how we want to help them in their humble activity to help the children with autism.
---
A couple of days ago we were passing by their centre in Bistrița, Romania and we noticed a banner with the follwing message:
-Send a text Message to 8847 with the text: "TERAPIE" to donate 4 EURO for the therapy of children with autism
This is also how we can hep them with as many SMS messages to 8847 containing the text "TERAPIE". This will cost you only 4 EURO, but for them, for the cildren with autism, this means a lot. If I help, you help and other help as well, then the 4 EURO can be used to make their life as normal as possible.