DIY Gardening: Beer Bottle Cold Frame or Raised Bed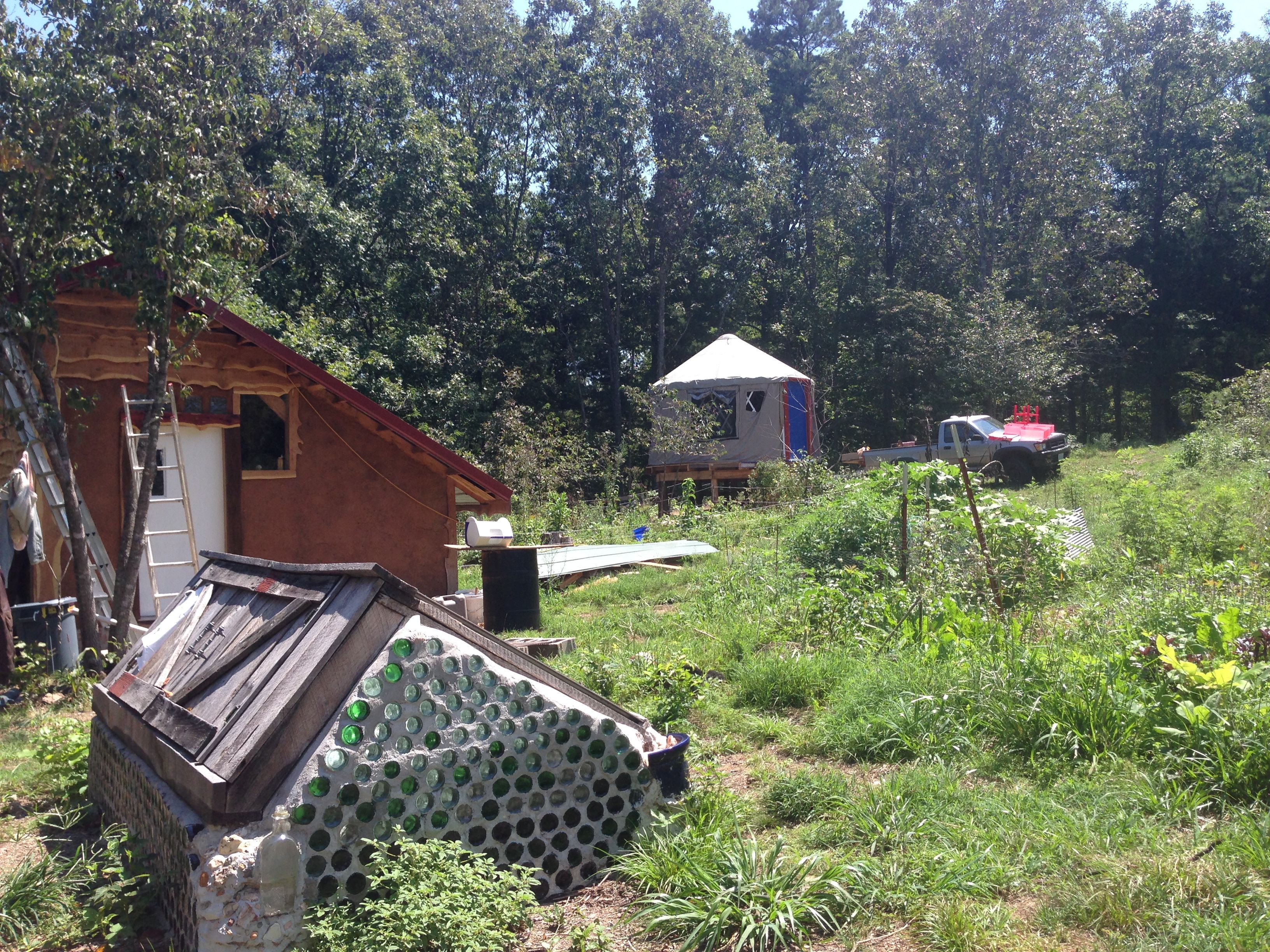 On our homestead, we try to repurpose things we have on hand whenever we can.
It's super easy to get recycled glass at our local recycling center, plus we enjoy beer (and so do our friends and neighbors!) = free and aesthetically pleasing building blocks.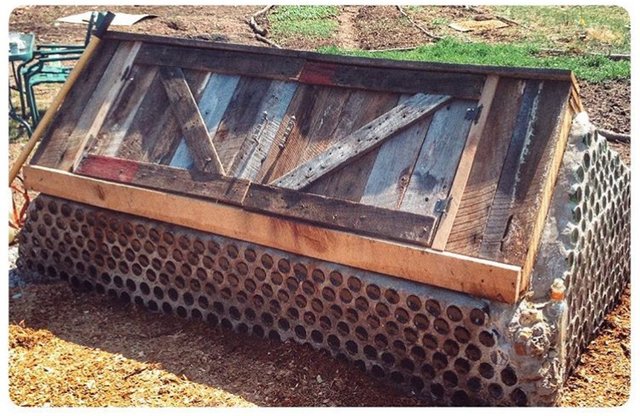 Natural building enthusiasts will tell you that bottle bricks are one of the coolest ways to incorporate everyday items into artist renditions. You can easily get brown, green and clear bottles, and sometimes find red and blue! Simply take a wet tile saw and carefully cut any the top and neck of a glass bottle (beer, wine, vodka, coke, many glass bottles will work!). You can then tape two sides together (packing and duct tape will work) and make a bottle brick. Wrapping in aluminum foil will aid in light diffusion.
For this project, a beer bottle cold frame, I decided to just use the bottle whole and not make bottle bricks, but for a bigger building project like a sauna, hut, etc I would probably go the extra length to make the bricks.
First things first: decide where you want your functional art piece, what size it will be and what purpose it will fulfill.
I had been researching cold frames and decided to make one out of glass instead of wood (mainly for the aesthetic appeal and to test out building something with bottles, as I may want to do planters, retaining walls, raised beds in the future).
I cleared land and dug out a small trench and filled it with gravel as the foundation pad.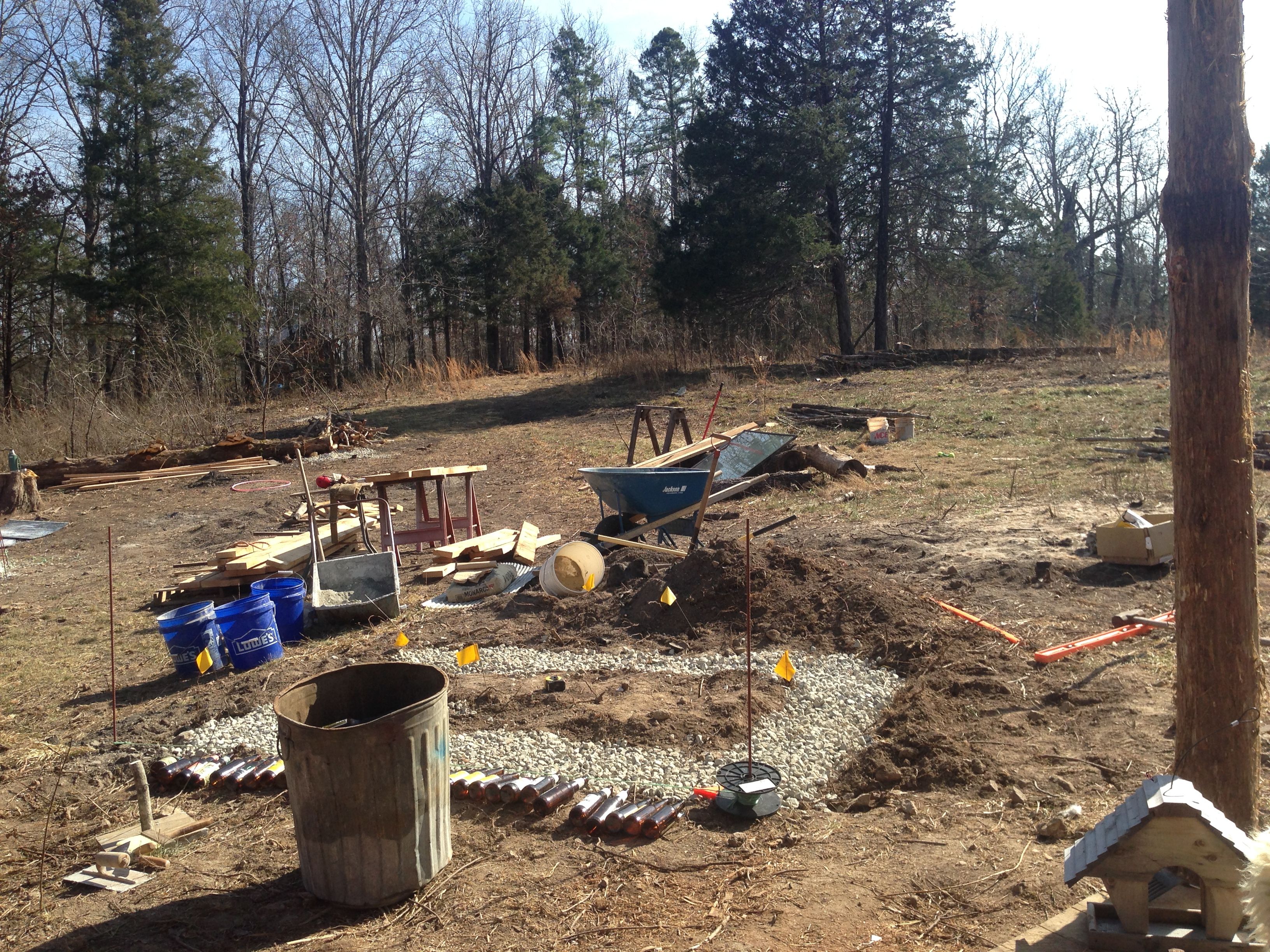 Then I put down a layer of my mortar mix and started lining up the bottles.
My mortar recipe:
3 Parts Fine Sand
1 Part Lime (type S)
1 Part Portland Cement
Add enough water to achieve a thick muffin batter consistency.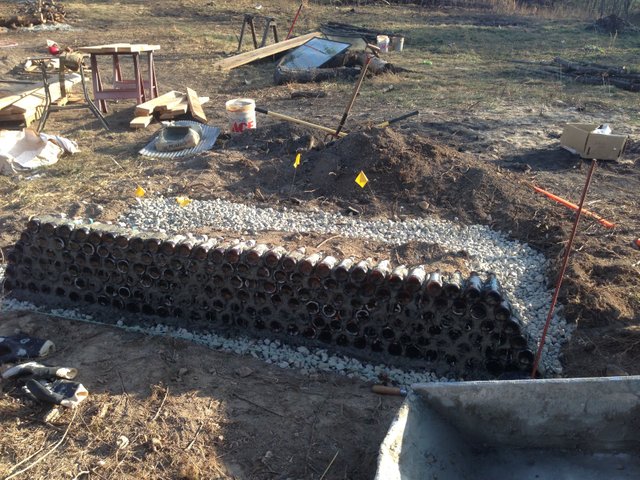 And then I slowly built up a row or two at a time (so it would have time to dry).
I also learned to have all the bottles on hand to keep up the momentum of the project. Have a big party if you need more bottles!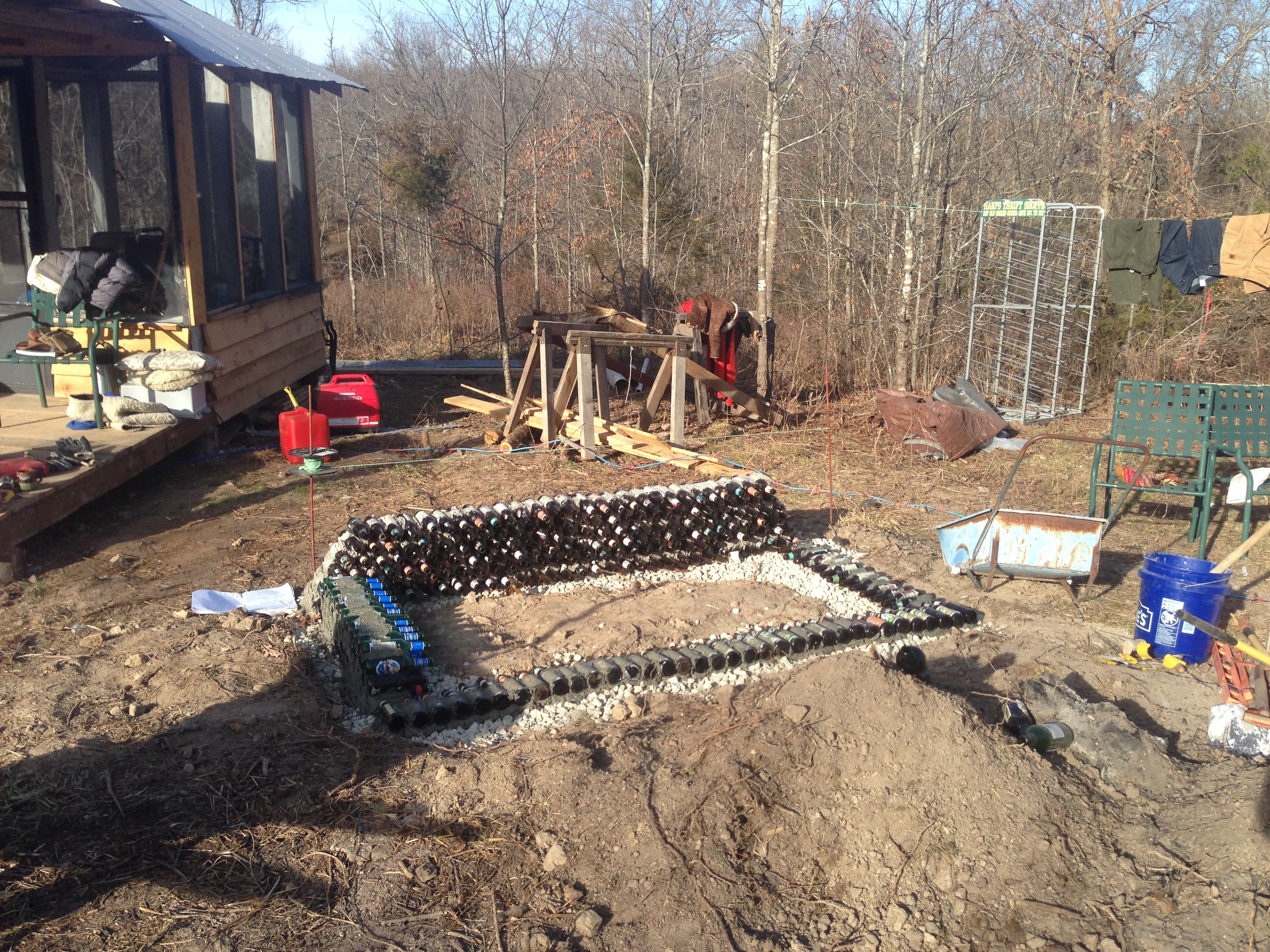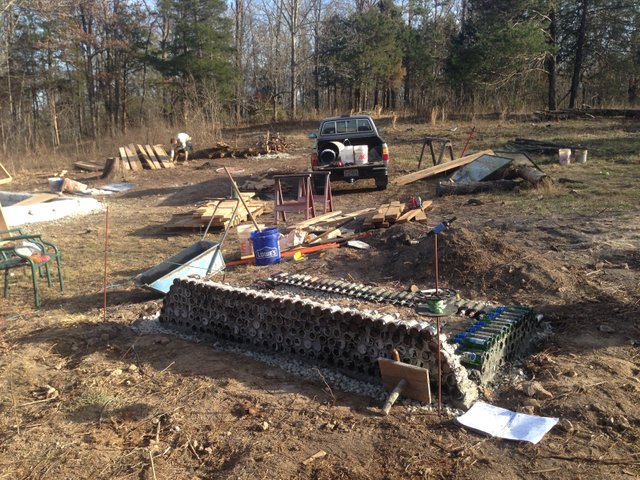 Helps to have plenty of bottles on hand to keep the creativity flowing!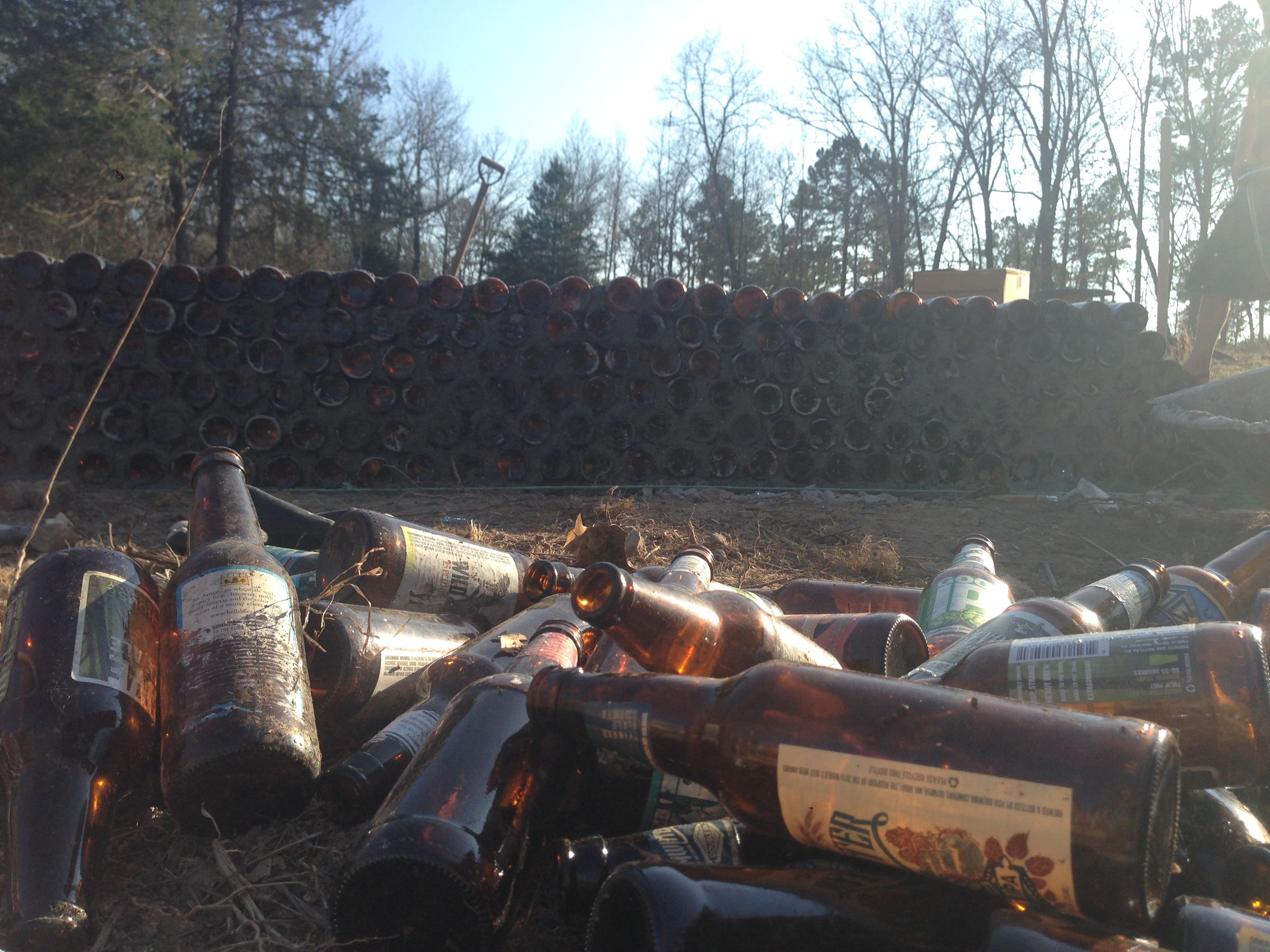 Stoking the coals of inspiration...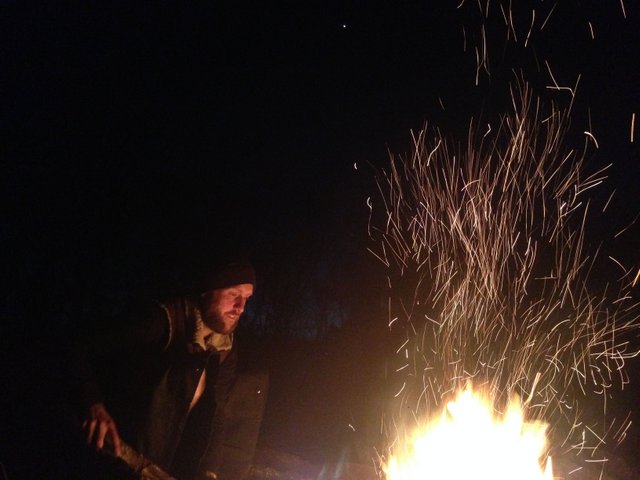 We also had another building project going on at this time, our Solar Storage Shed.
Always ones to manifest our dreams, come springtime we had a lot of projects we had started. This is one thing we learned this year: to pace ourselves and perhaps not bite off so much at once, but to stagger projects!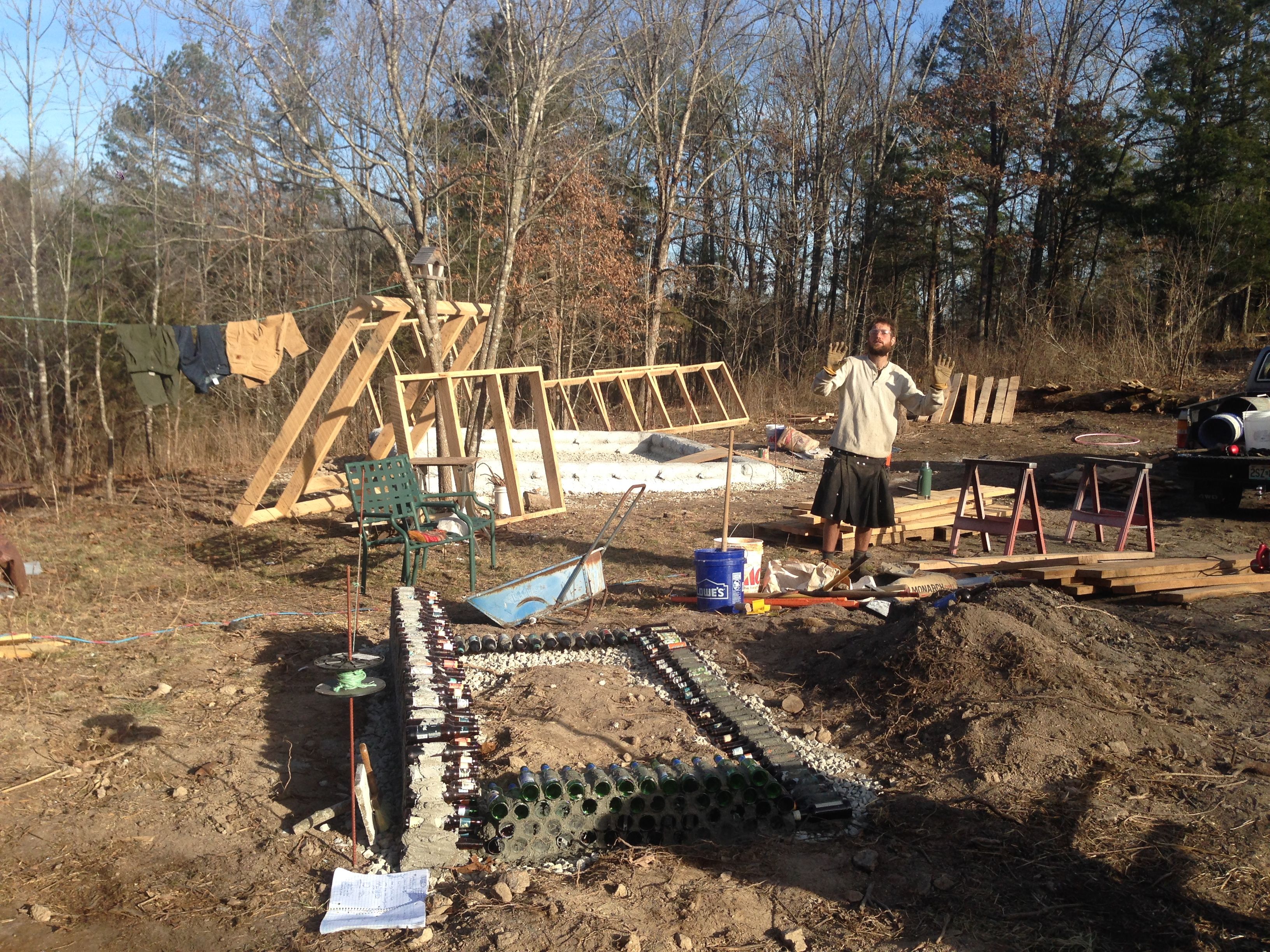 Beer Bottle Cold Frame and the stud framing and foundation of our future solar shed.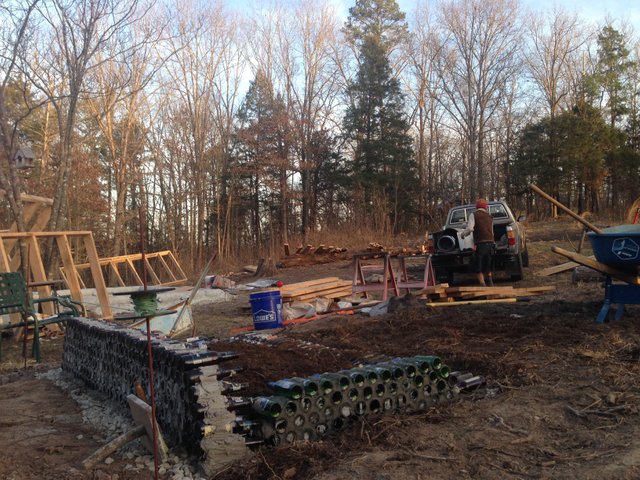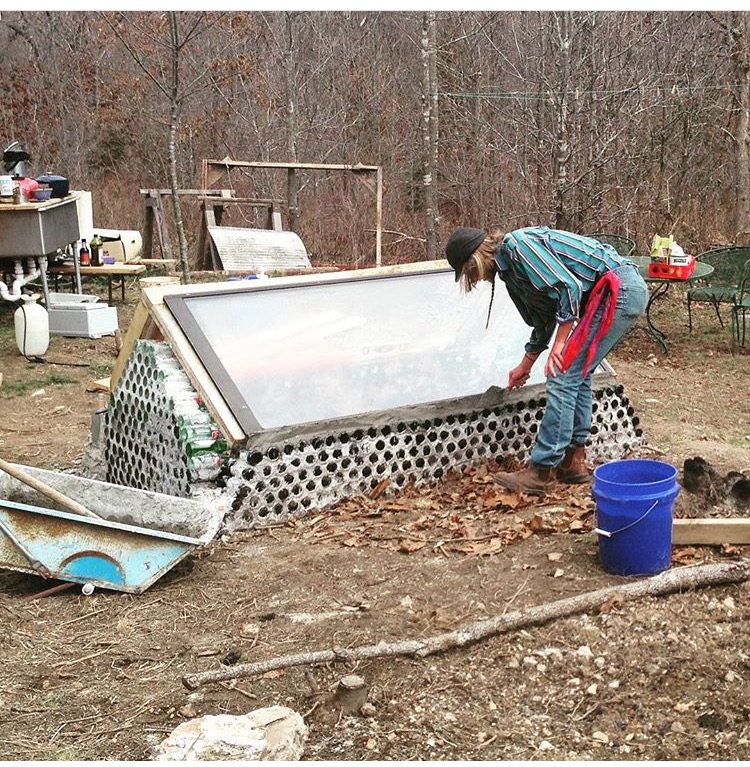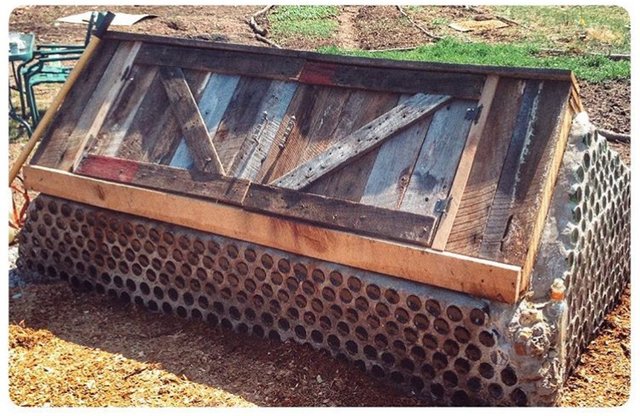 Here is the cold frame nearly finished!
The method I used that worked well was to mortar the layers together, let it dry and stack 1-3 (tops) layers at a time. Make sure the mortar is flush with the bottle in the way you like it. I used a tuck pointer for that task and also smoothed it out with a glove around the bottoms of the bottles. Let that dry and then use a spray bottle and sponge after the fact to clean off the face of the bottles. It's actually not too hard to clean the mortar off the glass.
It was quite annoying to try to set the window (which we also picked up at the recycling center) onto the mortar and glass walled frame, but with some ingenuity we figured it out. And Ini build these sweet doors for the back of it.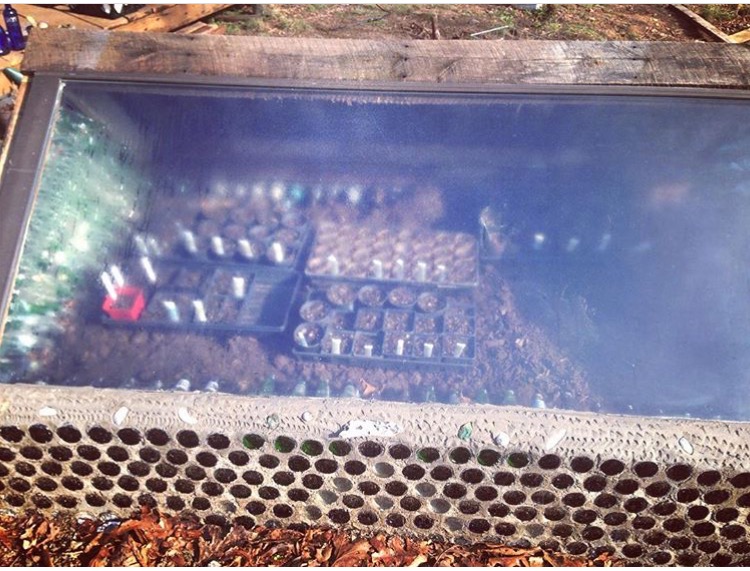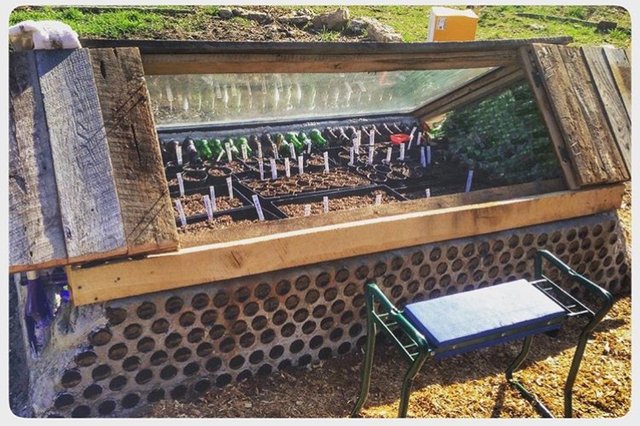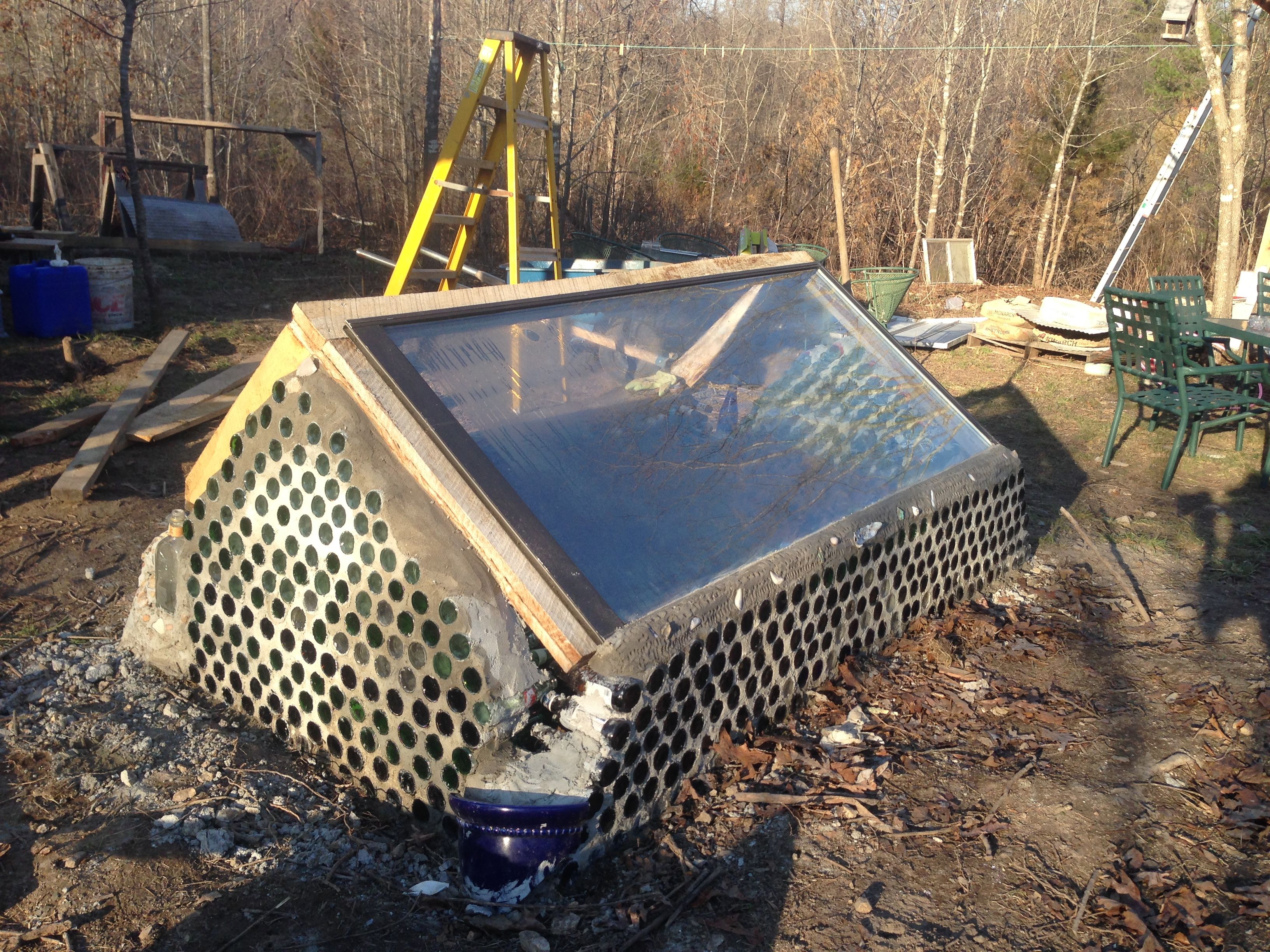 My little seedling trays come spring!
I successfully started herbal medicines plants, tomatoes, squash, peppers, native perennials and more in the cold frame before spring really hit. It helped me get ahead by at least 3 weeks!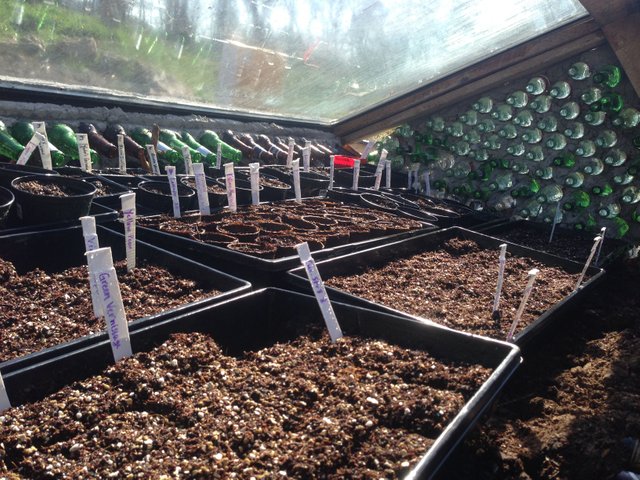 Come summer the cold frame got suuuper hot!
That would be one other side of the cold frame - it helps extend the growing capacity in shoulder seasons (fall and spring), but it creates a near oven in summer (I used it to dehydrate tomatoes and also to melt honey out of the honeycomb from our bees).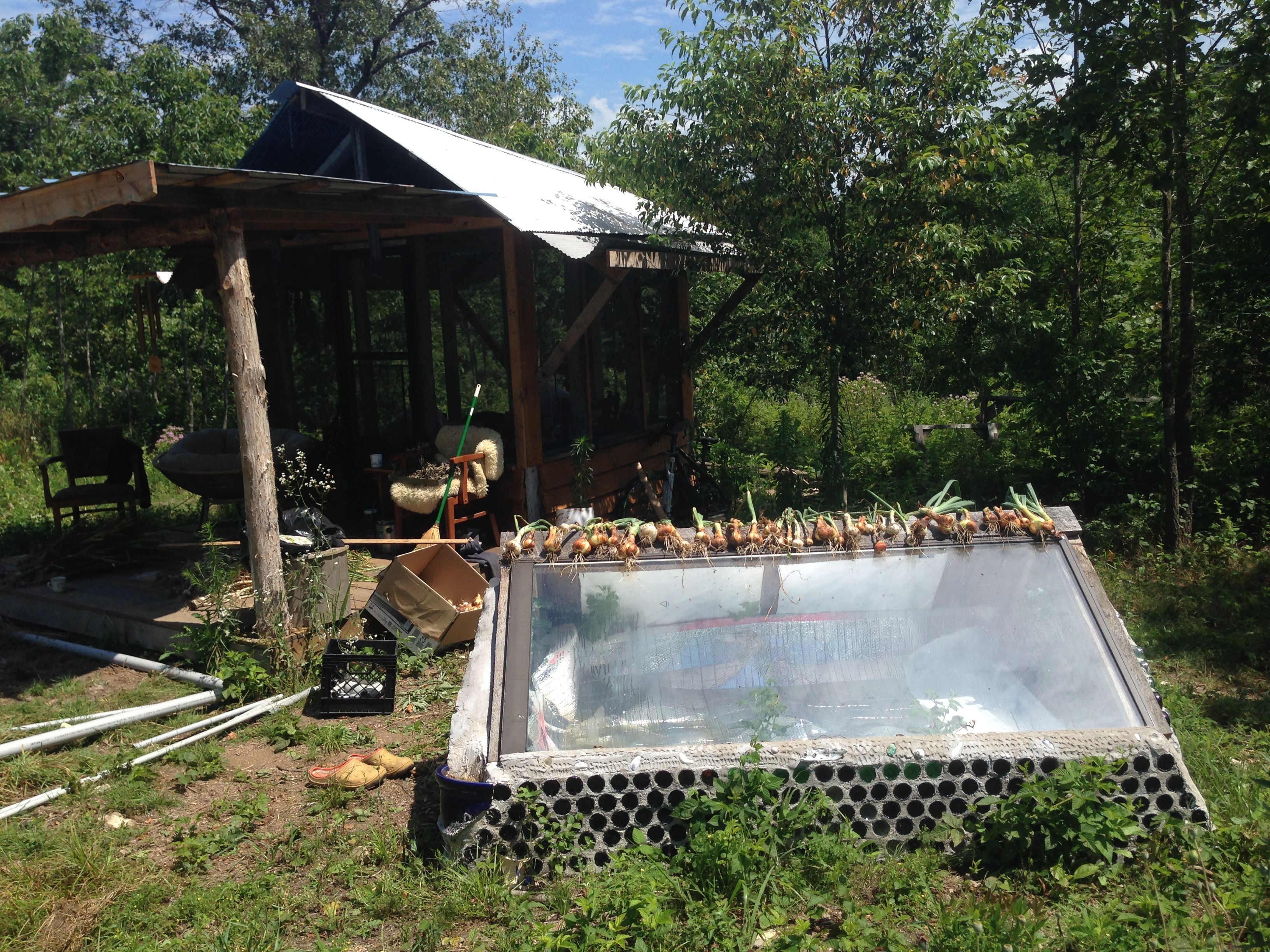 Thanks for reading my process of building a beer bottle cold frame! I may create more of these without the top window part just as raised beds. It's holding up very well. I was wondering if I'd be bothered by the whole bottle approach, but I'm not! Doesn't really seem to matter as far as practicality is concerned.
Feel free to ask questions, upvote and resteem! Thanks, Mountain Jewel Homestead <3