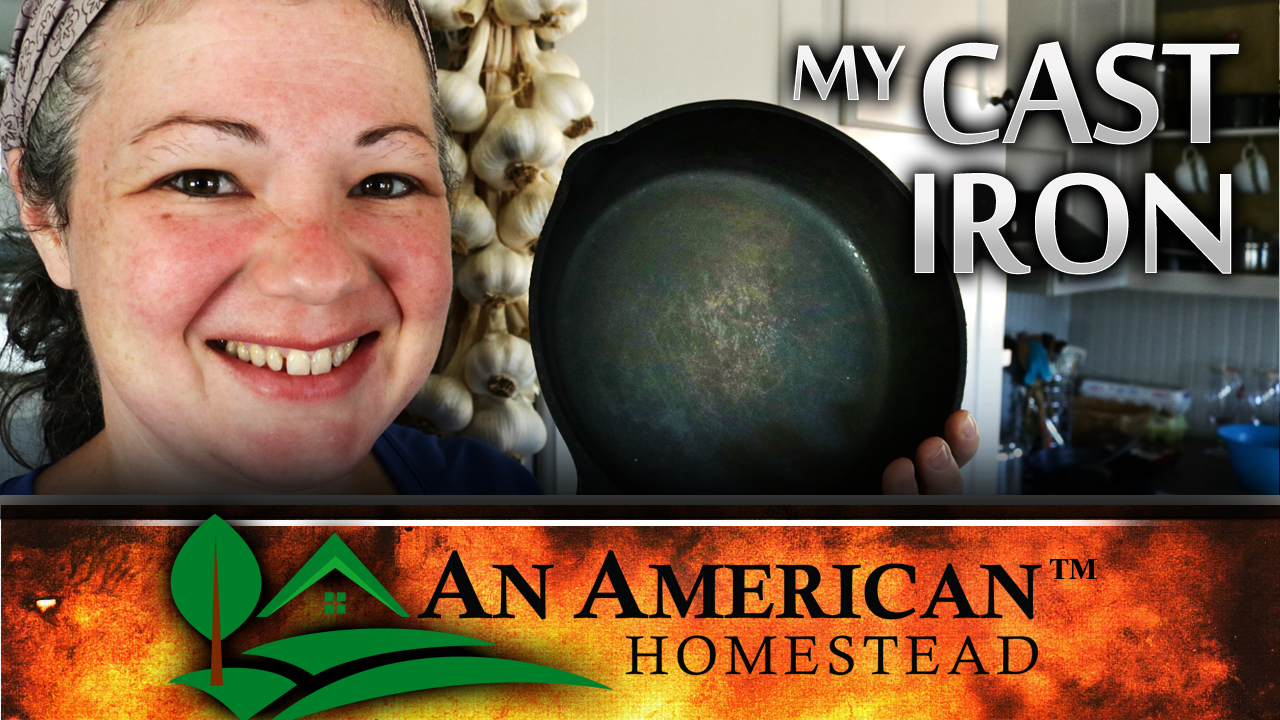 "Everyday on display" is one of my favorite phrases when I'm getting in the groove to organize my kitchen workspace to be as functional as possible. I latched onto the concept from one of my favorite home design bloggers, Melissa Michaels from http://theinspiredroom.net. Her phrase has become my decorating mantra. The three simple words often help me to keep my focus as I choose how to organize and decorate my off grid homesteading house, especially the kitchen.
The concept fits beautifully into the modern farmhouse style that seems to have taken over the interior design world in the last few years. I love the style with its emphasis on open shelving because it allows everything that I use the most (everyday) to be easily accessible (on display). In my own kitchen, I display everything that gets the most use because digging through dark cavernous cabinets is a gigantic waste of my time. (Is it just me, or does it seem like everything just gets shoved back in them and forgotten?)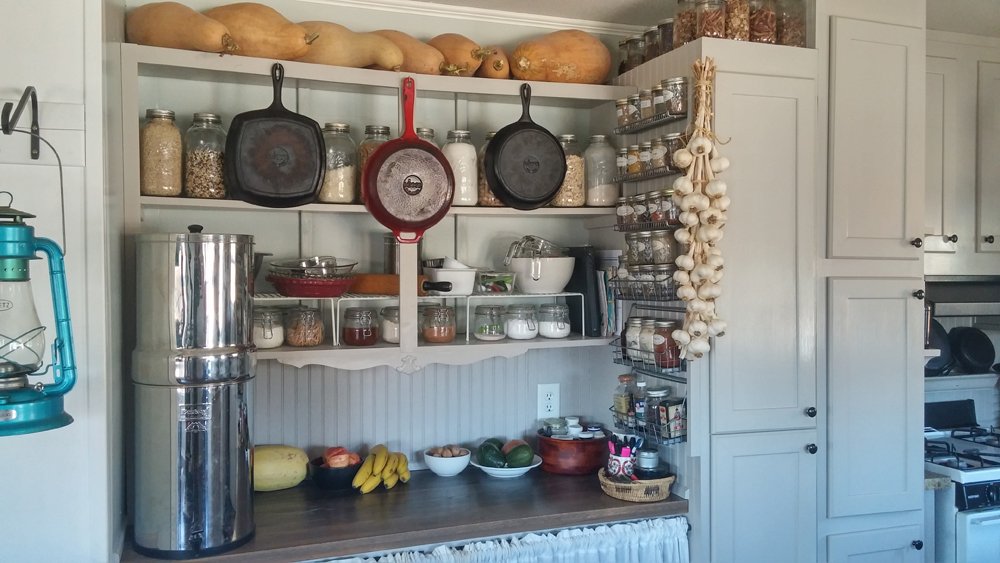 I've especially fallen in love with displaying my cast iron collection. It seems to me that a simple black cast iron skillet could be the epitome of an "everyday" item. On its own, it doesn't seem very display worthy. It's not bright, shiny, and beautiful (although the simplicity of its aesthetic really appeals to me). Its entire purpose for existing is to be purely functional, but I love seeing my cast iron on display around my kitchen. It's like my own little army, always there at the ready, waiting to be used. I used to store them nested together in a cabinet, but more often than not, that was where they stayed. Pulling the heaviest skillet off the bottom of the pile was not functional when I was feeling rushed to get dinner on the table. It was easier to just grab a lighter skillet and get the job done. Once I hung my skillets on display, I confidently got rid of all my other pans and have never regretted it.
As I have lived and worked with my cast iron on display, I have found three primary methods that work for me.
The simplest and easiest method is hanging pans from hooks. A pot rack would work well for this, but I don't have room for one in my kitchen. For a long time, I simply hung my pans from hooks screwed into the studs of my kitchen wall. It worked really well! When redoing the kitchen a couple years ago, I chose to fill that spot with open shelving. Now my skillets are hung in front of the shelves. It's easy to swing them aside to reach pantry items behind and whether a skillet is being used or not, my shelf still looks pretty. My favorite hooks to use are L-hooks because they make it easy to take a skillet on and off.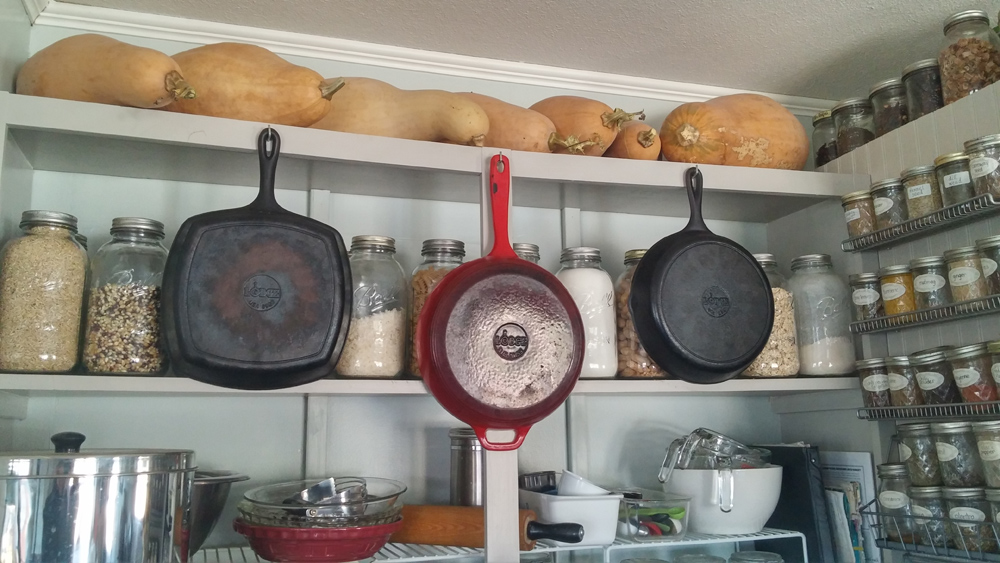 My second storage spot is the wall behind my stove. I chose to mount a picture shelf here and painted it the same color as my beadboard wall. My skillets rest against the wall when they are not being used and the ledge from the picture shelf keeps them from sliding off. This is probably my favorite cast iron storage solution because it makes use of the otherwise unused space behind the stove where everything has a tendency to get dirty and greasy anyway!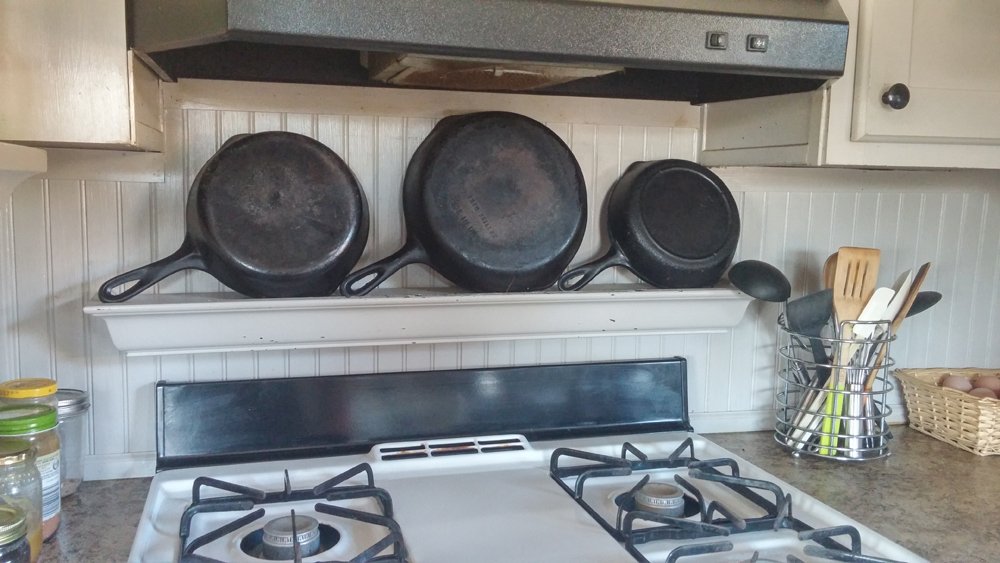 The last storage location is the shelf above my kitchen window. I keep less commonly used items here. It has a plate rail groove in it that keeps my fajita pans upright. I also store my bread pans here and keep them upside down so that they don't get dusty. The cute little skillet in the middle was passed to me from my grandma's collection. It's only big enough to fry a couple eggs, so I never use it. But I love how it completes my display.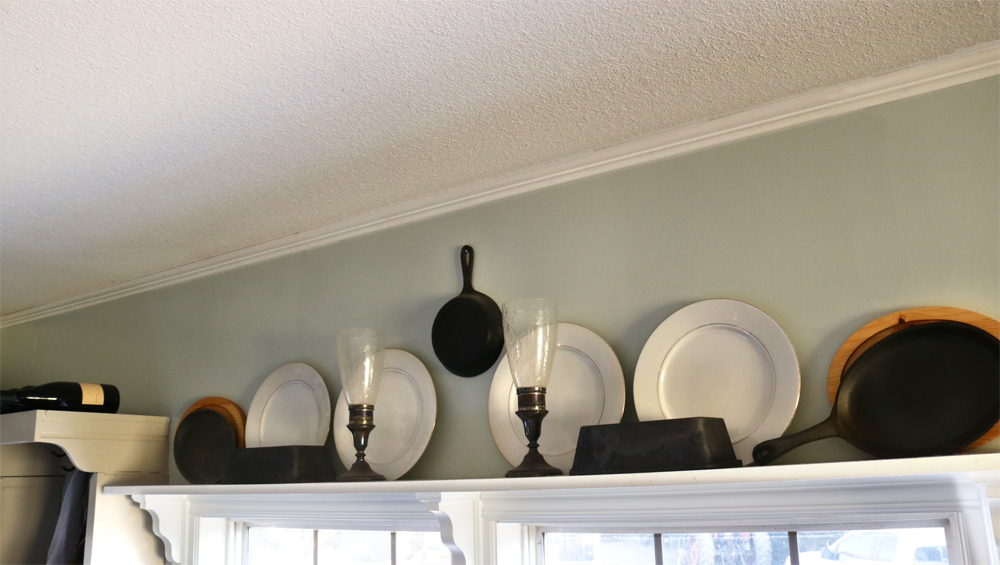 I hope you've enjoyed the pictures and seeing my "everyday on display". How do you store your cast iron? Would putting them on display in your kitchen enable you to use them more easily?
---


Visit Us Online: http://AnAmericanHomestead.com
---
JOIN US ON SOLA (TWITTER REPLACEMENT) FOR MORE HOMESTEAD CONTENT



https://sola.ai/americanhomestead
---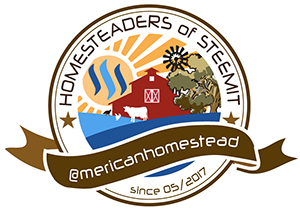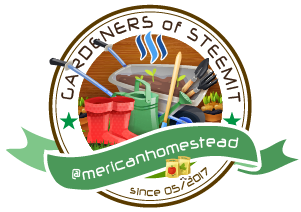 EVERYTHING IN THIS POST POWERED BY SOLAR !