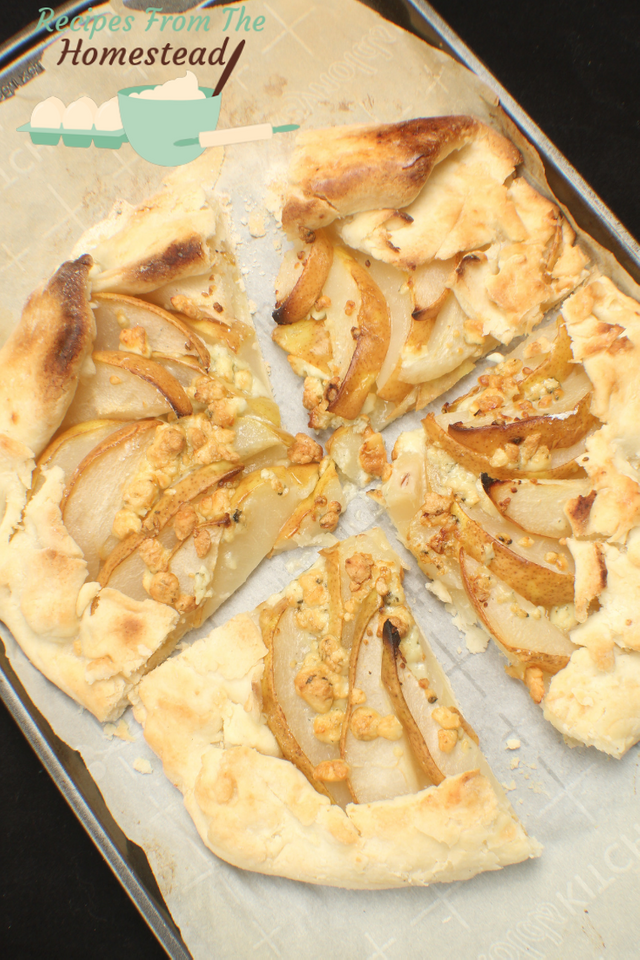 What do you get when you put together pears with Gorgonzola cheese? A sweet, salty pairing that makes a perfect appetizer! This pear gorgonzola tart will be a crowd pleaser! 
The Frenchman loves different flavors paired together. Salty and sweet, savory and sweet, salty and sweet. Well, anything sweet is fine with him. He does love his sweets, to be sure.
Fruit is naturally sweet, as we all know by now. Pears are no exception. They have a mildly sweet flavor and texture that lends itself to many different recipes. Pears can be seen poached, peeled, made into sauce, muffins and more. Their mild flavor brings out the flavors and textures of the food they are paired with, making them excellent for meat and cheese trays as well.
Gorgonzola cheese is similar to blue cheese in texture and it's scent. Both have a strong, but enjoyable "bite" to them. Gorgonzola cheese is great on salads, on top of steaks or chicken, and can lend itself to be paired with pears in this tart. It's the perfect combination of sweet and salty, strong and mild flavors.
This pear gorgonzola tart is a great appetizer or even light dinner.
The dough can be made ahead and frozen. All you need to do is wrap it well with plastic wrap and store in the freezer for up to 3 months. To use, simply thaw on the counter at room temperature for approximately 30 minutes. You still want it cold for best results.
Any pear can be used in this recipe, but I love the texture and color of Bartlett pears myself. Nice and soft when ripe, they also don't get mushy in this tart.
Ingredients:
1 1/2 cups flour
1 teaspoon salt
6 Tablespoons butter, cold and cut into small piece
1/2 cup cold water
6 ripe Bartlett pears
1/2 cup Gorgonzola cheese
Instructions:
In a food processor, pulse flour, sugar, and salt until well combined
Add the butter and allow the food processor to run until it becomes a crumbly mixture.
Drizzle in water 1 Tablespoon at a time until the dough comes together. You may not need the full amount of water, depending on humidity.
Transfer dough to a floured surface and knead a few times until smooth.
Shape into a flat disk, cover with parchment paper,  and refrigerate for 1 hour.
Preheat oven to 400.
Remove from fridge and roll dough out into a 9 inch circle.
Slice pears thinly and layer on top of crust.
Sprinkle with Gorgonzola cheese all over.
Fold crust edges over toward the middle.
Bake for 25-30 minutes, until golden brown. Serve immediately.
What's your favorite appetizer to serve at parties, or on game day? Be sure to let me know if try and love this pear gorgonzola tart!
Other appetizers you may enjoy:
Italian Parmesean Crackers
Roasted Red Pepper Hummus
Easy Guacamole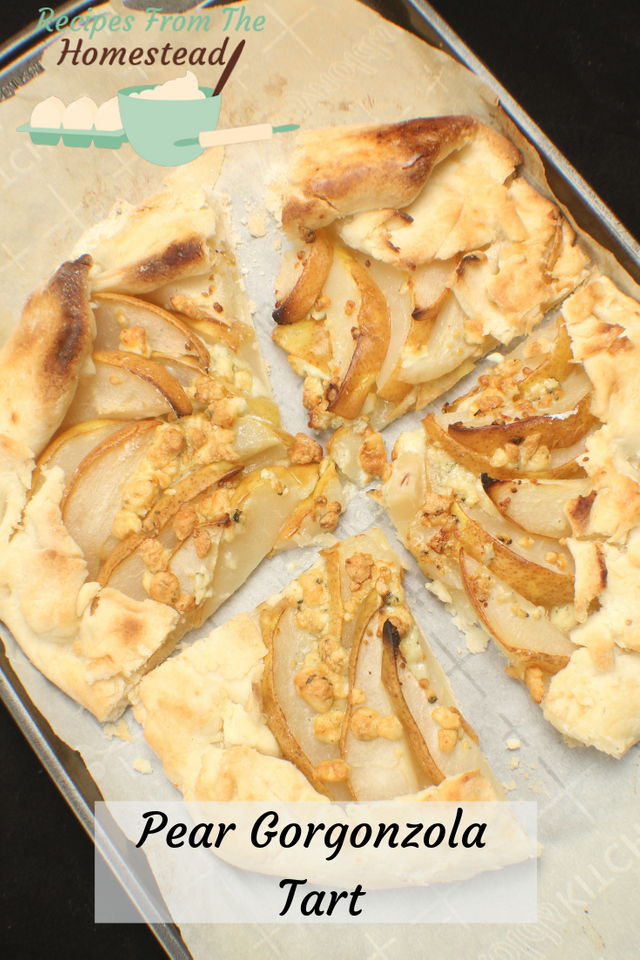 [mv_create key="54" type="recipe" title="Pear Gorgonzola Tart" thumbnail="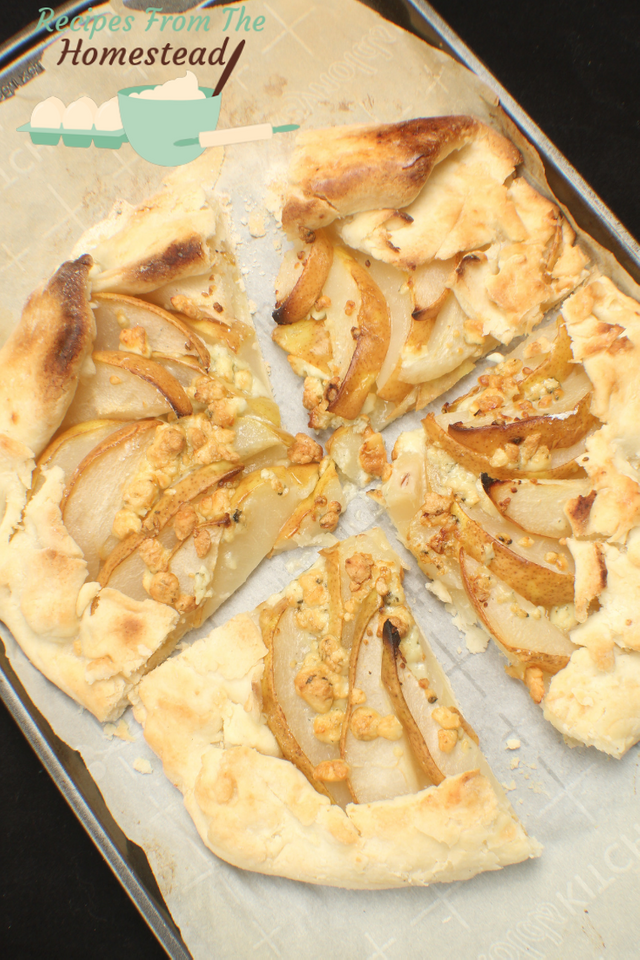 "]

---
Posted from my blog with SteemPress : https://recipesfromthehomestead.com/pear-gorgonzola-tart/
---