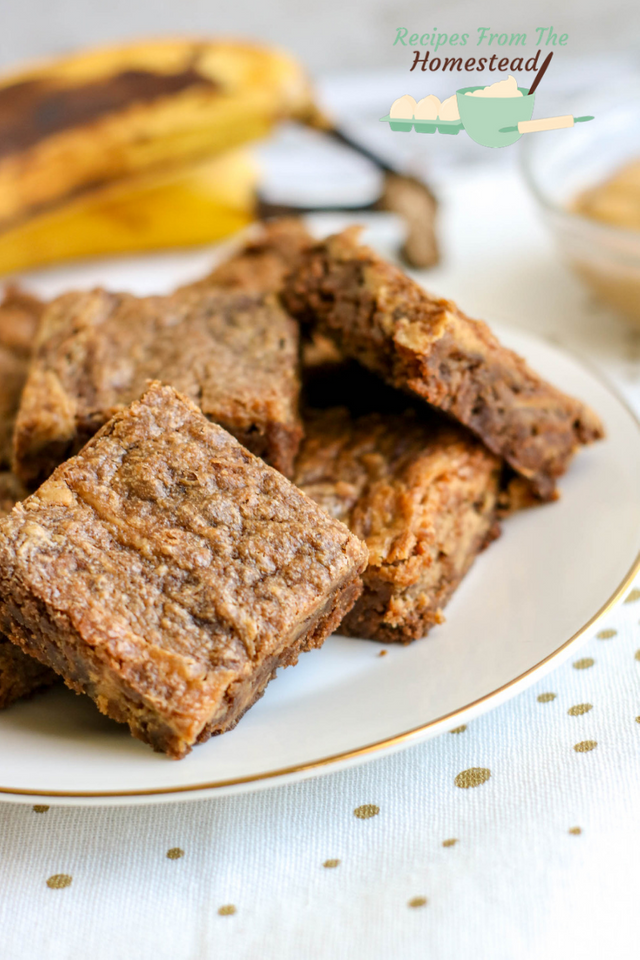 Rich, chocolatey, and easy to make, these peanut butter banana brownies are sure to be a hit with your family!
We love our brownies here. Moist, fudgy, chewy brownies. Whether it's for a desssert, a snack on the run, or for sharing with friends, not much can beat homemade brownies, right?
Except that banana bread is a pretty close second for us. The Frenchman loves his banana bread, and requests that I make it often. So, combining two of our favorite treats into one was just the next step!
Take our favorite brownie recipe, add some peanut butter, and a couple of older bananas and POOF! Instant deliciousness. Okay, so not "instant" but close enough. 

You are going to love these homemade peanut butter banana brownies! 
These brownies are perfect for sharing, and have been a hit at our recent bake sales, too. They are moist and fudgy. The banana and peanut butter take the flavor to the next level.

Can I sub out peanut butter?
Sure! You can use almond butter, cashew butter, or sun butter in place of the peanut butter. They all will deliver very good results and flavors. 
[mv_create key="109" type="list" title="Other Desserts To Try" thumbnail="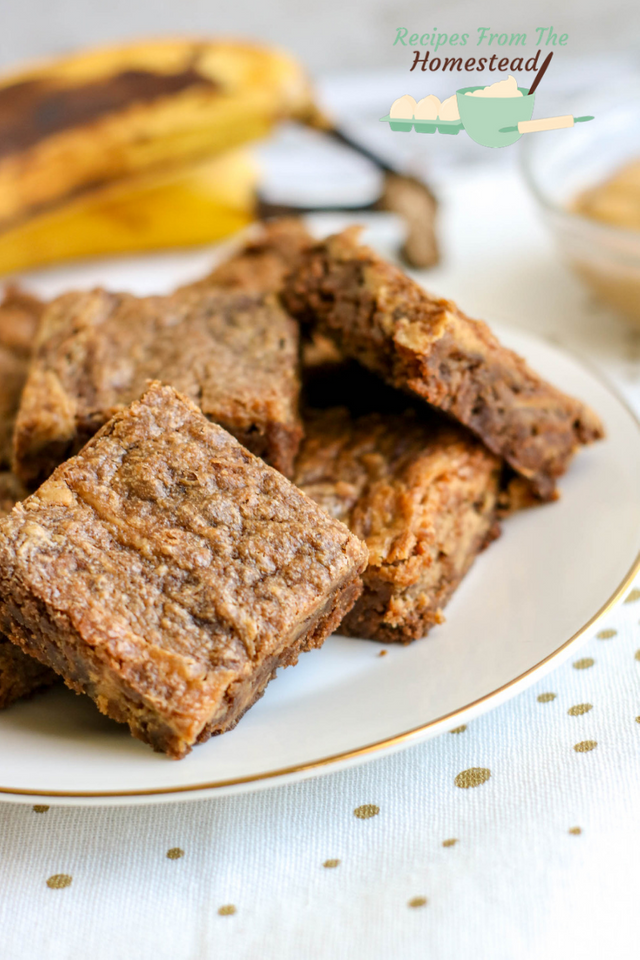 " layout="circles"]

What flour can I use?
While this recipe calls for all purpose flour, you can get great results with other types of flour. Try fresh milled whole wheat pastry flour, or a 50/50 combination of the two. For a gluten free brownie, equal amounts of almond flour will work just as well. 
I like to avoid highly processed sugar, can I sub out the white sugar?
Yes. I have not tested this recipe with honey, but you can sub out the the white sugar for another granulated type of your choice. Some ideas to work with:
coconut sugar
turbinado sugar
sucanat sugar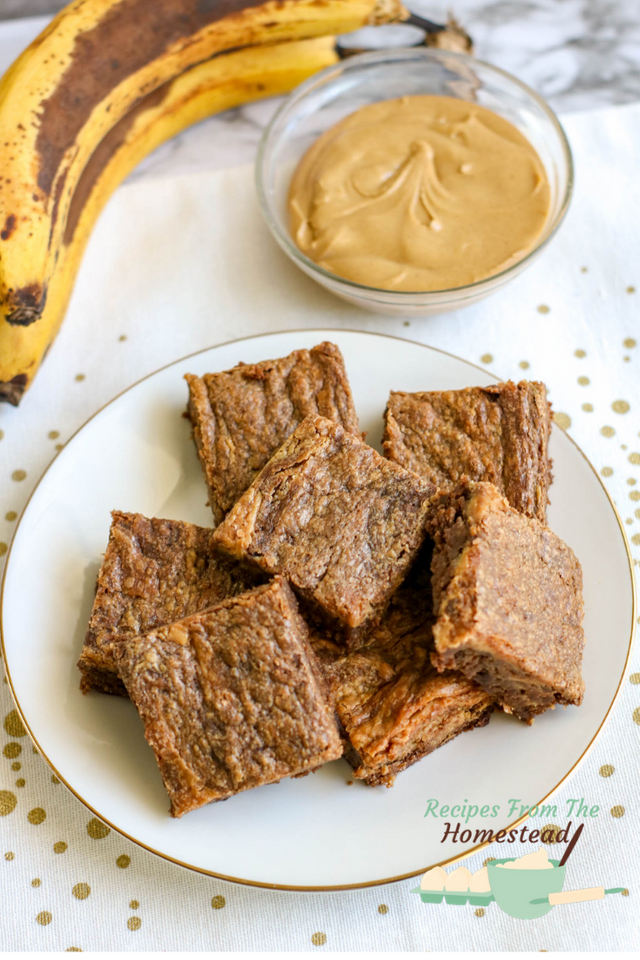 Are you ready for a new twist on homemade brownies?
Begin by mashing the bananas, and mixing with the flour mixture and cocoa powder. Mix together until smooth and creamy. Spread into your prepared pan. It's best to spray with non stick cooking spray and line with parchment paper to prevent any chance of sticking. I used an 8x8 cake pan here.
Top with peanut butter and swirl in to blend. Baking time is typically 25-30 minutes, but check after 22 minutes, as ovens may vary a bit. 
Cool brownies completely before slicing, if you can. For picture perfect brownies, wipe your knife clean between slices. 
What's your favorite dessert? Will you try these peanut butter banana brownies? Be sure to let me know what you think! 
Ingredients
2 ripe bananas, mashed
1 cup sugar
½ cup unsalted butter, melted
1 teaspoon vanilla extract
¾ cup flour
¼ cup cocoa powder
⅛ teaspoon salt
½ cup creamy peanut butter
Instructions
Preheat oven to 350 degrees. Spray ax 8x8 square baking dish with non-stick cooking spray. Line with parchment paper. Spray parchment paper with non-stick cooking spray.
In a mixing bowl, combine mashed bananas, melted butter, sugar, and vanilla.
To the banana mixture add flour, salt, and cocoa powder.  Stir until smooth. Spread the batter into dish.
Dot the top of the batter with spoonfuls of peanut butter. Use a spatula or butter knife to work the peanut butter into a swirl in the brownie batter.
Place in oven and bake for 25 to 30 minutes or until set in the middle.
Allow brownies to cool completely on a wire rack before slicing and serving. For best results, lift the brownies from the baking dish with the parchment paper. Clean knife between slices.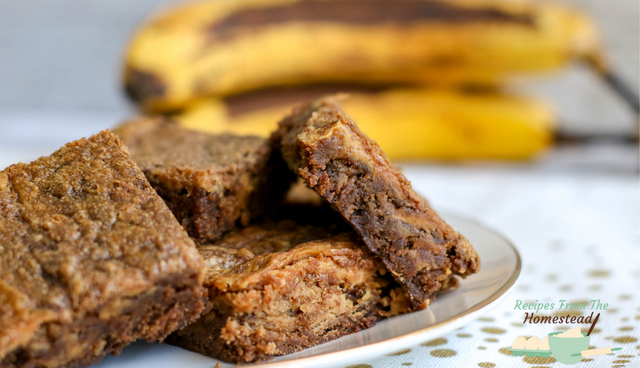 "]
---
Posted from my blog with SteemPress : https://recipesfromthehomestead.com/peanut-butter-banana-brownies/
---