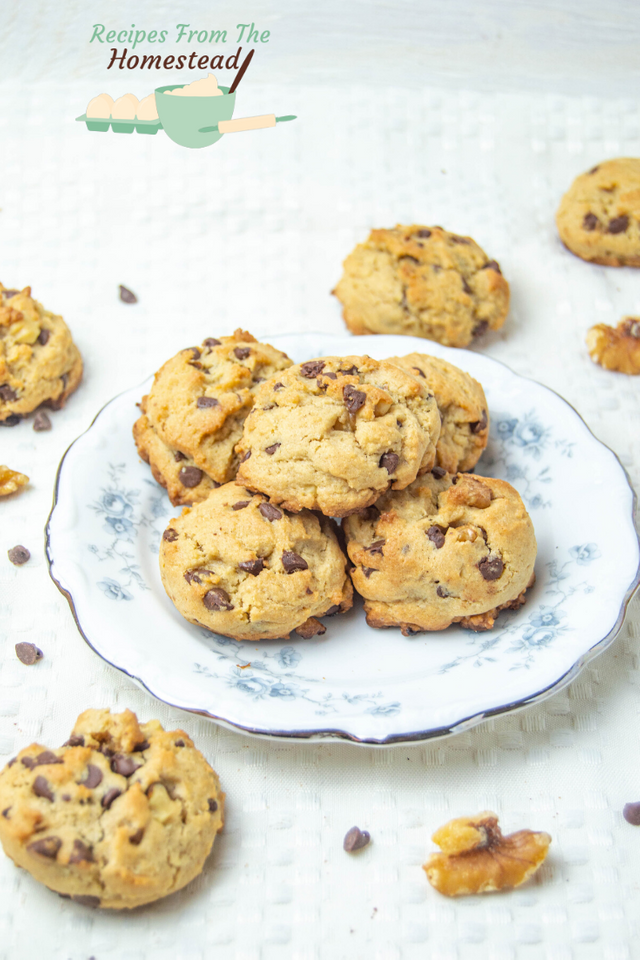 You will love these homestyle chocolate chip cookies with walnuts. Soft, chewy, with a nutty crunch, they are great for dunking in milk or coffee! 
Growing up, my mother would love to bake around the holidays. She would make her list of dozens of cookies to make, grab ingredients from the grocery store and get to work. The kids would love to help her get started. 
After about 2-3 batches, we were done baking. Off to play went the kids, while my mother sat in the kitchen by herself for hours, making dozens of different types of cookies. She made the best chocolate chip cookies out there, in my opinion. 
Perhaps it was the softness of the cookie, or the delicate mini chocolate chips. Maybe it was the crunch of the walnut pieces. Here mini chocolate chip walnut cookies were the first to be eaten, every time. 
Today, I will share with you what has become known as "Grandma's Chocolate Chip Cookies".  Every time I make these, I remember her and my kids and I share the fun memories we had of her. 
What makes these the best chocolate chip cookies?
These cookies have the nutty crunch of walnuts. Walnuts pair so beautifully with chocolate, it's like they were made for each other. They also are "drop" cookies, which means they go nearly straight from the bowl to the baking sheet, with very little effort.
Can I use whole wheat flour with this chocolate chip cookie recipe?
I have made this with both whole wheat and white flour, with equal success. However, the whole wheat flour does make them a bit heavier, so we prefer to use all purpose flour. If you choose to use whole wheat flour, keep that in mind that they may be heavier in texture. 
[mv_create title="Other Cookies To Try" key="140" type="list" layout="circles"]

I am allergic to walnuts. What can I use instead?
No worries! If you want to substitute out the walnuts to do flavor preferences, or allergies, here are some other nuts you can try:
chopped pecan pieces
crushed peanuts
almond slivers
or just leave the nuts out altogether, these cookies will still be great!
[socialpug_tweet tweet="You will love these homestyle chocolate chip cookies with walnuts. Soft, chewy, with a nutty crunch, they are great for dunking in milk or coffee! 
#cookies
#chocolatechipcookies
#walnuts
" display_tweet=""]


What's the secret to the perfect chocolate chip cookie that is soft, yet still dunkable?
This is one I learned in the restaurants years ago as a beginning pastry chef. When you are baking cookies, and the bake time says "10 minutes", remove the cookies at 9 minutes, and let the baking sheet sit on the rack to cool, with the cookies still on it. 
The cookies will still finish baking, but won't overbake. This gives you the soft, chewy texture for cookies that we all love. 

Do I need to chill the dough before baking these?
No, chilling the dough is not required. However, if you want to make a batch ahead of time, and bake later, you certainly can. This cookie dough will be great in the freezer, and you can bake one or two cookies at a time, if you wish.
Simply follow the directions to make the dough, then form the cookies. Place in a single layer on a baking sheet, then freeze until solid, about 1-2 hours. Store frozen cookie balls in an airtight ziplock bag for up to 3 months. To bake, lay the frozen cookie balls on a baking sheet, then follow baking times, adding 2 minutes to overall baking.
How do I make these homestyle chocolate chip cookies?
Using a medium bowl, combine the flour, baking powder, baking soda, and salt. In a separate bowl, combine butter and sugars, egg, and vanilla, mixing until well combined. Add the dry ingredients into the wet, and stir until well combined. 
Drop by teaspoonfuls onto an ungreased baking sheet. You can use a teaspoon, form with  your hands, or a cookie scoop. Be sure to leave 1-2 inches between dough balls for spreading while baking. 
Bake for 8 minutes, then remove and allow to cool for 2 minutes on the baking sheet out of the oven. Remove to cooling rack to finish cooling completely. Store in an airtight container on the counter for 4-5 days, in the freezer baked for up to 3 months. 
What is your favorite cookie to bake? Will you try these Mini Chocolate Chip Walnut Cookies?
[mv_create title="Mini Chocolate Chip Walnut Cookies" key="141" type="recipe"]
Ingredients:
1 ¾ cups white flour
½ teaspoon baking soda
½ teaspoon baking powder
½ teaspoon sea salt
1/2 cup dark brown sugar, tightly packed
1/4 cup white granulated sugar
1 stick unsalted butter, melted
1 egg, at room temperature
1 teaspoon vanilla extract
⅔ cup mini semi-sweet or milk chocolate chocolate chips
⅔ cup walnut pieces
Directions:
Preheat oven to 350 °F.
In a medium bowl, combine flour, baking soda, baking powder and salt.
Stir to combine and set aside.
In a large bowl, mix together brown sugar, white sugar, egg, vanilla, and butter. Whisk together until well combined.
Add dry ingredients to the wet ingredients and stir until well incorporated.
Fold in chocolate chips and walnuts.
Using a cookie scoop, drop onto ungreased baking sheet.
Bake for 8 minutes, or until edges are golden brown
Makes about 24 cookies
---
Posted from my blog with SteemPress : https://recipesfromthehomestead.com/mini-chocolate-chip-walnut-cookies/
---