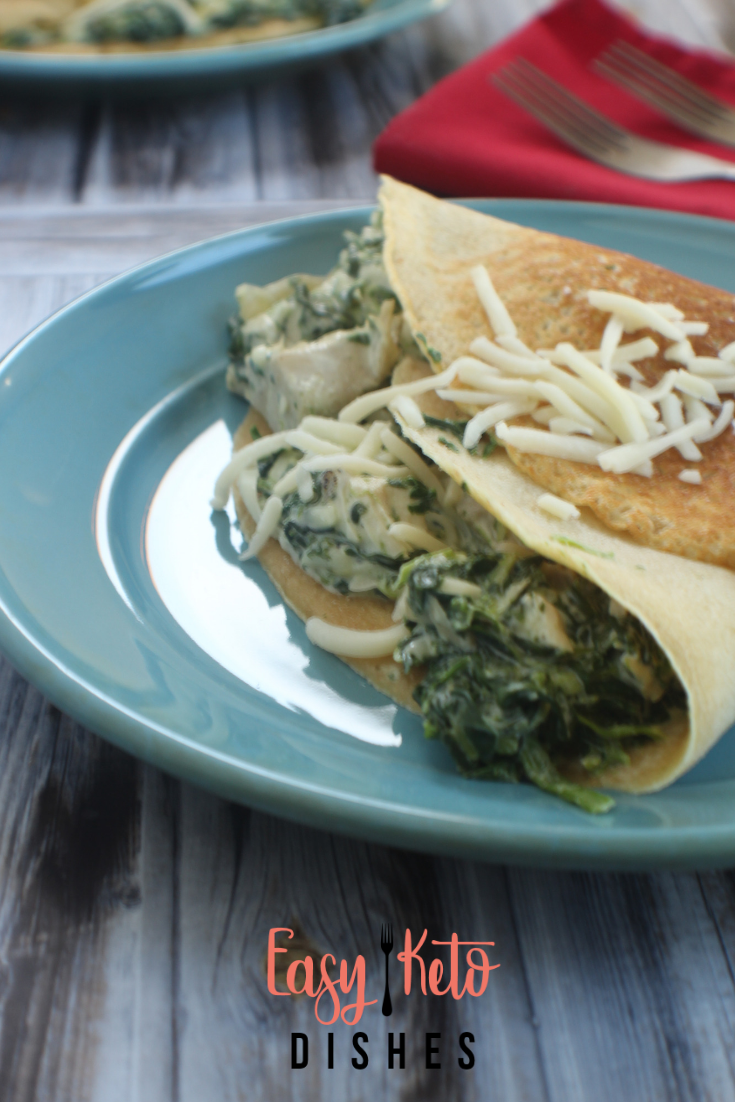 <br/
Tender and creamy with real flavor bursting forth, these chicken, spinach and cheese stuffed crepes will show you that low carb and keto dieting doesn't HAVE to be boring!
As you may or may not already know, the Frenchman loves his food. French food, of course. Anything that is creamy, wrapped in tender layers, or smothered with sauce will make him smile. Which brings me to a dilemma.
I am NOT French. Not in any way, shape, or form.
Don't get me wrong, I love my own heritage, which happens to be Swedish. I grew up on far more simpler fare, like mashed potatoes, pickled herring and the occasional haggis. Making food that has lots of rich, creamy sauces wasn't part of my childhood.
Therein lies my dilemma. How do I keep the Frenchman's tummy happy, yet stay true to my keto diet? I adapt, of course! When he asked me to make him crepes one day, I rose up to the challenge.
What exactly are crepes?
A
Crepe
is a type of very thin, cooked pancake usually made from wheat flour. The word, like the pancake itself, is of French origin, deriving from the Latin crispa, meaning "curled."
Crepes are actually very easy to make, once you get the hang of it. They are a basic pancake recipe that is more runny and made with a 9-10 inch frying pan. The big difference is that you make the crepes one at a time in the pan, pouring the batter and working the pan in a swirly motion to spread the batter.
The batter HAS to be thin for crepes to work. Otherwise, you are making a stove topped baked pancake. And that's another recipe. Stuffing the crepes makes them very versatile, as you can go from sweet to savory, depending on the filling.
For this recipe, we are making spinach, chicken and cheese stuffed crepes. A simple, almost romantic meal that will fill you up without filling you out.
Ingredients:
1 low carb crepe batch (get the recipe here)
10 ounces frozen spinach
2 Tablespoons butter
8 ounces cream cheese, softened
2 chicken breasts, cooked and sliced
1/2 cup mozzarella cheese
1 teaspoon salt
1 teaspoon black pepper
3 garlic cloves, minced
Instructions:
Make the crepes according to the recipe, and set aside
Heat the spinach and butter in a medium pot over medium heat until heated through
Place the softened cream cheese in a stand mixer with a flat blade attachment. Or, you can put it into a medium mixing bowl and use a large wooden spoon to stir.
Add hot spinach, salt, pepper and garlic and mix well to combine.
Stir in the sliced chicken breasts and mozzarella cheese
Place 1/2 cup filling in the middle of the crepe.
Fold over and serve warm.
Makes 6 servings, 1 stuffed crepe each
Have you ever tried stuffed crepes? Will you try this chicken, spinach and cheese stuffed crepe recipe? Be sure to pin this for later!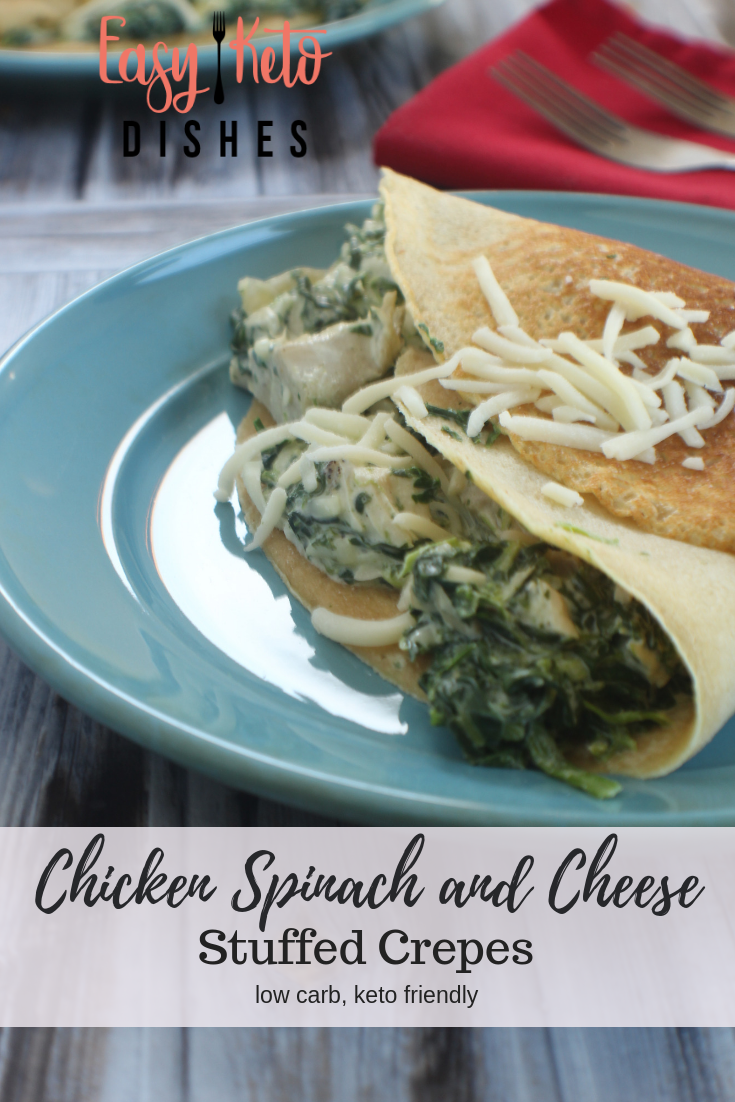 [mv_recipe post_id="1448"]

---
Posted from my blog with SteemPress : http://easyketodishes.com/stuffed-crepes/
---