How can a caterpillar be so different looking than when it becomes a butterfly?
Mom wrote her What is this worm post when she caught one of the Giant Swallowtail Butterfly caterpillar.
We didn't know the name of it before so she wanted to take pictures of the worm close up.
Front - it looks really mean doesn't it?
This is when Dad found caterpillars all over the kumquat tree. He is very observant.
He looked up and was checking our plants on the deck and realized the kumquat tree is eaten up. There were leaves chewed on. Some didn't have any leaves.
Side - it still looks mean... and icky
Then he saw this worm and showed it all to us. Yes, all of us. When Dad started taking them off the tree, we started smelling something stinky.
It's not stinky stinky. It's like a faint skunk smell.
Up - There it is chewing on the kumquat tree. Can you see the chewed up leaves?
Shoowwiiee this time this caterpillar is going up.
They're usually eating the leaves while stuck to the limbs. I wonder how fast they eat the leaves...
Because they sure do look like healthy worms.
There's three in the compost bowl for the chickens
Here's 3 fat ones. I touched one of them and they're soft and squishy.
We just knew that these worms were eating our trees so like most bugs at the homestead, they're chicken food.
That's why we dropped them on the compost bowl for the chickens.
This is what it's going to look like
They are very beautiful butterflies. I wonder why when they're a caterpillar that they don't look nearly as beautiful.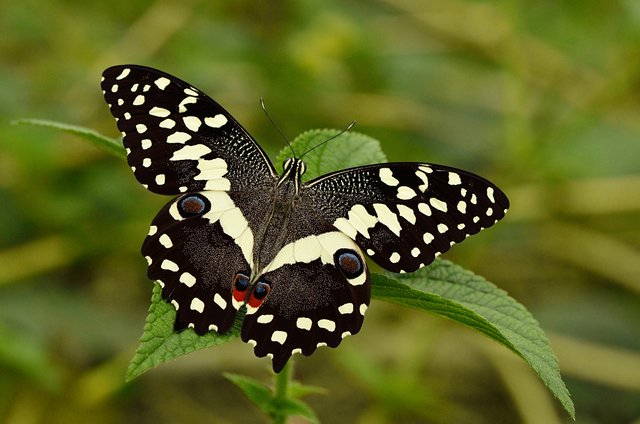 Source