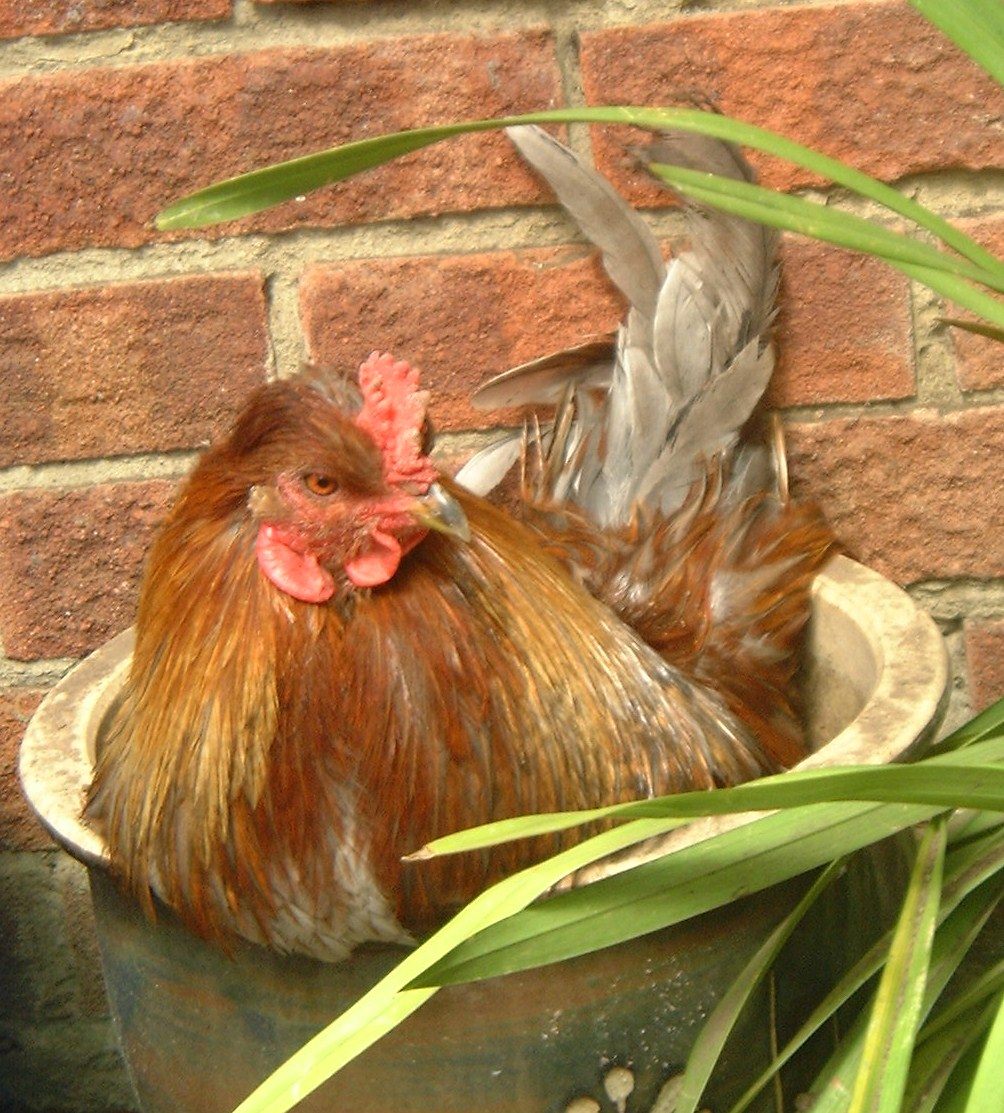 Did you ever hear tell of the rooster called Red,
Whose ambition it was to keep folk out of bed?
He crowed like a siren whenever he chose,
Starting in darkness, before the sun rose.
He crowed out his heart to impress all the hens
So his calls always came in collections of tens.
He'd call out for Haley, for Hannah and Harper
If they didn't answer, his call grew still sharper.
He'd call next for Harriet, then Hattie and Hawk
Then listen to hear them reply with a squawk.
Next came Henna and Henrietta of course,
His lungs filled with air and expelled it with force.
He called to his darling, dear Hero, so sweet,
Oh, how he loved her seductive shrill tweet!
Last came Houdini - who was so seldom home,
Across next door's garden she usually did roam.
In just under the hour, his register's done.
But now he will call out just for some fun.
Fifty-five minutes, its time for his rest.
You have to have sleep, to crow like the best.
A ten minute nap, and of course he does know
His girls are all waiting to hear his next show.
So on the high birdbath he hops like a flash,
Lands in the water and makes a big splash.
His throat he must clear with a rooster like cough
The neighbours all pray it's a sign he'll die off.
Hannah, and Harper, Harriet and Haley
Ignore all his nonsense - 'cause it happens daily.
Henrietta and Hawk, Henna and Hattie
Hate that he's driving the whole village batty.
Houdini has left him, his row she can't take
But Hero, his darling, knows his job is to wake.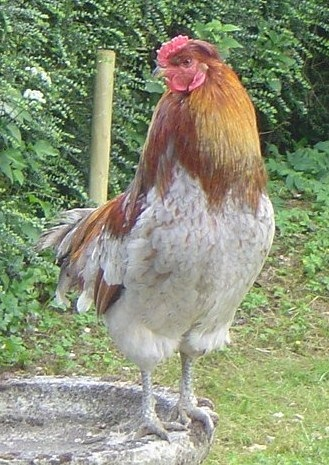 Notes: Red was the best rooster I ever had, and probably ever will have. He was a lavender and red araucana who produced offspring with rich glossy feathers, and his daughters laid large eggs of a perfect blue. His noise level, coupled with chronic insomnia, did indeed make him unpopular with most of the village. But on the other hand, he was a fantastic father who took every bit as much care of his chicks as his wives did. Red now crows his heart out in Chicken Heaven after an untimely and suspicious death, but I still have his little Hero, now 9 years old, and a real pet even if she has forgotten all about the how's and why's of the art of egg-laying!
The top image shows him snuggled in a clay planter after removing my lilies from it. I was very fond of clay pots, and so was Red. Consequently my garden was full of clay pots, all half full of soil and with an uprooted tangle of withered plants on the ground beside them. The second shows him atop his bird bath, about to begin his next role-call!