"Daddykirbs Cool Curators Contest Entry - @gardengirlcanada "Three Words Come to Mind, Education, Entertainment and Encouragement"
Daddykirbs first video of 2017, was a pretty powerful video and this post is dedicated to ALL the reasons why. As homesteaders, gardeners and farmers we know that life can throw you anything at any given time. A flood, a death of an animal, an unexpected freeze, an escape of livestock, a fire, and the sickness of a love one, are all examples of hardships that we can face. In this video, the first one of 2017, @daddykirbs shows us how life goes on and you gotta roll with the punches. His son "Luke" came down with pneumonia.
This video for Blake is a self reflection of where he was and where he would like to be and grow as a person. One point that struck me, was his ability to come to the realization that perfection is something that he had to let go of. He has also, determined that through watching himself over the past year in video, he did not like the way he was treating people through his choice of words, and or actions, so in this journey of self reflection he has decided to change how he works with the people he loves who help him around the homestead. Blake, I commend you for digging deep and wanting to change. Speaks volumes to those out there.
I can relate and understand the frustrations sometimes with having a child who is medically and mentally challenged with daily issues, that you need, to just stop what your doing and handle the situation. Sometimes that means not making it back into the garden that day or even the next day, but Blake has taught me it's ok to let go, and the garden can wait, family is more important.
To quote this great man "Can't stop Believing " your plants will come back with just a bit of love and patients. Blake refers to three words in this video. Education, Encouragement and Entertainment. These three things are all what he would like to bring to his video's over 2017. I am curious, if he has done another self reflection video for 2018 looking back at how these improvements have looked liked.
One more question for @daddykirbs. Have you used "Terragon" in any of your recipes since Jan 2017? LOL
I encourage you all to watch this powerful video and hear true words spoken of a simple hard working family man and the farm he runs. I am tagging @walkerland and @amymya to watch this video, as you are both amazing family and homesteader people in our community.
Happy "Curator Contest" Trails Folks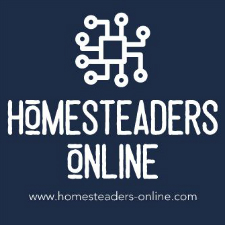 Join Link: https://discord.gg/VKCrWsS
Community Link: http://homesteaders-online.com