HolyBread Tip - Which come first, Quests or the Arena?
Understanding the basic gameplay of any game is important for success. This is true for HolyBread as well!
In today's post, I will explain why I think it is better to engage in ARENA battles before completing QUESTS.
The Mental Struggle
Most games teach us that we need to acquire resources before we can engage in battle. How in the world can you defeat the enemy if you don't have enough gold, experience, or whatever valuable collectible you haven't collected yet?
This is true for most games, and it still holds true for HolyBread. I am not recommending that you neglect QUESTS (which helps you accumulate gold and XP). What I am suggesting is that you consider heading to the ARENA first, and then complete your quests. Keep reading for more details!
Resource Buffs Versus Battle Buffs
Understanding the special buffs associated with your hero(es) is an important part of HolyBread gameplay. There are individual buffs and team buffs, but just as important, there are resource focused buffs and battle focused buffs.
Resource Buffs
more GOLD
more XP (experience)
Battle Buffs
more CRIT (which impacts your luck score)
more DAMAGE
more LIFE
So WHY should I enter the ARENA first?
The following message is the key to why you should enter the ARENA before completing QUESTS.
You can not change heroes while being on a quest
QUESTS are an important part of the HolyBread experience, but once you start a quest, your team is locked in for the duration of the quest.
There are 5, 10, and 15 minute QUESTS. The more time required to complete a quest usually means that you receive a better reward.
PRO TIP: I have seen some shorter QUESTS provide me the better rewards than longer quests, so keep your eyes open. And always be mindful of whether gold or XP is the best resource for improving your heroes (and team) at any given moment.
Why does it matter that QUESTS lock up your team?
Ideally, you battle with your stronger heroes (who have battle buffs) and send your weaker heroes (or your heroes with resources buffs) on quests.
This strategy maximizes each hero's individual or team buff.
With my current team dynamics, I want to take these heroes into QUESTS.
Hero 1 = 60% more gold
Hero 2 - my work in progress
Hero 3 = 5% more XP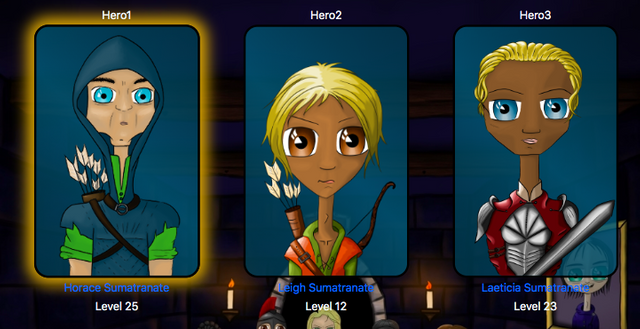 But I would want to take the following team into battle.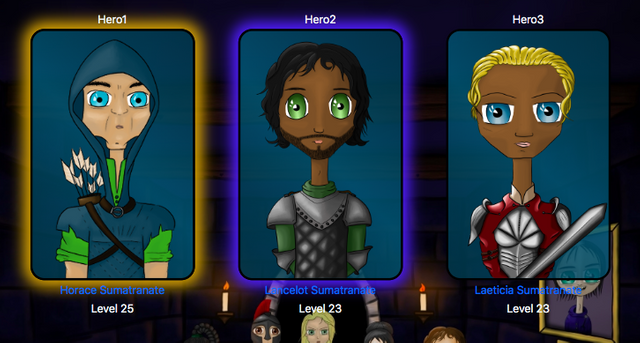 The only difference (for the time being) is Hero #. In the first team photo above, Leigh needs some more attention and additional opportunities to gain XP. Lancelot has already received a lot of time and resources to develop as a strong hero. When I go into the ARENA, I want to take my strongest fighters.
After a battle in the ARENA, I can immediately make changes to my team, but when I start a new quest, my team is locked down until the end of the quest (either 5, 10, or 15 minutes).
PRO TIP: Completing a quest requires Energy (a renewable resource in the game). Each minute you spend on a quest requires one unit of energy. Although you want to carefully balance the amount of energy you spend, you also need to spend energy to unlock your hero #2 fighting spot and hero #3 fighting spot.
So WHEN should I start entering the ARENA first?
When you are first learning HolyBread, just have fun, make some mistakes and learn from them.
Once you have one or more heroes than you have spots on your team, that is when you have to start making decisions about who to send to the ARENA and who to send on QUESTS.
And as you develop a diverse team (with both quest buffs and battle buffs), you will need to become even more aware of the decisions you are making (or not making).
I hope these tips will help you as you develop your HolyBread strategy. Keep building your team and see you on the battlefield!