Holiday Anxiety
I have to make a confession, for the most part, I hate November to the end of December. Is nothing worse than driving into a store parking lot after Black Friday begins? Almost every fender bender I've witnessed occurred in parking lots during the holiday season.
--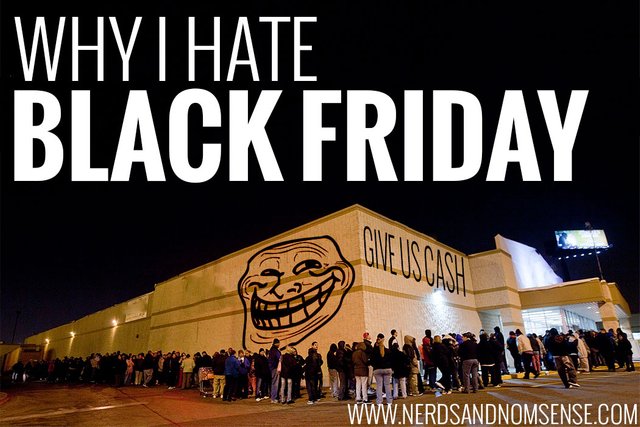 Image Source
This time of year creates a lot of holiday stress and general anxiety. People can sometimes have unrealistic expectations about the holiday season. As a mental health counselor, I have discovered how people can have these unrealistic expectations which turn into negative thoughts about themselves. On more than one occasion I have met with people who have told me, "I get so depressed this time of year, having to see relatives I don't like, buying presents I can't afford and being given junk I will never use." Former clients of mine also remark how they "run around like a chicken with its head cut off" trying to buy presents for friends, family, and co-workers or gearing up for various holiday celebrations. So in anticipation of the most stressful time of the year, I offer a few brief words of advice and encouragement to my fellow celebrants:
Come up with a Plan. Remember in the A-Team when BA Baracus asked Hannibal, "what's the plan, Hannibal?" Well, BA did this to relieve his anxiety. This season is a little less anxiety provoking if you can plan ahead, such as making a To-Do List (they have apps for that now!), your holiday stress will be greatly reduced.

Tired of getting (and giving) cat sweaters? Create an Amazon Wishlist for yourself and ask others to do the same. This does two things, first, it allows you to get things you want and things others want (no one has to go through the dreaded post-holiday return lines) AND you can probably get it all online (no risking life and limb via store parking parks).

Slow down! Try to be more mindful this season, if you find yourself rushing, STOP and breath. Don't be afraid to take a time out for yourself to exercise, meditate or just watch a few reindeer related cartoons.
As for those relatives of yours, you know who I'm taking about: the Cousin Eddies' of the world. Try to feel a little compassion for them, after all its the holidays!
---
Unmentionably Satisfying Reads
Random Distressing Thoughts
2 Ingredients to Success
On Morning Rituals: Part I (Yoga)
Sobering Empathy