Stone Henge is one of the renowned Neolithic Monuments however there are many scattered across the UK.
Around 4500 (2500BC) years ago in the late Stone Age and Early Bronze Age the world wasn't lead my modern religions but by Mother nature and the Druids. The people of that era lived in Stone Huts and buried their dead in Dolmens or Burial Chambers.
One of my hobbies is visiting these sacred sites. I find them very spiritual places and often believe I have walked the very same steps as the people who did thousands of years ago. I sit, draw, meditate or wait till no one is around and sing and dance around them! I don't care how crazy I look it makes me happy!
Each sacred site has its own story and tales and each stone is different. I discovered these sites a few years ago and then was introduced to a Book "The Modern Antiquarian- By Julian Cope"
Conwy- North Wales
This one of my favourite Dolmen's – The Poets Stone- Maen Y Bardd in Welsh. It is set it in the Conwy Valley near Tal Y Fan Mountain. Facing Southwest it has a stunning view over the Conwy Valley and Beyond.
This is a particular busy place in olden times as it formed part of the Old Roman Road which spanned across Wales East To West. The area was a hub for Neolithic Hunters.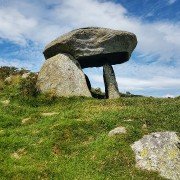 This is the view from the Dolmen.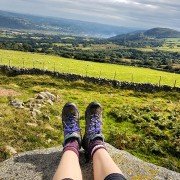 Nearby is this Standing Stone called Cae Coch. Standing stones were markers for the people of the Neolithic Period for directions and general you have arrived at this place.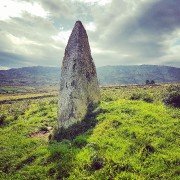 Dyffryn Ardudwy
These 2 Dolmens are next to each other under 2 Oak Trees- A sure sign of the Druids. It is believed that these would have been covered with rocks and a cairn was formed.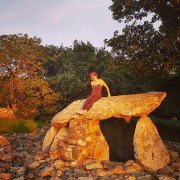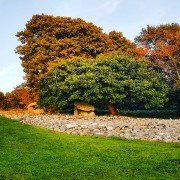 Penmaenmawr
Another place situated just along the Old Roman Road is another hive of activity. Full of stone circles the most prominent being the Druids Circle situated high up on the opposite side of the Conwy Valley.
Up here is also an old Axe Factory where a Stone has been discovered that would have been used to knap the Flint into the shape of an axe.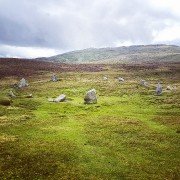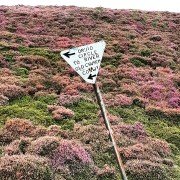 There is also an old church up here!
---
This is just a few of the ones I have found and many more lay undiscovered by me.
I hope to find more in 2018. It's a great hobby to have and it include it with my other hobby of GeoCaching. I posted a blog about geocaching here https://steemit.com/steemiteducation/@pumpkinsandcats/a-full-beginners-guide-to-geocaching
I haven't posted anymore about ones I have found as I'd like to use them in separate posts