Over the years I have been very creative when it comes to birthday and Christmas presents (well at least I think so), especially when they are hand-made (even more special!). Boys are always a challenge to buy for, as they grow into men they buy the things they want themselves, that's why I take it upon myself to make them the things they NEED...such as…tie-dyed t-shirts! 😉
One Christmas I made matching shirts for the entire family! Thought it would be a nice "photo" touch for a special day together. Everyone smiled and wore their shirts to please me. Here is my family…before the kids…. on Christmas day in 2013-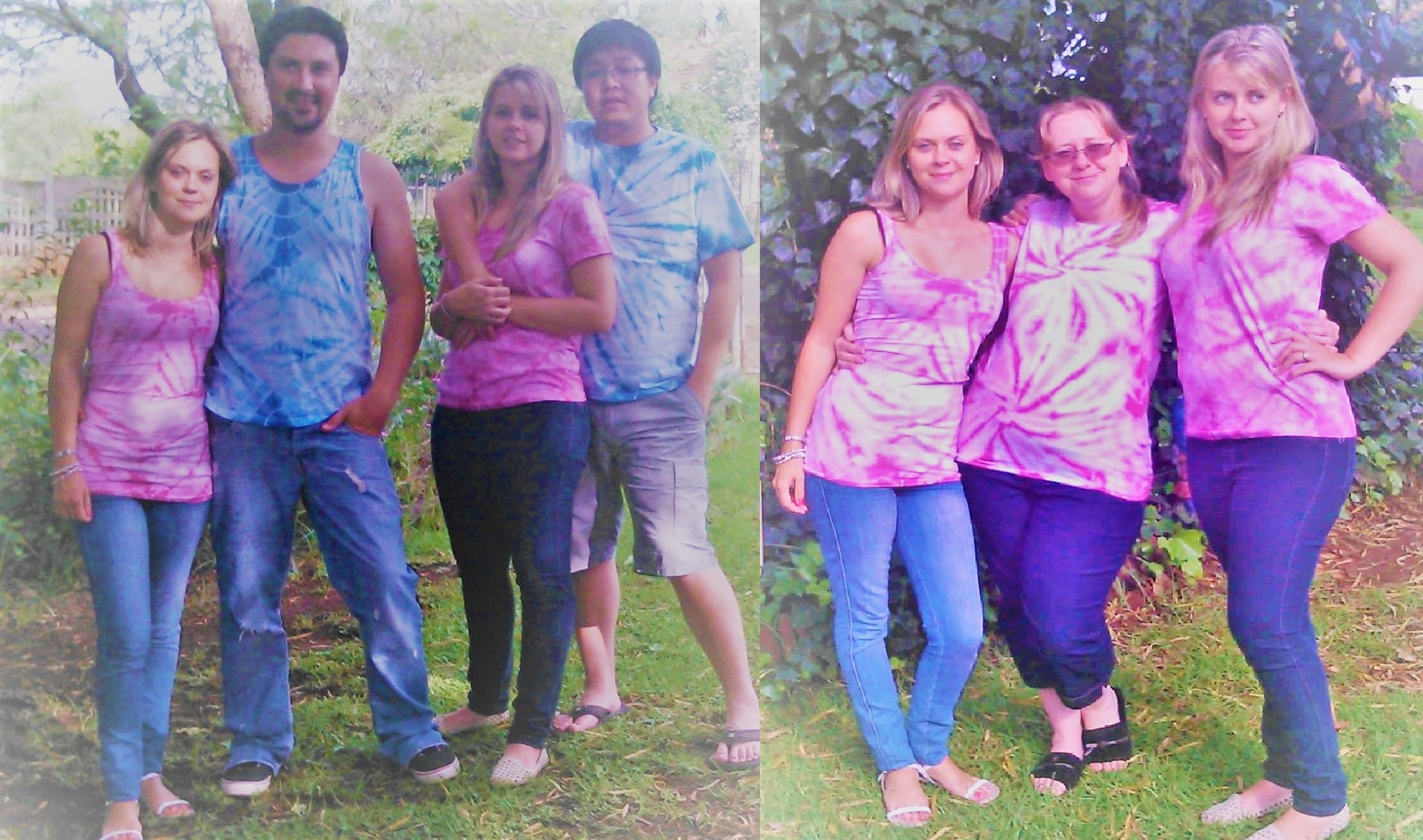 If you are anything like me as a mother, you spend 50% of your time cleaning, often resulting in bleached stained clothes. I sometimes get excited when this happens, I see it as an opportunity to tie-dye with bleach.
Here is the dress I made after reviving it from a terrible bleach stain incident-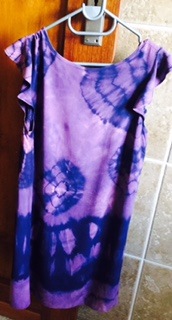 A small present for grandpa that MeiMei and I have been working on is this t-shirt-


Last time he insisted that I use dark "manly" colours when making him a t-shirt.
MeiMei added her paw prints with some fabric paint for a special touch.
If you have never tie-dyed before, here's how I do it:
I prep my fabric by putting it on a rinse cycle in the washing machine. You want it to be damp to work with.
I lay it out flat on the counter and place a fork on a part of the fabric, this will be the centre of any circle patterns you make, Secure the twisted material with elastic rubber bands or string to hold it together, remember where you place the bands is where the pattern will form. I also take long sections, twist them up and place bands or string in rows. Simply tying a knot also makes for a stunning pattern.
I like to use hot&cold wash dye options, they are so easy to use. I fill a bucket with about four litres of very hot water, add the dye and mix (add salt to the water to set colour). If you are bleach dying coloured fabrics, simply add about 80ml bleach instead. I immerse the entire garment into the water and soak it for about an hour or until the water is cold.
Take the garment out and drain the colour out under clean running water until it runs free of colour. Remove your rubber bands or string. (This is the fun part! This is where the SURPRISE pattern is first visible.) I put it on a spin cycle to dry it out a bit before hanging it up to dry outside.
Once dry put it on a quick wash with some washing powder, leave it to dry again and iron…THEN IT'S READY TO WEAR!
My hubby has to often stop me from bleaching or dying random garments for fun, especially his, I just love it! 😉