Men by nature are creative, imaginative, and has the eyes for captivating things (especially the colorful ones). I am a human being, a political animal, and aside from that, I am a lover of art. Art took my interest because it does not just appeal to the heart, but to one's emotion. It enables to move even the most inner chamber of the human existence. Aside from myself as a testimony, I have seen a lot of people especially kids who changed for the better because of art.
The Love of Arts and Crafts Changed Me
I engaged myself to designing, drawing of portraits, mural painting, and a lot more. Although this just a hobby to some, engaging myself to art is beneficial for me. In times when I experience anxiety and depression, painting allowed me to understand myself more. I tend to ask myself and examine about what went wrong, what did I do wrong, and whether or not I responded ethically and morally. It was as if the paint brush allowed me to dive to my inner being. Every stroke that I make, the level of my anxiety decreases.
I started painting at the age of three *and I think I made mention of that on my previous post. I wanted to take Fine Arts then but it was too expensive for me. I have no means, but still it did not stop me to pursue it as my favorite hobby.
Below are some examples of that I made. This is a screenshot of my instagram account (@gailtongco) and I made these for months ago . As you can see, I really love to work with water and oil based art media. The fluidity of the medium is just like me-- very spontaneous.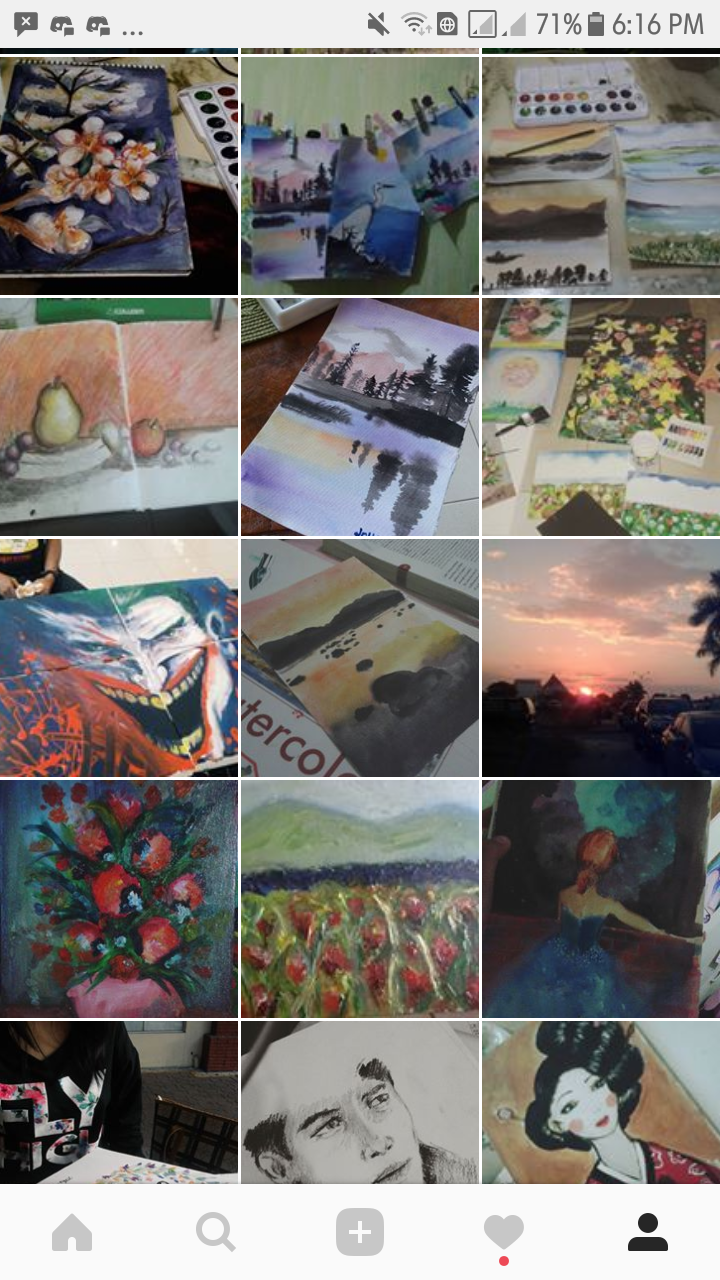 I also worked on this yesterday evening. The medium is plaster. I repainted it and carved minor details on it to have more definite details. I will show to you later the process on how I did it!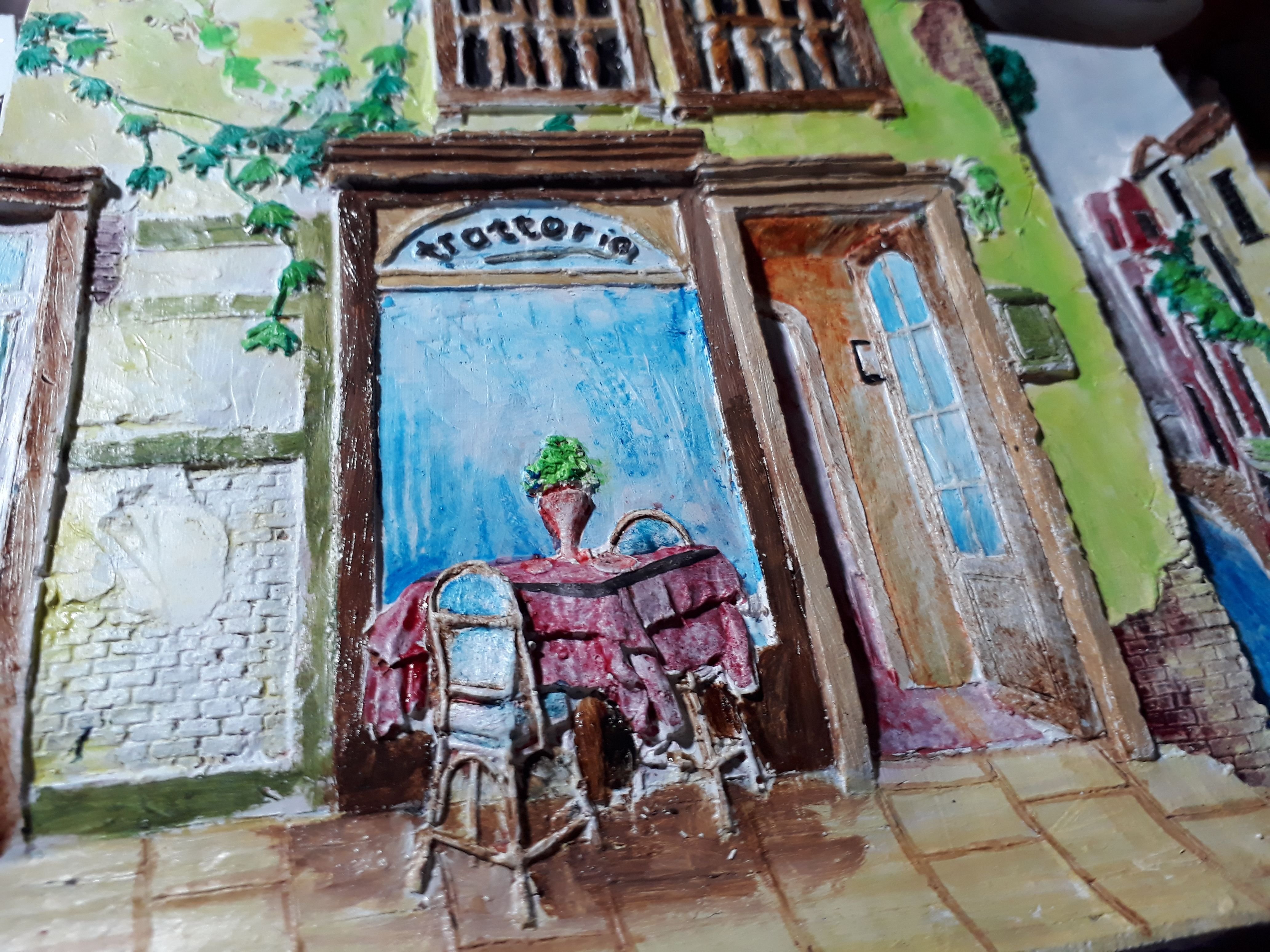 Crafts too is one of my favorite hobbies. It does not go away with crafts. I really love to make scrapbooks and make us of old stuff. I also love to recreate a lot of things at home. It is time-consuming but at the same time satisfying when I am done.
I learned the value of gratitude because of art
Art made me find a community whom I could collaborate with and be myself. I am surrounded by great artists and I feel humbled when I see them on their exhibits. I do not feel small though but instead, it made me strive harder, it made me want to do better the next time I hold my pencil or brush.
I learned the value of gratitude more by teaching art to kids. I feel thankful whenever someone would pat me on the shoulder for thanking me after a day in the class ends. There is a sense of fulfillment.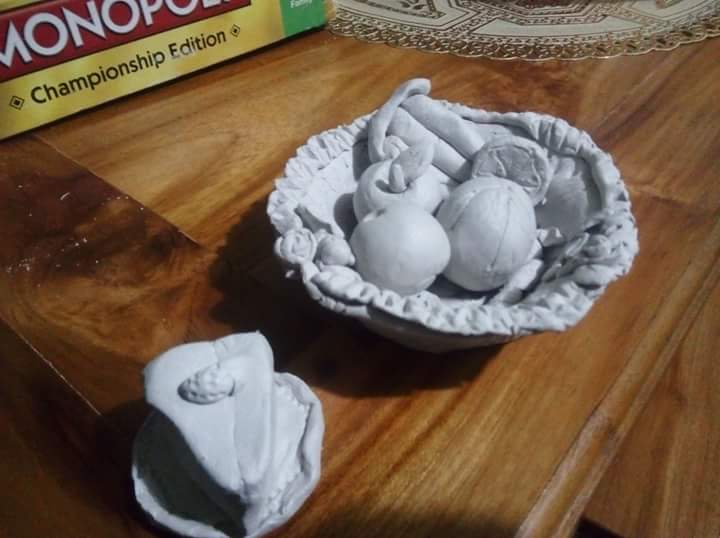 I remember I started making sculpture using soap before as a class project but now I use this type of medium (plaster) to make miniatures. I also love to make model houses and play with my paper dolls.
Arts and Crafts widen my horizon
Because of my interest in art, I have learned to read a lot about the history during the renaissance period and different ages as well that allowed the occurrence of different art movements. Since then I craved to read a lot of books even if it is not related to art. So you see, my passion for art and hobby to paint did not just limit me to that sphere but allowed me to extend it.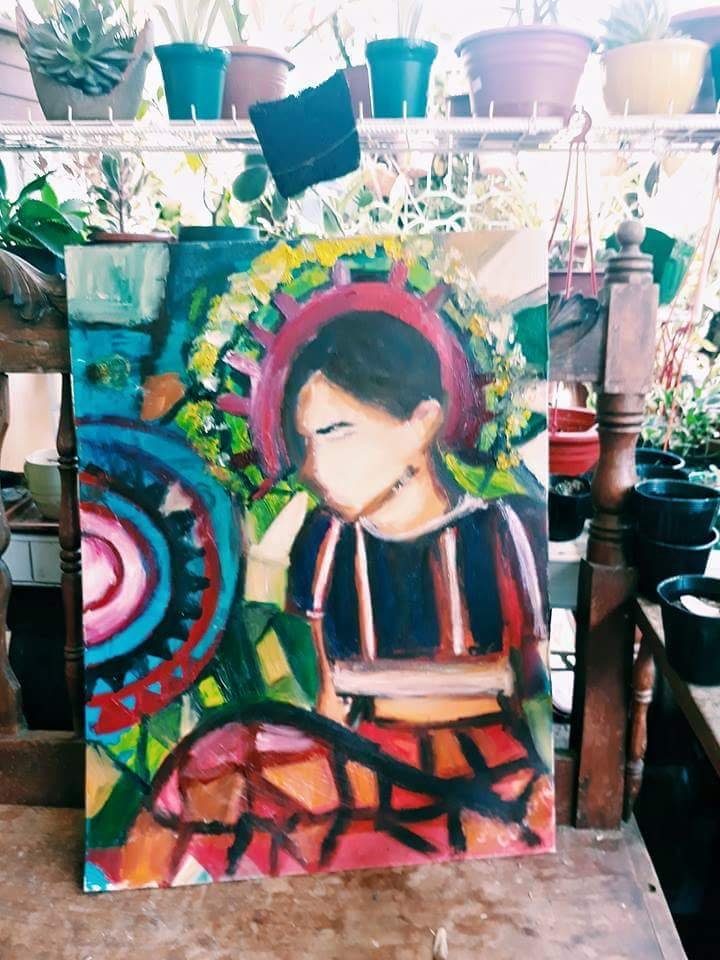 My hobby made me appreciate the different cultures of my country as well. The fabric, the strokes, and how indigenous peopls interpret their surroundings fascinate me. Aside from tinkering stuff, I really love to personalize things to have a sense of ownership. I usually teach this to my art students about personalizing stuff and putting their heart to it while working. I taught them a little about scrapbook making using scrap materials instead of buying expensive stuff.
---
To give you an example of how I came up with one of my works, below is a step by step instruction of how I improved my old art work. We were in Dumaguete last 2014 and visited Robinsons Mall. There was an art shop that allowed kids and teenager to paint on plaster. They sold pre-made plaster at the price of 200-400Php. Paintbrush and paints are also included as part of the set. All we need to do is paint on the surface of the medium.
This was my brother's work. He told me to redo it but it took me weeks to grant his request. I was so busy doing a lot of chores are home, and up to now, I am still not done. Haha! *The never-ending Cinderella story of mine. Glad I do not have evil step sisters, but a war-freak dog instead. *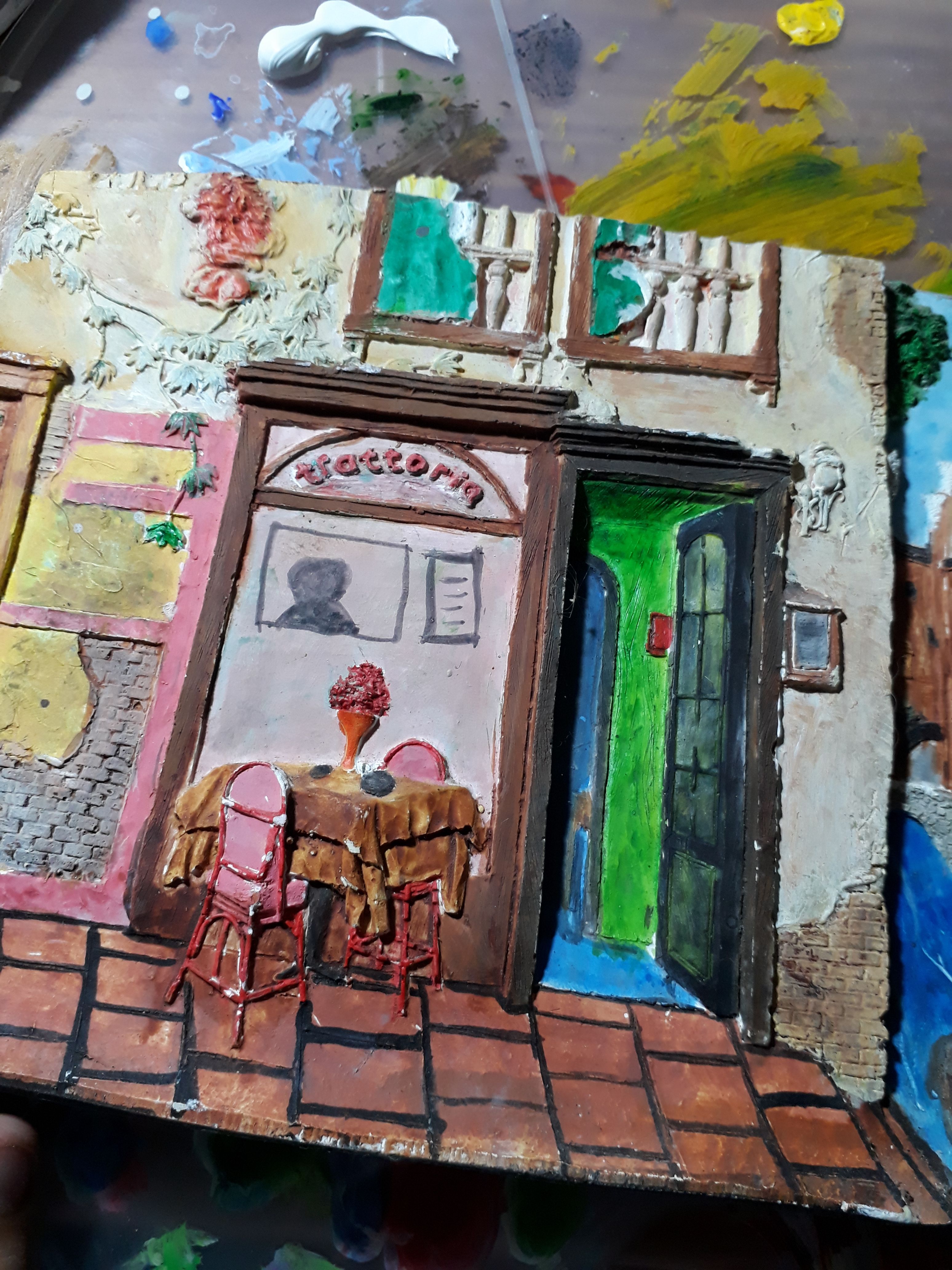 As you observe, there were portions of the medium that has not been well-made probably because of the time pressure. Check the hollow portion at the window on the second floor of the store. I decided to put more details on.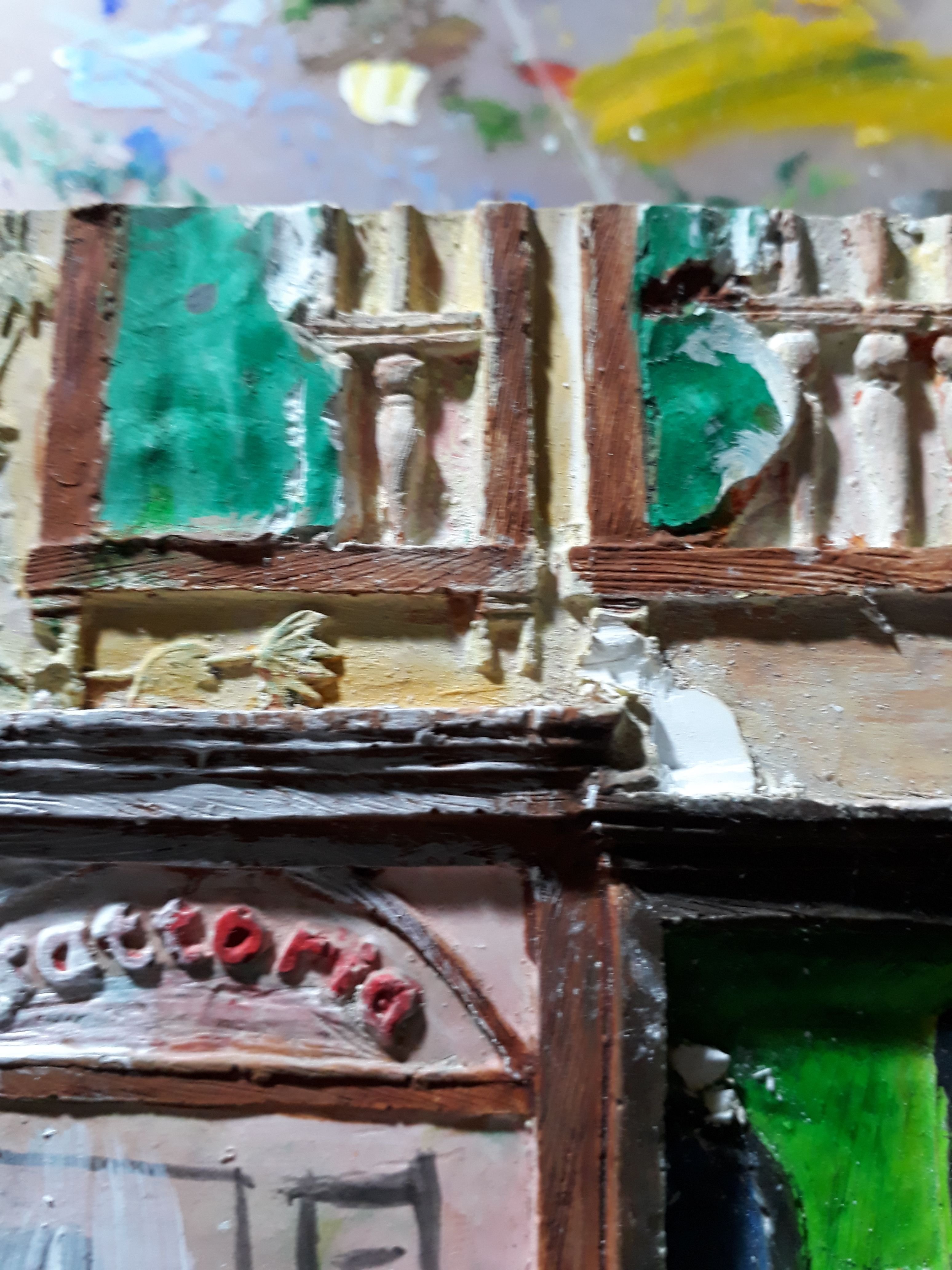 .
I carefully carved it including the other side of the window.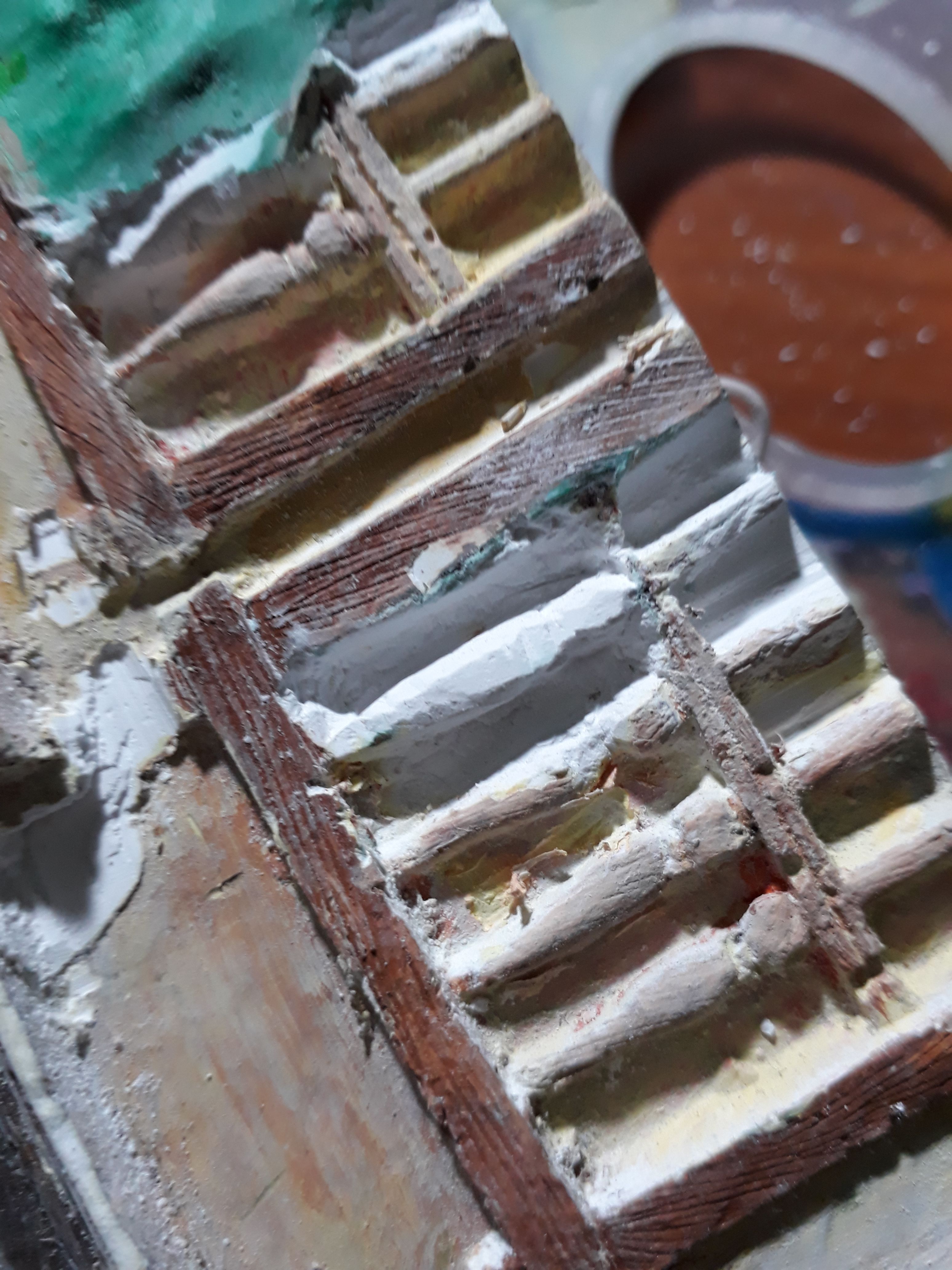 After doing so, I painted the entire medium with white acrylic paint as the base, especially on the darker regions.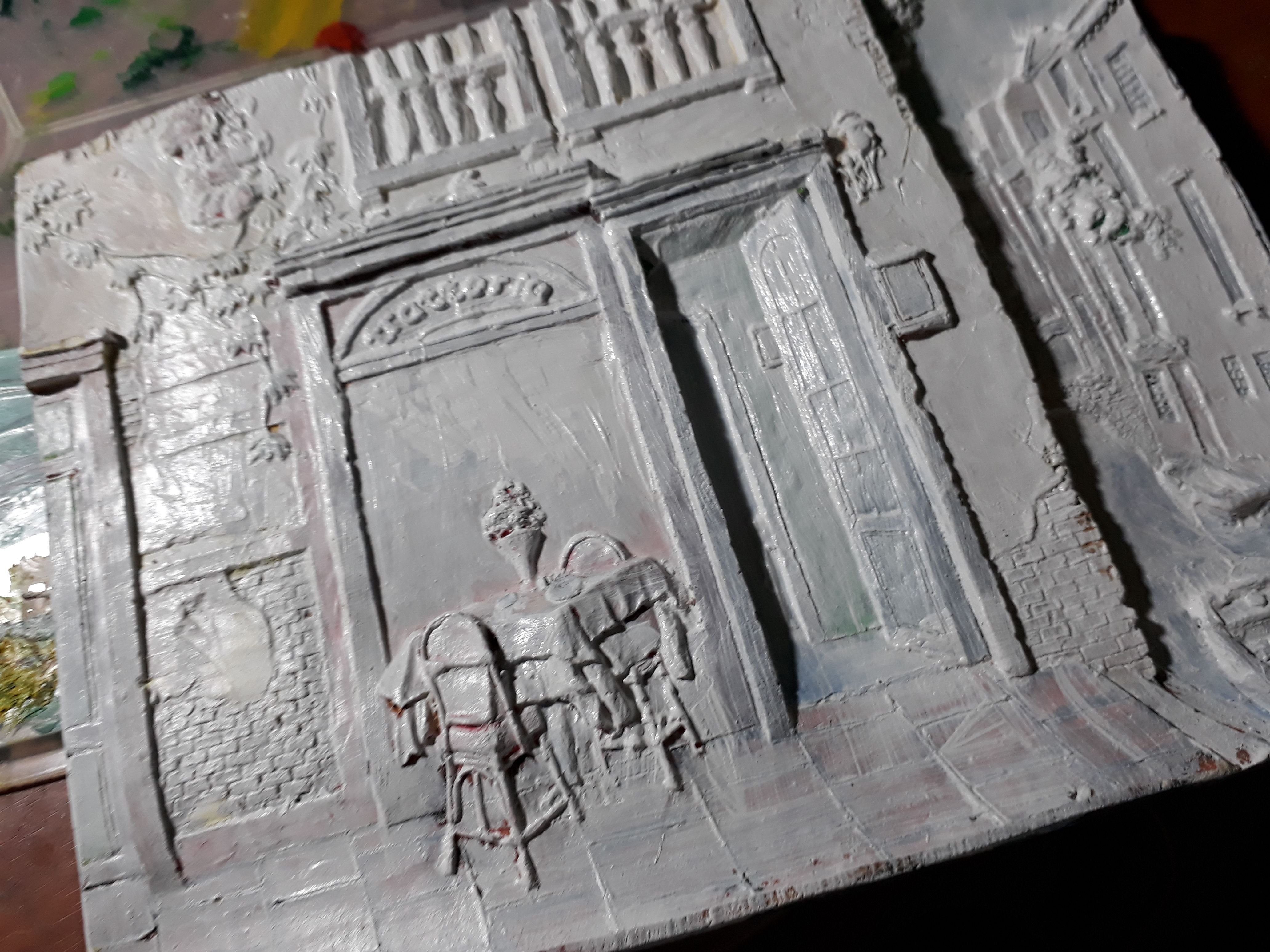 I painted the vine with sap green and a different tone of green (which I forgot its name). I used a thin paint brush on this one while applying the acrylic paint. I must say, latex paint works better on this type of surface.
I carefully painted the floor with yellow ochre and then mixed it with white. For the shadow below and near the table, I used dark brown and mixed it with small amount of yellow ochre so that it would perfectly blend.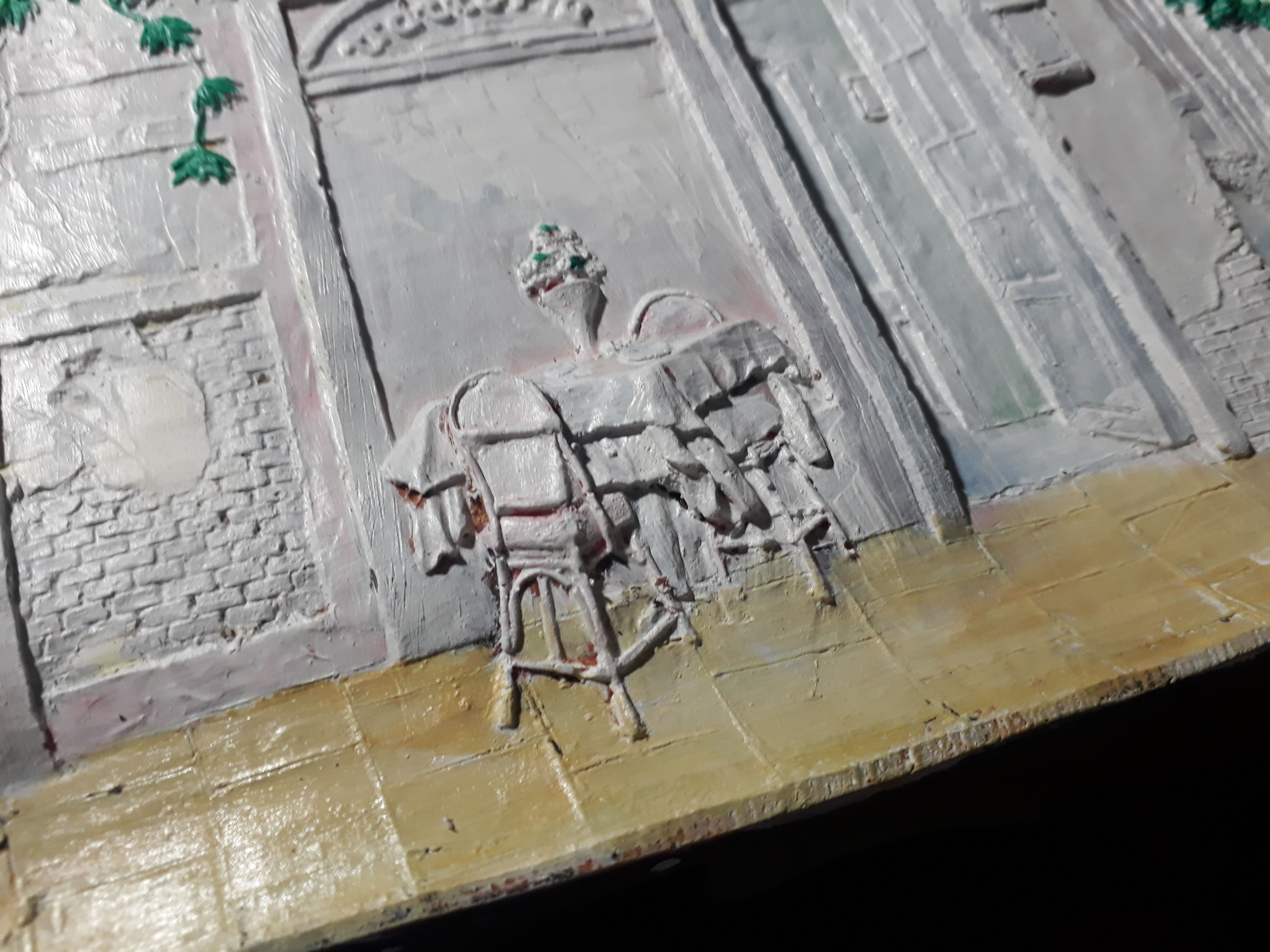 I painted the door frames with different tones of brown. The wall was also painted with lime yellow mixed with small amount of green. Meanwhile the floor inside the restaurant/ shop is painted with red mixed with small amount of blue acylic.
I added a small amount of water with the blue paint to come up with a glass effect on the door and glass window. I basically played with the color wheel using contrasting colors to make it look attractive.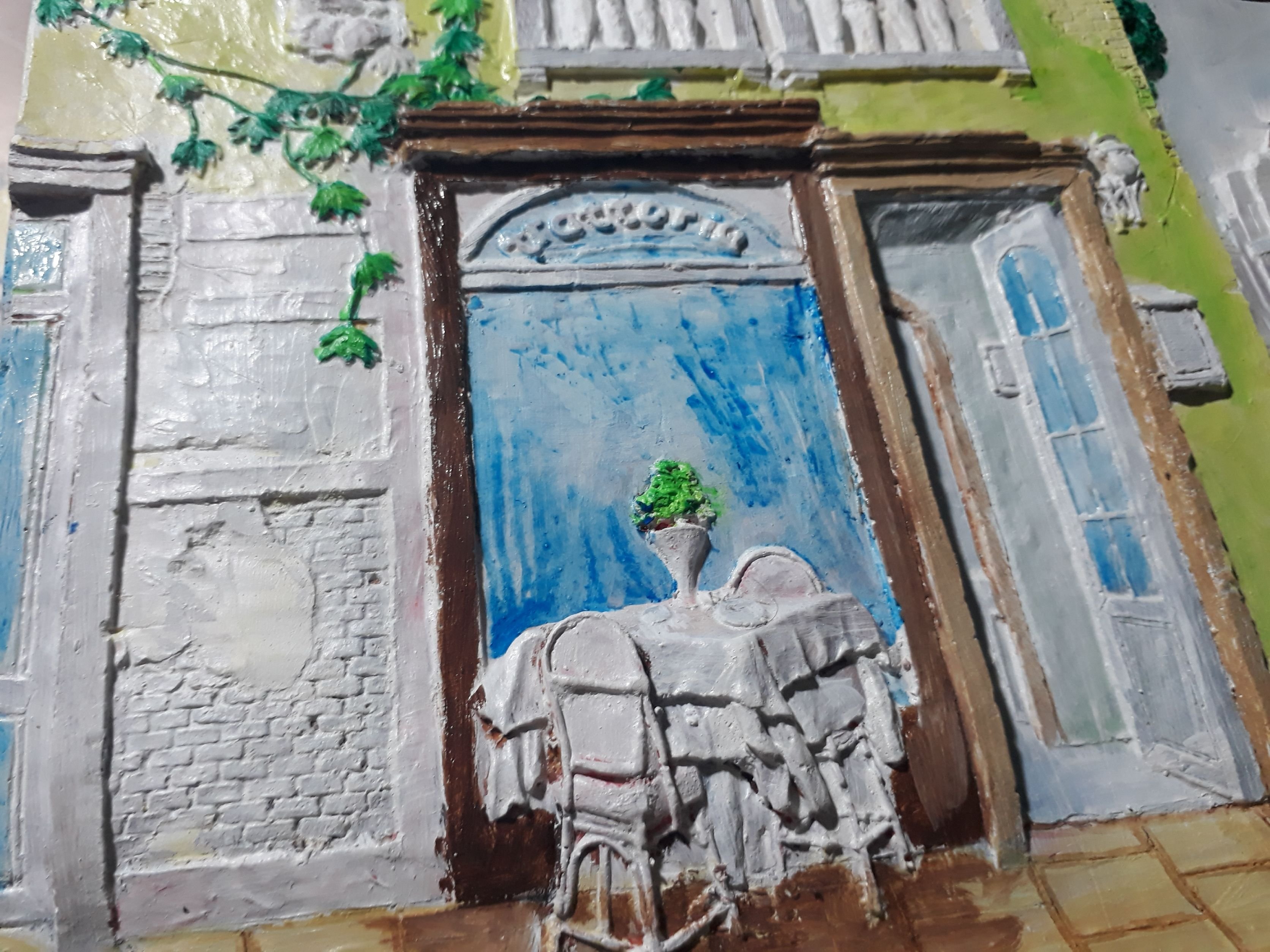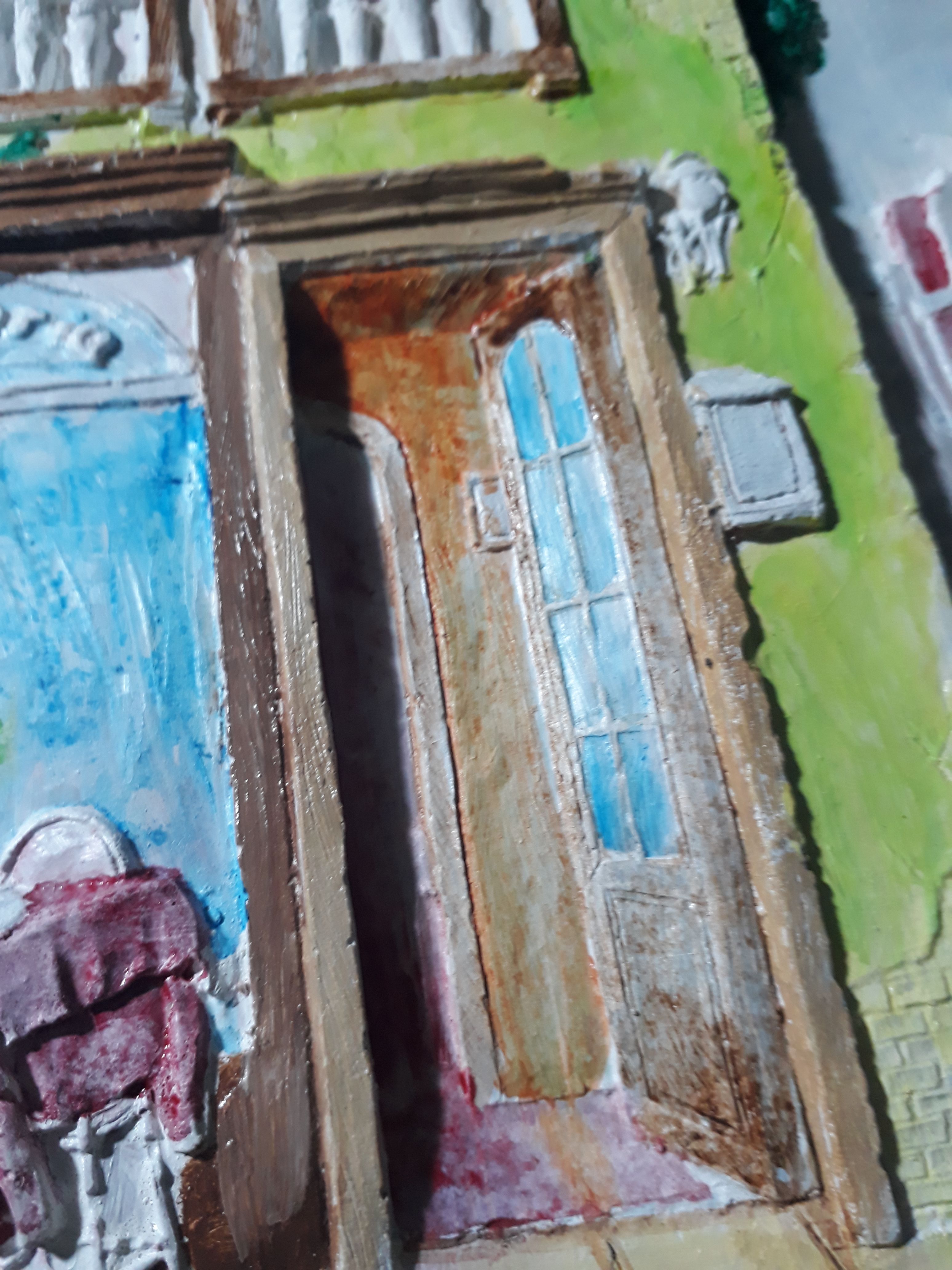 I added minor details on the shop and even on the buildings behind it. I tried to make the colors of the buildings behind as something light so that it would not catch the attention of the viewers, but instead, allow the viewers to focus on the shop/ restaurant instead.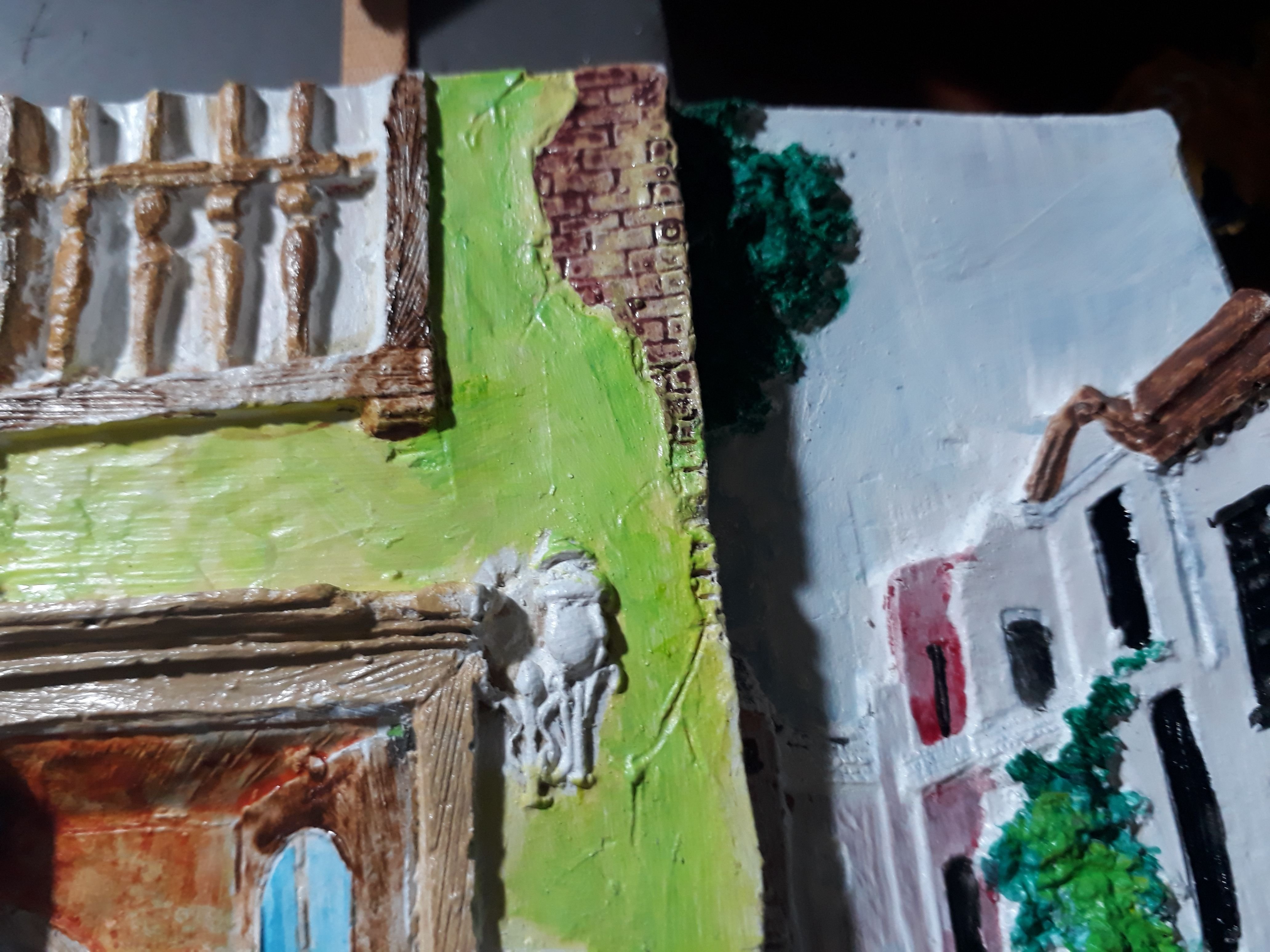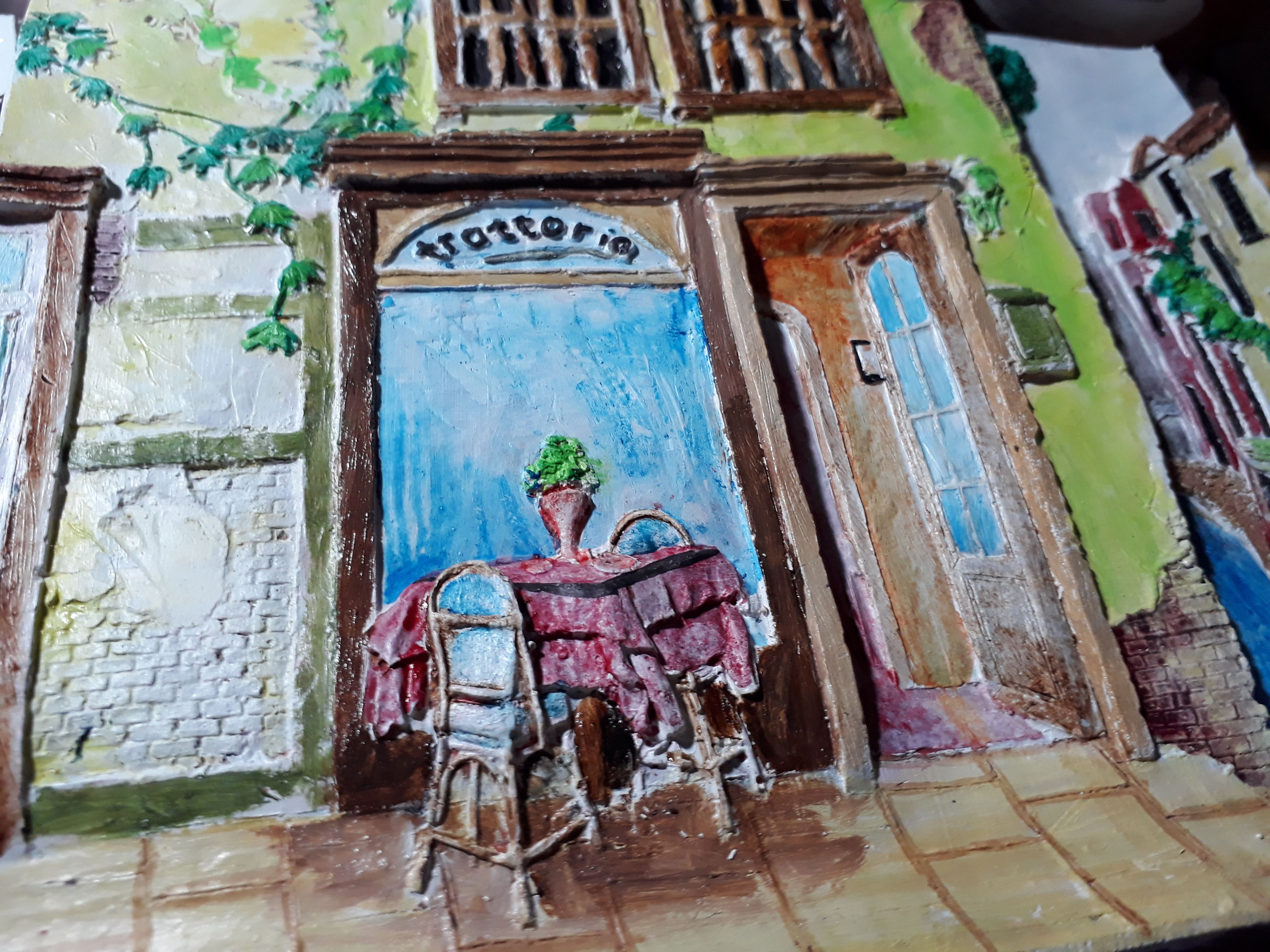 So basically, the dominant colors are earth tones which are yellow, green, and brown. I choose this as dominant colors of my palette so that it would much the wall where it would be hanged. Light blue has also been used on the windows and chairs so that it would complement the background.
I hope you learned something from me today. As you can see, art is my hobby. Have a great day friends!