Digital Gold introduces GOLD token - First 100% Liquid Stablecoin Backed by Gold
Digital Gold - is a blockchain-based project, designed to encourage the digitalization of the financial markets and their afferent investment instruments. It hopes to achieve this by enabling users to purchase coverage in physical gold, via the ERC-20 Ethereum-based GOLD token.

Not clear enough? Let me explain it to you.
This is possible to instantly purchase the GOLD token and each coin is being equal to one gram of 99.99% FINE gold that is stored in the company's vaults. As such, the tokens enable users to indirectly use gold to make monetary transactions, or to leverage it as a wealth storage method. 
 The GOLD token is pegged to the value of the gold spot price, thus also acting as a stablecoin. This makes it useful for protecting against market volatility on the cryptocurrency market, while also allowing users to benefit from long-term gold price uptrends.  
I still keep reading about the Digital Gold project because I will fully understand how it works exactly and first what I thought about was the Gold of course, which has to be bought and stored. 
There are so many scams in the crypto world that I just don't believe in empty words on a web page, only pure facts that I am able to check correctly. So, I started to look for the stored gold, of course, because this is the core of this project and was very happy to find this after literally two clicks on the Digital Gold website.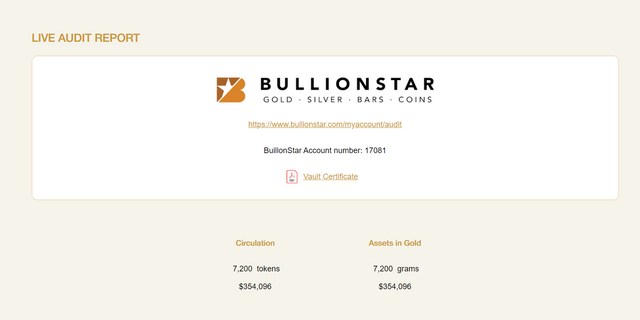 On the project page https://gold.storage/en-US/audits everybody can easily find live audits reports with all detailed pieces of information about gold in the storage.
As, I am completely unable to believe, to any assurances and always have to see tangible evidence, I was very happy to find out, that all audits are firmed by  https://www.bullionstar.com, very well known company which offers 600 different products across 10 different categories related to gold and one of them is Bullion Vault Storage, which Digital Gold project is using.  
This is very easy to validate certificates because Digital Gold provides storage live audit data on the https://www.bullionstar.com/myaccount/audit page and everyone can check everything carefully.
Liquidity is ensured at all times by Digital Gold, granted that independent live audits can be verified to cross-check the number of tokens in circulation, with the amount of vault-stored gold.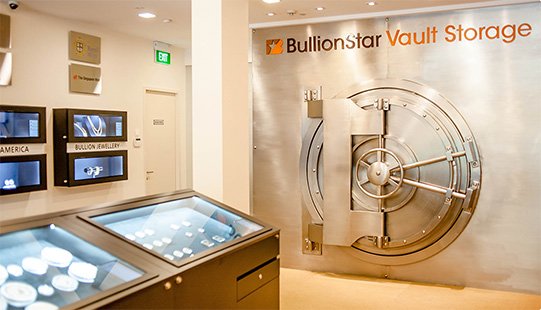 Transparency in such a project like Digital Gold is the key. Still, I haven't found one last answer to my question, which is: How is guarded access to stored gold? What I mean is that a bad actor won't have access, for example, someone from the project and how is it secured? Who has access and how is it billed? 
The total amount of GOLD tokens in circulation is verifiable using any Ethereum blockchain explorer and equals to the total value of physical gold bullion stored in a secure vault in partnership with BullionStar - leading vault storage service friendly to the blockchain industry. Singapore's strong property ownership rights make it the country of choice to store physical gold.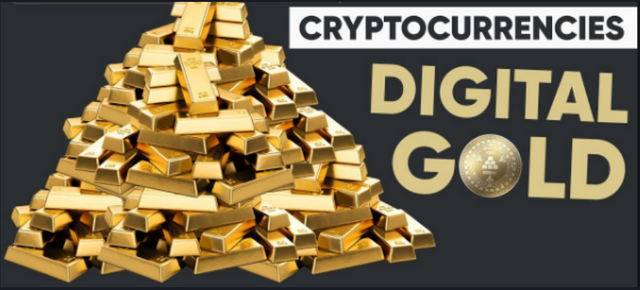 The value of gold bullion can be verified in real-time with BullionStar's Live Audit Reports. A quarterly report by 3rd party auditor confirming the value of Digital Gold's bullion portfolio at BullionStar vault storage will be also available by Q3, 2019.
GOLD smart-contract was audited by ChainSecurity - one of the leading and world-famous Swiss companies with well-experienced experts that specialize in blockchain security and if all this was not enough to convince you all this gold stored in BullionStar vaults is fully insured by a leading insurance company.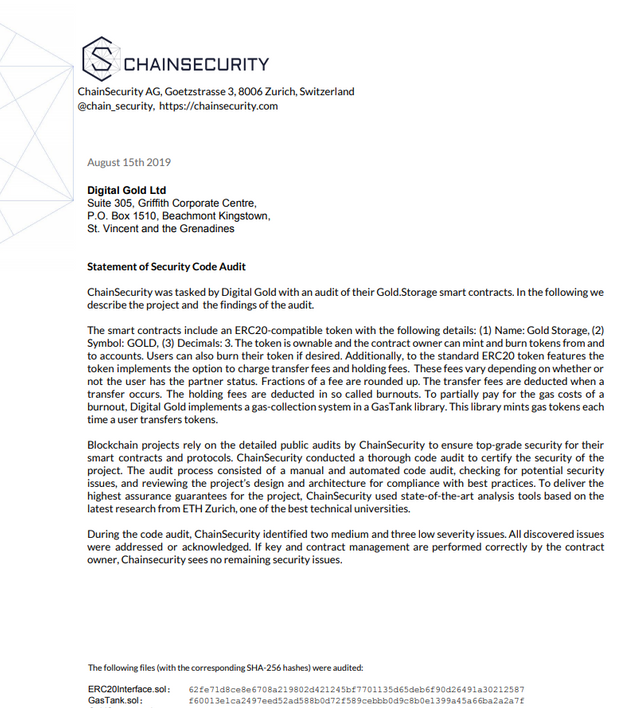 Trust is easily attained by relying on the Ethereum blockchain platform, well-known for its ERC-20 token support, and smart contract functionality. Therefore, upon purchasing one GOLD token, users enter a smart contract which ensures that the amount of GOLD tokens in circulation is always equal to the amount of gold bullion the company stores in its vault. This way, users are fully protected from liquidity issues, as there will always be enough gold to cover all tokens in circulation. Whenever they see fit, users can purchase, sell and trade their gold with ease.  
The GOLD token community can utilize the Digital Gold Marketplace to instantly purchase and/or sale the token. As the parent company is also a liquidity supplier, users are free to carry out as many transactions as they wish,  with no additional costs apart from the yearly service fee and the general 'gas' cost for Ethereum-based transactions. 
The Digital Gold project is not an Initial Coin Offering, as no crowdfunding effort is being carried out. All operations are self-funded, thus any acquisition of the GOLD token results in an instantaneous smart contract-based purchase of physical gold.  

In my opinion, Digital Gold is a project worth our attention. The gold was just tokenized and now we can purchase and store gold anonymously using GOLD tokens without even leaving the home with a couple of clicks. Even better because we can sell them right away on Digital Gold Marketplace because is pegged to the gold price and liquidity is provided by the project operator. In my opinion, is just insane how everything evolves this new economy born on our eyes.

https://bitcointalk.org/index.php?action=profile;u=131333