Was mit Reimen...;-))
Auf besonderen Wunsch eines einzelnen @meins0815 hier und heute etwas Gereimtes: die Übertragung ins Englische lasse ich dabei bleiben, weil entweder der Inhalt oder eben der Reim verlustig gehen würden...
Also darf's vielleicht ein bißchen denglish sein?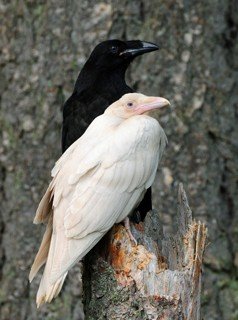 blind date
beim schnellen flirt im internet
he finds the girl that he gern hätt':
a single model ohne kids
who hears dieselben megahits.
he loves her fotos im profil,
sends her a message in his stil.
sie schreibt ihm back a few days later;
her lovely text makes him feel greater.
they compare notes in SMS,
she sounds nett und very kess,
sie liebt romantik und hat geld -
er wünschte he could be her held.
sie woll'n sich meeten auf 'nen drink
im restaurant, he gets the link.
happy he watches die location
und freut sich dabei schon auf's daten.
sie chatten bis zum evening,
der datenhighway ist ihr ding.
one last blick noch auf ihr bild,
dann blinkt das laptop-akkuschild.
computer aus und schuhe an,
he leaves die wohnung to have fun.
he drives im auto durch die stadt;
er hat das singleleben satt.
he parks den wagen und steigt aus,
hält es zum highlight kaum noch aus.
er geht along and styles sein hair,
träumt vom spending time with her.
but then am treffpunkt angekomm'
da sieht er sie und schleicht davon:
ein fake-profil it must have been.
… trust nur what you have vorher seen!
Ohrid, 3. März 2011