Review- Slammed by Colleen Hoover
Hello friends of @Steem Book Club, today I am going to tell you a little about one of my favorite books in triology and it is Slammed by my favorite Colleen Hoover writer.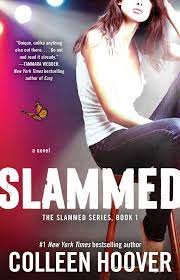 https://www.google.com/search?q=portada+del+libro+slammed+de+colleen&sxsrf=ALeKk01Q7rvN0dc8b9IQBrlG1c1uyE-lUg:1620255148207&source=lnms&tbm=isch&sa=X&ved=2ahUKEwjlpbfk0LPwAhUCbKwKHd6VCe4Q_AUoAXoECAEQAw&biw=1600&bih=841#imgrc=q-r3sWCFEIotVM
synopsis: After the unexpected death of her father, 18-year-old Layken is forced to be the rock for her mother and younger brother. She on the outside she seems to be tough and tenacious, but on the inside she is losing hope
Then there's Will Cooper: The 21-year-old handsome new neighbor with a passion for slam poetry and a quirky sense of humor. Within days of meeting, Will and Layken form an intensely emotional connection, leaving Layken with a renewed sense of hope.
Not long after an intense first date, they are both beaten to the guts when a shocking revelation forces their new relationship to a sudden halt. Daily interactions become incredibly painful as they struggle to find a balance between the feelings that bring them together and the secret that keeps them apart.
http://thescarlettsplace.blogspot.com/2013/02/resena-slammed.html
Slammed is the first book of a trilogy, it tells the story of Layken, an 18-year-old girl who has just moved to a new city with her mother and little brother, after the unexpected death of her father. The book is narrated in the first person, by our protagonist Layken, she is an intelligent girl, mature for her age, funny and strong. She totally refuses to leave her life in her old city and she is not very happy with the change, even though it is necessary, but from the moment she parks the moving truck, something of her motivates her to accept her reality
She meets her handsome new neighbor, 21-year-old Will Cooper, who makes her think the move wasn't a bad thing after all. Instantly they both have a connection that makes them want to know each other more, and after going out with him on a date, she Layken feels hopeful and optimistic about the things that have happened in her life
What I like most about this book, that it does not focus on a physical relationship, but something more sentimental. it has a lot of realism in it, and romance is not the main theme for once.
Honestly, this book is no more than a youth book. Yes, I liked it a lot and it entertained me, but now it just doesn't happen anymore. So I want to be completely honest with this review, because I owe it to you.
Lake seems to be an ordinary teenager, frustrated with the life she has to live, but happy to have met this wonderful boy with whom she seems to get along more than well: Will. From the moment they meet until they have their first date, it does not take long, which makes me think that it can be considered part of the instalove, but at the same time not, because there is a great braking step the moment our protagonist finds out that Will turns out to be her Literature teacher as well.
The math doesn't match. First, Will had assumed that Lake had already finished high school, since he is eighteen; And for Lake, there is no chance that her teacher could be Will because he is only twenty-one years old, too young to be in front of a class. Unless of course, that the situation was the "real one": Will works and studies, because he has to support himself and his little brother, since his parents died a few years ago. As things are going, of course it is against all ethics and morals for them to go out together, a teacher and a student would never be well seen
So poems become a way of expressing yourself.
I hope you like this story.
how I like it.
comment and tell me what you think.