Show Your Poetry Skill | Week Two (2) Contest - 25 STEEM Reward Pool
Saludos, me uno a este concurso en el cual, @abu78, nos invita a escribir poesía. Esta es mi participación. Espero sea de su agrado.
Greetings, I join this contest in which, @ abu78, invites us to write poetry. This is my participation. I hope you like it.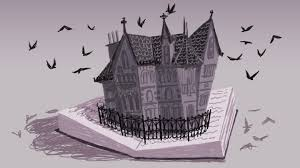 Fuente
Novela inconclusa
Construiste un escenario en ruinas
Para que habitáramos los dos:
Tú, escritor, de novelas góticas;
Yo, personaje principal de ella.
El chirrido de los goznes
Anunciaban tu presencia,
Olías a hierba y a alcohol.
Mi cuerpo fantasmal guiaba tu pluma
Visitamos cementerios de pasiones
Las sombras del pasado
Eran cuevas sin salida.
Un gato negro guiaba mis pasos
Arañaba mi rostro
Me hacía bestia de mí misma.
Domaste mi espíritu,
Con perversa malicia,
Me aislaste de la vida real,
Me convertiste en una sombra,
En una ficción,
En un libro sin editar,
En unas hojas sueltas,
Rasgadas,
Llenas de tachones.
Me sembraste el miedo a la luz,
Entonces te negaba la palabra perfecta
Y sentía tu angustia,
Tu inquietud,
Tu desespero,
Tu deseo de decir
y tu imposibilidad para hacerlo,
Caías en el abismo de la paranoia,
Me sentías a tu lado,
Y no me podías ver,
Soy una proyección de tu novela inconclusa.

Unfinished novel
You built a ruined stage
So that we could both inhabit:
You, writer, of Gothic novels;
I, her main character.
The squeak of the hinges
They announced your presence,
You smelled of grass and alcohol.
My ghostly body guided your pen
We visit cemeteries of passions
Shadows of the past
They were caves with no way out.
A black cat guided my steps
Scratched my face
It made me a beast of myself.
You tamed my spirit
With wicked malice,
You cut me off from real life
You turned me into a shadow
In a fiction
In an unedited book,
In some loose leaves,
Torn,
Full of studs.
You scared me of the light
Then I denied you the perfect word
And I felt your anguish
Your concern,
Your despair,
Your desire to say
and your inability to do it,
You fell into the abyss of paranoia,
You felt me ​​by your side
And you couldn't see me
I am a projection of your unfinished novel.
Si quieres participar, aquí la información. Invito a mis amigos: @acostacazorla, @rosita1, @yola1.
If you want to participate, [here the information] (https://steemit.com/hive-197809/@abu78/show-your-poetry-skill-week-two-2-contest-25-steem-reward-pool). I invite my friends: @acostacazorla, @ rosita1, @ yola1.
Nota: 15% de los beneficios de esta publicación serán delegados para la comunidad.