STAGES OF PIONEERING WORK IN THE MINISTRY 2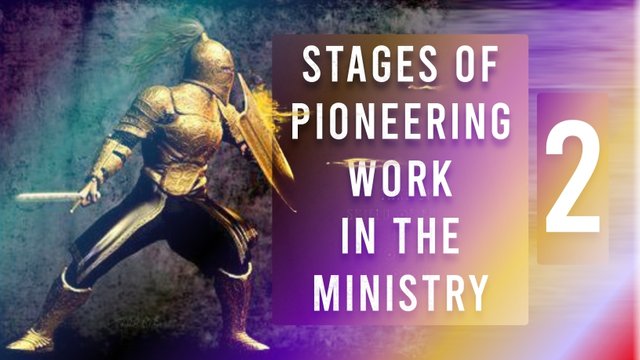 "BUT WHEN IT PLEASED GOD, WHO SEPARATED ME FROM MY MOTHER'S WOMB AND CALLED ME THROUGH HIS GRACE,

to reveal His Son in me, that I might preach Him among the Gentiles, I did not immediately confer with flesh and blood."
Galatians 1:15,16 (NKJV)

"WHO HAS SAVED US AND CALLED US WITH A HOLY CALLING, not according to our works, but according to His own purpose and grace which was given to us in Christ Jesus before time began

TO WHICH I [Paul] WAS APPOINTED A PREACHER, AN APOSTLE, AND A TEACHER OF THE GENTILES."
2 Timothy 1:9,11 (NKJV)
-> Spiritual warfare stage
• When you move into the ministry work properly, the devil may want to surface to challenge what you are sent to do.
Even Jesus had to FAST forty days and forty nights in the wilderness before the commencement of His ministry (Matthew 4:1,2; Luke 4:13,14).
Jesus encountered the devil, was tempted by him, and defeated the devil; then He returned in the power of the Holy Spirit—being anointed and set to do exploits in the ministry (Luke 4:2,14).
You have to deal with the devil and overcome.
THE devil will not fold his hands and be watching you doing the work without any hitch.
YOU confront the devil and resist him when he surfaces as you start the work—in order to be established (Ephesians 6:10-13).
The truth is, no ministry is fully established without prevailing over the confrontations and challenges from the kingdom of darkness (1 Timothy 6:12; Ephesians 6:12).
The devil would want to intimidate you and stop you, but you must not allow him.
YOU must always remember that he is a defeated foe, thus you must not succumb to any intimation (2 Corinthians 4:8,9).
JESUS defeated the devil: "Having disarmed principalities and powers, He made a public spectacle of them, triumphing over them in it (Colossians 2:15).
At times when I see the way some people approach and carry the work of ministry, I doubt if they could succeed in the work or the assignment at all.
Ministry work is about rescuing those whom the devil has held bound, the souls of those he held captive, which he would not want them to get loosed.
We have been called by God to do that with the resources given to us (Zechariah 1:18-21).
The truth is, there are horns of the enemy destroying the love of the people whom we are sent to, and God has raised us as carpenters to deal with the horns.
"And I said, "What are these coming to do?" So he said, "These are the horns that scattered Judah, so that no one could lift up his head; but the craftsmen are coming to terrify them, to cast out the horns of the nations that lifted up their horns against the land of Judah to scatter it."
Zechariah 1:21 (NKJV)
• In dealing with the devil, to frustrate his plans against your work, you need to fast and pray often, because champions use the weapons of fasting and prayer to overcome (2 Corinthians 11:27).
Fasting is one of the major spiritual weapons in dealing with the opposition.
Also, you need to be versed in the knowledge of the Word of God, so that you would not be fighting without any result: "Therefore I [Paul] run thus: not with uncertainty. Thus I fight: not as one who beats the air" (1 Corinthians 9:26).
You must take advantage of the midnight hours, you pray to foil the plans of the kingdom of darkness, the devil and his cohorts, on your assignment, and you receive directions for your work—you PRESS home your victory in Christ Jesus (1 John 5:4).
Yours is to wake up and counter whatever the enemy, the devil, may have in plan against: your home, ministry, the souls under your leadership, and everything or person identify with you.
• Take note:Do not go beyond your scope of commission.
The devil may wear you out, dissipate your energy: if you do not know your land of inheritance, Or if you are not focused; thus, do not allow the devil nor give an opportunity to him (Ephesians 4:27).
When you fast and pray strategically often, you will be recognized in the realm of the spirit (Acts 19:15,16).
YOUR word will carry power—it would be weighty.
THE anointing on your life will increase.
YOU become a threat to demons and the agents of darkness.
ALSO, the anointing on your life will begin to attract people to you for ministrations.
ANOINTING has aroma, scent, Or odour that attracts people who are in need.
GOD will begin to back up your words: "So Samuel grew, AND THE LORD WAS WITH HIM AND LET NONE OF HIS WORDS FALL TO THE GROUND [fail]" (1 Samuel 3:19).
• Other side of it
You may begin to have physical challenges, encounter with the people whose behaviour or remarks are not fair or appropriate WHICH are uncalled for: a neighbour may just want to fight OR look for trouble with YOU; on the road if you have a personal car, and in the bus, cab, Or whatever, you meet people who are vile or disgusting.
You finances might be attacked.
The members of your immediate family: wife, children, and those who live with you might be attacked with sickness.
THAT is the reason why every minister's wife and children SHOULD be strong in prayer AND must not toil with SIN at all.
THE truth is, if you are hard on the devil and his kingdom, you are devastating his kingdom, if he could not get you, he may launch an attack on your family.
The devil might prompt the person who owns the property you use for the work of ministry to take it from you. MOSTLY this always occurs when God wanted you to change your location or move to another level.
-> Sufferings and hardships
• While you are experiencing all these, you may be having hardship in your private life.
"To the present hour we [Paul and his team] both hunger and thirst, and we are poorly clothed, and beaten, and homeless.
And we labour, working with our own hands. Being reviled, we bless; being persecuted, we endure;
being defamed, we entreat [exhort, encourage]. We have been made as the filth of the world, the offscouring of all things until now."
1 Corinthians 4:11-13 (NKJV)
Financial hardships and sufferings, lack of basic material needs, AND persecutions from some people who are being stirred up by the devil are distractions from the kingdom of darkness to break your focus (2 Timothy 4:14).
Then another thing is, God would want to really know what your motives are, what are the things going on in your heart, thus He permitted some of these things to test your heart (Judges 3:4).
Also, God would want to build strength and stamina in you, He wants to build your spiritual muscles (Judges 3:2).
God also would want you to acquire the practical experiences needed, that you may be a blessing to other people, and be used to raised other leaders in the future (Judges 3:1,2; 2 Corinthians 1:4).
"Now these are the nations which the LORD left, THAT HE MIGHT TEST ISRAEL BY THEM, that is, all who had not known [experienced] any of the wars in Canaan
(THIS WAS ONLY SO THAT THE GENERATIONS OF THE CHILDREN OF ISRAEL MIGHT BE TAUGHT TO KNOW WAR, at least those who had not formerly known it),
namely, five lords of the Philistines, all the Canaanites, the Sidonians, and the Hivites, who dwelt in Mount Lebanon....
And they were left, THAT HE MIGHT TEST ISRAEL BY THEM, TO KNOW [find out] WHETHER THEY WOULD OBEY THE COMMANDMENTS OF THE LORD, which He had commanded their fathers by the hand of Moses."
Judges 3:1-4 (NKJV)
NOTE: the challenges and conflicts that God allows you to face dependents on the enormity of your assignment.
IT all depends on your assignment: What He is preparing you for, the problems He wants you to solve, and the kind of people He wants you to raise for Him.
GOD knows what you can handle and what you are being prepared for (1 Corinthians 10:13).
THE TESTS that are not relevant to your assignment would not be brought on your way.
THE tests brought on Job's Way might not be permitted in every believer's life (Job 1:6-19).
LIKEWISE what Paul did pass through in a bid to fulfil his ministry might not be necessary for every minister being raised by God (1 Corinthians 4:11-13; 2 Corinthians 4:8-12; 11:23-28).
• You will not fail in Jesus' name.
Peace!
TO BE CONTINUED