wav-Dr. | Qrittix | Bonnie Legion - Are We Heroes (Original Song)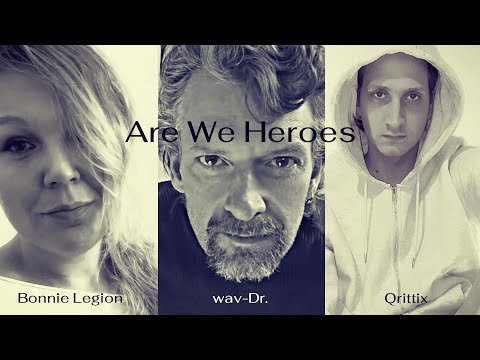 ---
Original Song: Are We Heroes
Producer/Piano: Qrittix
Producer/Musician/Bass/Acoustic/Mixing-Mastering: wav-Dr.
Singer-Songwriter/Cover Art/ Videos Production: Shavon Bonnie Legion
www.wav-legion.com
I am super excited to announce a long-overdue collaboration between Wav-Legion and the incredibly talented Qrittix. Both of these guys are like family to me, we have made so much music together over the years a deep bond of friendship has grown through music and collaboration. I have been working with Qrittix about as long as I have been recording under the artist name Bonnie Legion, so about 7 years now. wav-Dr. and I started the Wav-Legion fusion music project at the end of 2018 and are already through 6 full album releases and dozens of Wav-Legion collaborative tracks featuring incredible artists. I have been itching to get this collaboration with Qrittix since we started and I am so glad to have him back in full in the music game and throwing his incredible magic down. Qrittix really shines for me on the keys, his piano work is tremendously moving and inspirational. Qrittix is also an incredibly imaginative and moving soul when it comes to dance music and has been releasing brand new singles over the last month, I encourage you guys to subscribe to his channel here on YouTube as he is just getting starting in building in the YouTube community. You can find a lot of tracks with Qrittix here on the Sound Legion channel and my official Bonnie Legion channel as well.
Link to Qrittix Channel: https://www.youtube.com/channel/UCNARtJ9N8oV0ofrwaDO0rbA
The lyrical inspiration for this track was given from Qrittix who wanted the track to be for those out there who were feeling depressed or helpless in hard times. He wanted the song to give hope to people and let them know just being who they are can make them heroes in this world. Thank you Qrittix and thank you wav-Dr. for this incredible experience and all the light you have brought into my world over the years. You are both heroes to me.
Pre Save This track on Spotify
https://distrokid.com/hyperfollow/bonnielegionandwavdrandqrittix/are-we-heroes
Lyrics
I see you out there
I see you waiting
I see you trying
I see you fading
I see you hoping
for something changin'
seems alls a mess and the world is cavin
but I believe if you believe
we can all achieve something magic
lifes in need so we plant our seeds
are me heroes automatic
I need grace to remind me to my face
the night is darkest before the dawn
and every day when I wake up in this place
you can make a difference
you can make a difference
I see the stars
I see the ocean
I see the mountains
and earth in motion
I see you trying
to hold the weather
when alls a mess you hope for better
but I believe if you believe
we can all achieve something magic
lifes in need so we plant our seeds
are me heroes automatic
I need grace to remind me to my face
the night is darkest before the dawn
and every day when I wake up in this place
you can make a difference
you can make a difference
I need grace to remind me to my face
the light is always moving on
and everyday another chance to make a change
to find a home where you belong
I need grace to remind me to my face
the night is darkest before the dawn
and every day when I wake up in this place
you can make a difference
you can make a difference
www.wav-legion.com
Spotify
https://open.spotify.com/artist/56VHKGoUcj4b88z59iWHvN
Twitter
https://twitter.com/BonnieLegion
https://twitter.com/LegionWav
https://twitter.com/wav_Dr
https://twitter.com/QrittixOfficial
---
▶️ DTube