Bitcoin (BTC) Final Hours For A Huge Move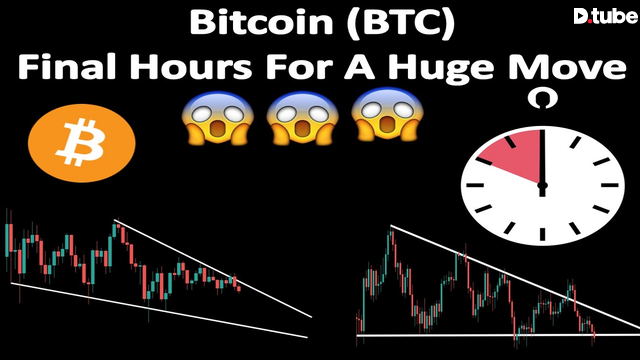 ---
---
▶️ DTube
▶️ IPFS
Reached the support of triangle:
Previously we have seen that the price action of the leading cryptocurrency formed a descending triangle. Now it has reached the support of this triangle and the triangle is quite squeezed. Therefore, at anytime the priceline of BTC can start a big move whether it can break down the support and start a move towards the downside or it can also reverse bullish and make another attempt to break out the resistance of the triangle.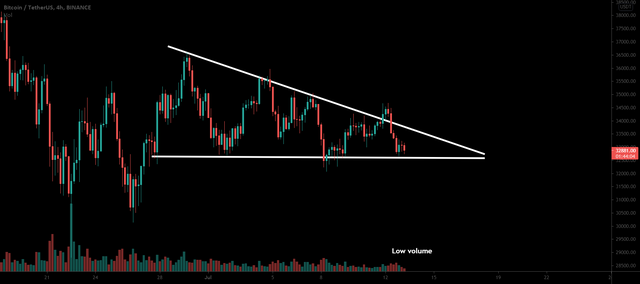 A possible test of support of bigger pattern:
on the daily timeframe, Bitcoin is still moving in a falling wedge pattern. If the price line will break down the support of the descending triangle which has been formed on the 4-hour time frame, then it can reach the support of the falling wedge on the daily time frame and from there we can expect another bullish reversal. But in order to move up to the support of the wedge pattern, there is a powerful sell volume needed. Otherwise it can be a fake-out and the priceline can again reverse towards the upside like previously it has been doing this.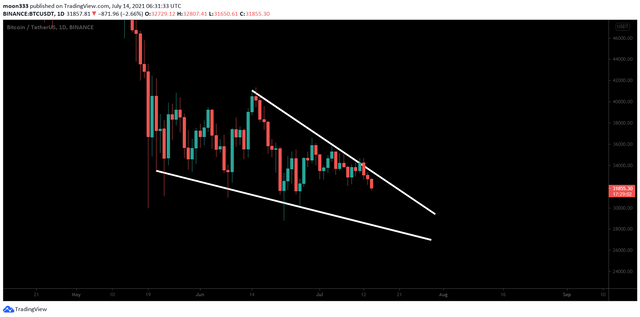 Why the priceline is not breaking down the support zone:
There is a strong support zone starting from $31000 to $28800, which is not broken down so far and even the price of Bitcoin is not closing below $31K on the daily time frame. There are different strong reasons for this firm support zone.
In the long-term weekly time frame, the candlesticks are having very good support of 50 simple moving average.
The second important reason is that the Stochastic oscillator on the same weekly time frame chart is extremely oversold now the MACD has started turning bullish. Now we can also keep an eye on the momentum indicator as well. If the momentum will start turning bullish then it can be the final confirmation for a big bullish reversal in the long term.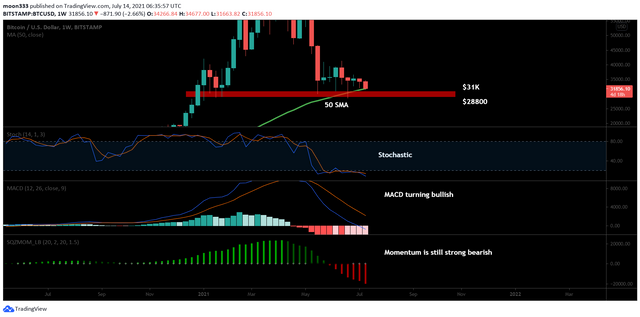 Don't forget to upvote/tip and share the post, thanks
You can also support my work at Patreon for more ideas:
https://www.patreon.com/moon333
In order to play and watch the current performance of the chart you need at least a free account on tradingview:
https://www.tradingview.com/gopro/?share_your_love=moon333
KuCoin is one of the best exchange to find crypto gems:
https://www.kucoin.com/ucenter/signup?rcode=rJSDVT3
Link for Binance exchange, to trade crypto:
https://www.binance.com/?ref=11256882
Note: Above idea is for educational purpose only. It is advised to diversify and strictly follow the stop loss, and don't get stuck with trade.