Steem Account Recovery - Vlog #2 - Change Your Recovery Account In Steempeak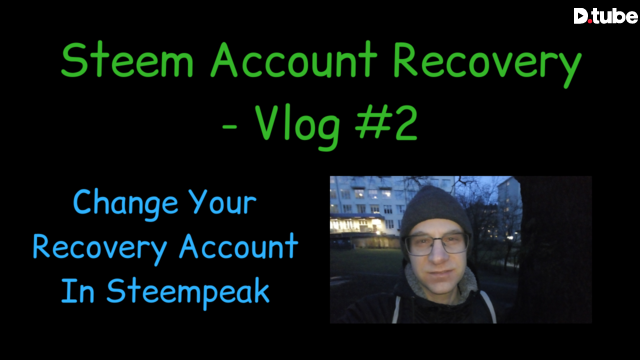 ---
Hi there and welcome to my vlog my name is Erik Gustafsson and I go by the handle @flaxz on CTPtalk, DTube and LBRY, and today I talk about Steem Account Recovery.
Change Your Recovery Account In Steempeak
So the account recovery that Steemit ran from the @steem account is no longer in operation since the Tron takover and the Steemit staff left, and this means that if someone where to steal your account and change your Keys, then there is noone to confirm this and that means you can't get your account back.
Account recovery has nothing to do with losing your keys and passwords, there is no cure for that, but if someone hacks your computer and gets your Private Owners key or your Master Password, and then goes on to change your Master Pasword and all your keys, then you can use this Account Recovery feature to get it back, given that you do this less than 30 days after it got stolen.
The issue here is that another account also has to confirm this operation for it to go through, so set it to someone you trust and that you can easily get in contact with.
And the easiest way to change this is in my opinion to use Steempeak, and you just open the Actions menu on your profile, then select Keys & Recovery, and go to Recovery Account, and then you set the account you want to use as recovery and confirm.
You should also talk to the person you want as recovery account before this change so they know about it, and I just changed my recovery account myself to @ph1102, and the change take effect after 30 days time.
This is my own personal opinion, do your own research before investing, and seek legal counsel if uncertain.
Enjoy Watching The Video!
Stay Awesome!
Sincerely,
Erik Gustafsson
https://www.ctptalk.com/@flaxz
---
Credits For Music
Music Intro: YouCut
Music Theme: Turismo
URL: https://icons8.com/music/
Music Video: YouCut
Music: Silence theme
Musician: InShot
---
Join me on Discord: https://discord.gg/F6cCZ2N
Join me on ClickTrackProfit: https://clicktrackprofit.com/flaxz
---
Sign up for free to my email course and ebook, click the banner below.
---
---
▶️ DTube