Three Competitive advantages of Small Business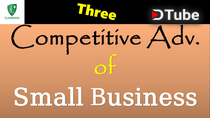 ---
Vlog Name: Business
Title of The Video: Competitive Advantages of Small Business
---
Hi, Dear friends. I hope you are well and enjoying your time

When we think about business we normally start with small. And this is the first strategy of an entrepreneur. But we can see a lot of these advantages are competitive disadvantages of small business. In case of small business, we have some advantages as well compared with the large-scale Enterprises. Here in this video I have explained three most competitive advantages of small business over large business. Small businesses have a strong engagement with the customer and market. So, it's very much easy for them to analyze the customer need and market situation. And another one is flexibility in management. They can decide more quickly without any bureaucratic matter which is common in large scale industries. And finally, they can work with niche group that means they can work with customized product for specified target group.
I have discussed elaborately in the video I hope you will find it useful.
I hope you have got a good idea on this topic. Feel free to ask about this topic in the comment box and give me your valuable suggestion about which area I can improve.
---
Subscribe to this channel to get more videos on

Textiles
Online Money Making
Life talks
Agriculture
Technology
and random topics

Thank you.

---

This is Saiful's Classroom from @engrsayful

Find me on

---

▶️ DTube
▶️ IPFS