Alex Mashinsky Interview - Crypto Loans, Cefi vs. Defi, Celsius and More!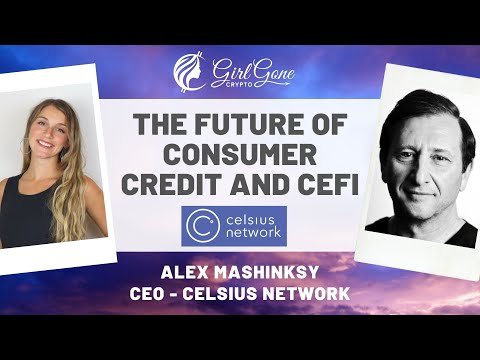 ---
I had the pleasure of sitting down with crypto legend, Alex Mashinksy to chat all about @CelsuisNetwork to chat all about collateralized crypto loans, earning returns on your crypto, Cefi vs. Defi and more.
🥳 Subscribe for more Blockchain Interviews 🥳
https://www.youtube.com/channel/UCTFesG4nhqr4vHH6JsBdRYA
Celsius Network has really been pioneering the interest payment and crypto loan part of the industry. There are now more and more options popping up, but Celsius started with a mission of helping people to unbank themselves.
How are they able to give such great returns on your crypto assets, when you bank pays you basically nothing? Alex explains that it's not because your banks can't afford to do so - but that they choose to pocket the returns instead.
I really enjoyed hearing his perspective on Defi vs. Cefi and how they aren't necessarily in competition with each other - but can actually work together to help build this part of the industry.
I hope you guys enjoy this conversation, and as always - I'd love to hear your thoughts in the comment section below!
🔗 Guest Links:
https://twitter.com/Mashinsky
https://twitter.com/CelsiusNetwork
https://celsius.network/
🔥Let's Be Friends 🔥
Website - https://lealovescrypto.com
YouTube - https://YouTube.com/c/GirlGoneCrypto
Twitter - https://www.twitter.com/girlgone_crypto
Linkedin - https://linkedin.com/in/GirlGoneCrypto
Instagram - https://www.instagram.com/girl_gone_crypto
Hive - https://peakd.com/@coruscate
Steem - https://steemit.com/@coruscate
Flote - https://flote.app/GirlGoneCrypto
TikTok - http://vm.tiktok.com/m3kSQX/
Facebook - https://www.facebook.com/girlgonecrypt0/
Periscope - https://www.pscp.tv/girlgonecrypto/1OyJAgyqpLDKb
#AlexMashinsky #CelsiusNetwork #DeFi #CeFi #Cryptoloans #EarnCrypto
---
▶️ DTube