Bringing Blockchain Education to the University Level with Cameron Dennis of BAF Network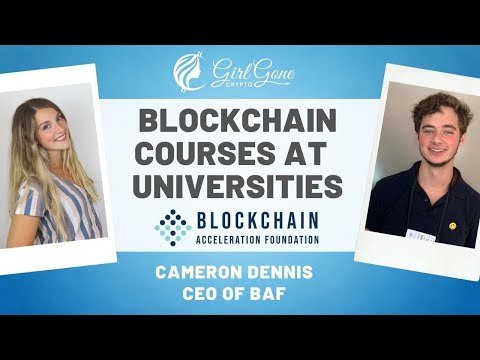 ---
What kind of opportunity exists within the realm of higher education to increase awareness and education of blockchain technologies?
I sat down with Cameron Dennis, the CEO of BAF (The Blockchain Acceleration Foundation) to learn more about what they are doing to not only support Bitcoin and Blockchain clubs, but to bring accredited blockchain courses to the university level. They are mostly focused on California and Mexico at this point in time as they are very hands on when onboarding a new school.
They also have a research arm to their organization where they help increase efficiency by not duplicating work between universities and helps support students who are interested in doing more research surrounding decentralization and blockchain technology.
BAF is a non-profit that gives donors more opportunity to donate to universities of their choice with cryptocurrency in a tax-exempt way.
🔗 Guest Links:
https://www.blockchainacceleration.org/
https://twitter.com/Cameron_Dennis_
https://twitter.com/TheBAFNetwork
🔥Let's Be Friends 🔥
Website - https://lealovescrypto.com
YouTube - https://YouTube.com/c/GirlGoneCrypto
Twitter - https://www.twitter.com/girlgone_crypto
Linkedin - https://linkedin.com/in/GirlGoneCrypto
Instagram - https://www.instagram.com/girl_gone_crypto
Hive - https://peakd.com/@coruscate
Steem - https://steemit.com/@coruscate
Flote - https://flote.app/GirlGoneCrypto
TikTok - http://vm.tiktok.com/m3kSQX/
Facebook - https://www.facebook.com/girlgonecrypt0/
---
🍰 Thank you to my sponsor Cake Wallet! 🍰
Store, send, receive, and exchange your Monero safely on both iOS and Android devices. Cake wallet is open source and you always control your own keys and seed. You can even exchange between XMR, BTC, LTC & more in the app!
➡️ Learn more and download at https://cakewallet.com
---
Also thanks to my sponsor MetalPay where you can send cash to friends and earn free crypto. Buy, sell, send, and receive crypto - all from your phone. It's how banking was meant to be.
📲 https://www.metalpay.com/
🐦 https://twitter.com/metalpaysme
---
▶️ DTube