PayPal Get's Into Crypto... But Will They Go the Way of Robinhood??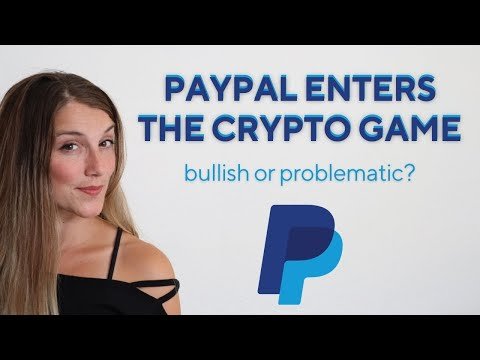 ---
What a big day for Bitcoin! First PayPal announces they are getting into the crypto game and then we hit 2020 highs. But is this PayPal news all bullish excitement?
🥳 Subscribe for more Crypto News Updates!🥳
https://www.youtube.com/channel/UCTFesG4nhqr4vHH6JsBdRYA
This announcement has not only sparked a lot of excitement within the crypto community… but quite a bit of debate as well.
Here's why:
This section of the announcement reads -
"Currently, you can only hold the cryptocurrencies that you buy on paypal in your account. Additionally, the crypto in your account cannot be transferred to other accounts on or off PayPal."
The operative word there is "currently". There seems to be two main schools of thought on how people think this will play out. Let's dig into them.
First - that PayPal goes the way of Robinhood and Revolut and decides to employ fractional reserve strategies.
So what that basically means, is that if a customer doesn't have access to transfer their funds, then they essentially just have "Bitcoin IOU's" and so how do we know that PayPal is actually holding a reserve of bitcoin to equally backup those IOU's versus using fractional reserve lending methods and essentially storing it on a balance sheet.
The other potential option is that they are just still working on building out this functionality and it will be coming down the line. One thing to keep in mind is that this isn't the first time we've seen this happen. Both Cashapp and eToro started similarly where you couldn't transfer your funds out of the platform at first and have since opened the door for that functionality.
I hope the second option is how this goes down but ultimately I still think it's really bullish that an int'l payment rails with nearly 350 million users and 26 million merchants is now exposing their customer base to crypto.
What are your thoughts on all of this news and how do you think this ends up playing out? Leave a comment and let me know what you think!
🔥Let's Be Friends 🔥
Website - https://lealovescrypto.com
YouTube - https://YouTube.com/c/GirlGoneCrypto
Twitter - https://www.twitter.com/girlgone_crypto
Linkedin - https://linkedin.com/in/GirlGoneCrypto
Instagram - https://www.instagram.com/girl_gone_crypto
Hive - https://peakd.com/@coruscate
Steem - https://steemit.com/@coruscate
Flote - https://flote.app/GirlGoneCrypto
TikTok - http://vm.tiktok.com/m3kSQX/
Facebook - https://www.facebook.com/girlgonecrypt0/
Periscope - https://www.pscp.tv/girlgonecrypto/1OyJAgyqpLDKb
Minds - https://www.minds.com/girlgone_crypto/
#PayPal #Bitcoin #CryptoNews #PayPalBitcoin
---
▶️ DTube