Steemit Training | Cameroon Steemit Program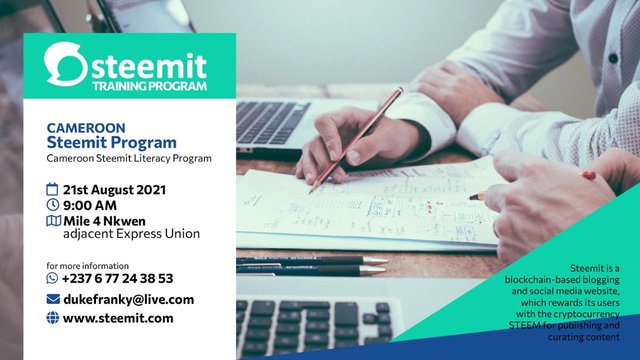 Graphic designing by @nforyembe of @yems.group
A few days ago, @steem-cameroon launched the Cameroon Steemit Program that featured the Steemit Literacy Project, a weekly training program for new and dormant steemians, as well as offers refresher programs for old steemians.
This week, @steem-cameroon is organizing her first training on the 21st of August 2021 at 09:00AM Adjacent Express Union Building at Mile 4 Nkwen-Bamenda in the North West Region of Cameroon.
Special thanks to @peacemakers who has been mobilizing the population and some dormant steemians as well as to @thegreens who did a presentation at the World Humanitarian Day about Steemit and the role steemit can play in supporting humanitarians and curbing the global humanitarian crisis.
@mbozekobrice and @fombae are not left out of the mobilization team.
On saturday, the MOD @fombae will be representing the Steem Cameroon Team and be the lead facilitator during the training. @Saxopedia is unavoidably absent because he traveled out of town meanwhile @thegreens will be burying his brother who died on Saturday.
However, @saxopedia will be online and on standby to support @fombae during the training.
Written for @steem-cameroon by @thegreens