Steemit Engagement Challenge S4-W4 | Music for steem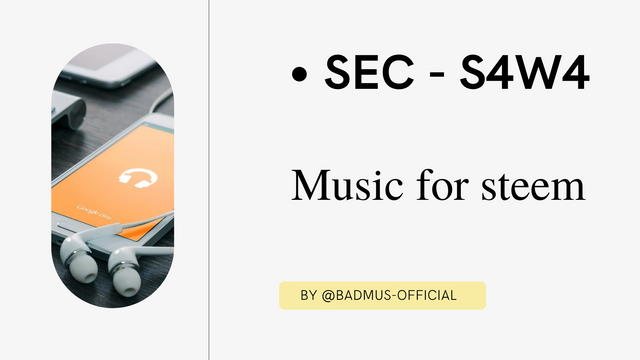 Presentation image Designed Using Canva
Hello everyone, how have you all been doing? , it's great I'm using this period to welcome you to the last week of the Steemit engagement challenge, here we are in season 4 week 4 of the challenge which has been great so far.
Today, I'm glad to be participating in the Steem Cameroon community, this is interesting as the community has come up with a new contest theme: "Music for steem", which I will be diving rights into it in this article, Happy Reading.
---
---
In your own words, what is music to you?
---
We can consider music as an art that is conjoined with feelings, to me, music is like a safe space, somewhere I come to disappear and dive into the rhythm of the sounds.
There are words that we don't often have an expression for, but through music, we can vividly speak about what it contains, music lights up my mood, it gets me into the right expression, and sometimes it's the thing one needs to get right back on track.
What makes music sounds refreshing the most is the sound that comes with it, the lyrics, and as well the content of it, I have several playlists for each music that I need to enjoy at the moment, but music has been a good safety net for me for a while.
---
---
How often do you listen to music?
---
I practically listen to music most time, I am a great fan of it, I even place myself on auto subscription on Spotify music player, I love the sound of music a lot, the bass and the accustomed of it, music is what I do make use of to ginger my day.
Sometimes, when my activities seem bulky, or I want to go for an exercise, I play music through my earbuds so I could forget the bulkiness of the task, the moment the music is blasting in my ear, I tend not to remember how long it will take me to complete a task anymore as I am already feeling fly and its no longer difficult for me.
---
---
Tell us about the genres of music you like and as well dislike.
---
I like any sound that has Bass, I am talking of a great beat, something that is cool enough to boom my speaker.
I am an Afro pop music fan, Hip-hop, and Reggae Dance hall, sometimes I listen to Country music as well especially when I am going on a journey.
Afro-pop comes to the top of my list, as I could easily dance to them at a party, and again Amapiano is also my favorite, just like I had said earlier, I enjoy any music with a great beat, and I love fast dance songs as well.
---
---
Tell us about your favorite song/music and why this song.
---
My favorite music is "Burna Boy - For My Hand feat. Ed Sheeran" which is a featured song on Burnaboys's "Love Damini" album this is my best song on the album. The feature with Ed Sheeran put some spices in the music as well.
The music has great vocals, and the lyrics as well are well matched, when you listen to the intro, you get to feel the love that comes in music sounds, which I will share the lyrics as well in my upload.
---
---
Do a live performance of your favorite song, upload it to YouTube or dtube, and include the link in your post.
---
I am not that great at singing, but I do hope I tried my best by the way.
---
Lyrics
I wanna be in your life until the night is over
I wanna hold you so tight, so tight, come in closer
It's been a hell of a ride for every single moment
You were there by my side
Whenever I'm broken, you make me feel whole
Whenever I'm lonely, you're there for my soul
Wherever you are, girl, that's where I call my home
Whenever you doubt it, I'll be lettin' you know
Whoa, girl, I want to be dancin' with you forever
You see through the storm and take me as I am
Baby, it's magic any time that we're together
I make I just love you and hold you for my hand
Hold you for my hand, my hand, my hand
Hold you for my hand, hold you for my hand
---
---
Do you love live music, what makes you like a song? the melody, the lyrics, or something else? and have you been to any concerts? Tell us about the most memorable concert that you have been to.
---
I am not a fan of the public, so I don't like going out either to concerts, clubs, and the like. Neither do I like live music, but I enjoyed viewing music that has been released as I do prefer to have seen or heard the lyrics before I could vibe to the particular song.
I have been to a concert once in 2019, then I was in 200 level, and my school organize a concert called SPLASH, during this concert we have several musicians artists over like Skales, Lil kesh, and Mayorkun, that was the only concert I could recall me being to, and I only watch the occasion from afar as well, as I am not a fan of the crowd.
---
---
Conclsuion
---
Here comes my conclusion on the contest Music For steem, it has been nice so far, I have seen multiple entries and everybody has had great participation in their favorite music, I believe this is a great innovation as well as we get to upload music on youtube and exclusive it for steemit only.
I hereby invite @josepha and @jueco to take part in the contest as well.