THE DIARY GAME: 12/8/2020: THE IGBO DISH
Eating something good as always been what I love but while in Lagos state Nigeria, eating something fresh still seems like a fairy tale. It was not like as bad as this while in Ondo state, Nigeria, continue reading for the full story.
Woke up today and didn't engage in any exercise. I woke up around 6 am and couldn't get up from the bed, I had to lay back down on the bed till around 8 am for the headache to subside.
When it eventually wears off, I freshened up head straight down to mum shop at oshodi, Lagos state. It was while was there that the headache started again, then I settled for using a drug known as paracetamol not I had to eat first. Do I take a bike to Arowojobe street, oshodi, Lagos state to an Igbo restaurant?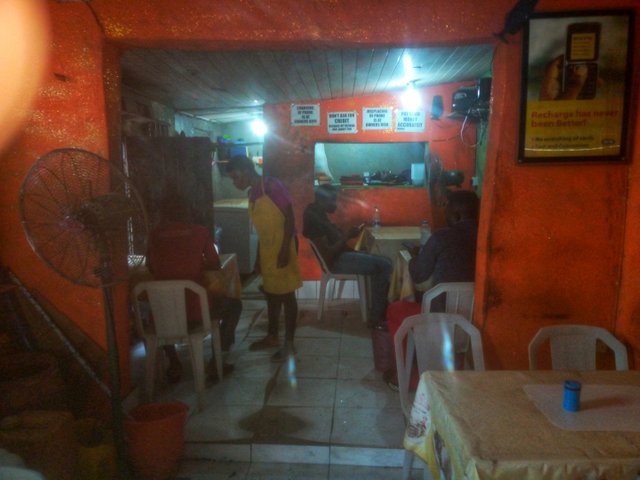 inside of the igbo food canteen at Arowojobe street, lagos state, Nigeria
I entered into the store and asked for the meals available, a long list of swallow [food] was listed plus soup but I settled for fufu and egusi soup with a little bitter leaf soup on it. As soon as the meal was served by the attendant on the table I was seated, I prayed a short prayer before I positioned myself to eat the meal.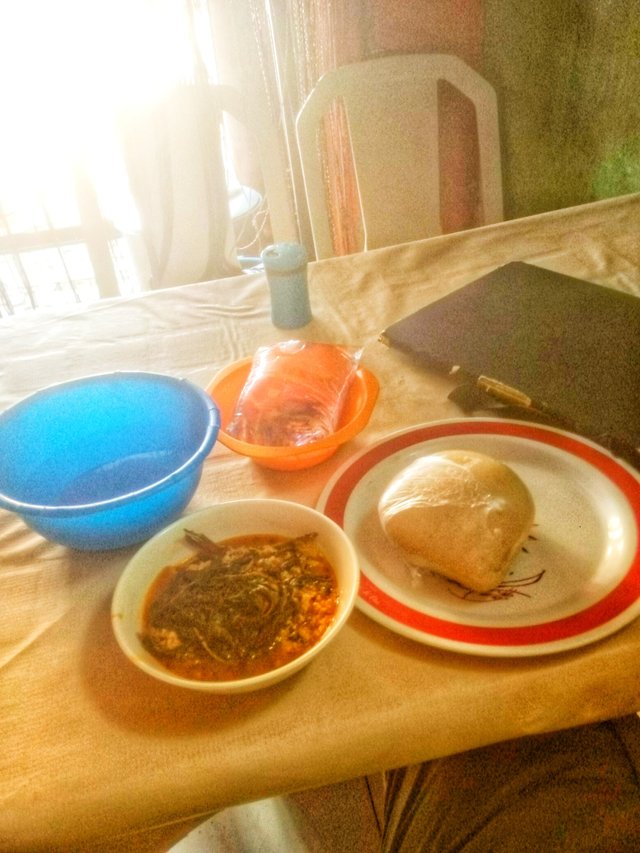 fufu and egusi soup with small bitter leaf at Arowojob Street, oshodi, Lagos state
I really did take my time eating the meal as it was worth the amount spent on it. The food cost 500 naira (5.3 steem) and it would have cost more elsewhere. As soon as I was done, I signal the attendant who served me and paid for the meal.
I relaxed a bit and I could decide to go home to Babatunde banjo street, oshodi, Lagos state. On getting home, it was some minutes past 12, I just went inside and took the paracetamol and some sleeping pills to make rest.
Woke up later at around 7 am but could not step out. Started indoor and pressed my phone until I slept because i wasn't getting better I would have expected. Slept off while pressing my phone.
That was how my day was spent on the 12th of August, 2020. I hope you enjoy reading it.
---
Also throughout the duration of the 50 days #thedairygame, I have set my post payout to 100% steem-power payout
I am part of team #9jafive. A group which consist of Five Nigerians.
---
Thank you @steemitblog, @steemcurator01 and @steemcurator for this diary game challenge
The images were captured by me using my Tecno camon 11 and it was edited with the Snapseed mobile editing application