Welcome To Steemit Tigers , New Community for all the steemians.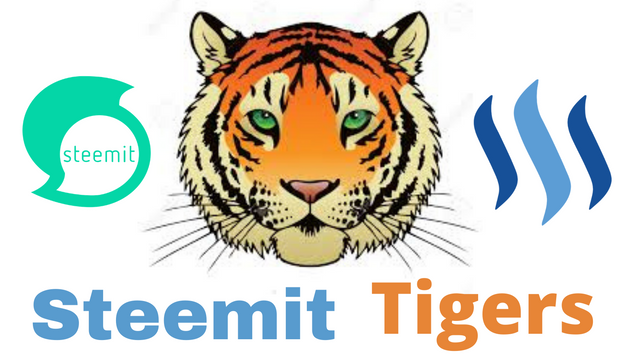 Steemit Tigers Community
Hello @everyone.
I hope you will be enjoying good health. Today i am very excited because i am going to introduce a new community to all of you. Yes New Community for all of you. The name of this community is Steemit Tigers
It is an open community to all #steemit family means to say that for all the steemians. You are free to write in any language which you want, about your own cities or towns, or about the animals in the world which you can easily describe. If you write in English it will be more attractive and efficient.
This community is made to collect all the steemit users at one place who are wandering about like the stray cattle. This is specially made to promote steemit world wide to make it more wonderful and influential in the whole world. You can write here about the animals including their habits,living systems,their food,their shelters,their medicines for cure,their benefits and cares for their and from them. And all other things which you know about them.
But you are not limited to write these things you can write anything which you want and in which you have much interest. It would be very valueable if you share your post with all your original pictures.
Rules
All languages ​​are welcome.
Your content must be original always
Plagiarism is restricted.
If you use any picture which is not yours then it is necessary to give source of that material.
Use these tags according to your topic and #yourcountry tags (in my case it would be #pakistan) but #steemexclusive is must in your first five tags.
Stay in Touch With Us For Further Details
---
---
Comunidad Steemit Tigers
Hola a todos.
Espero que goce de buena salud. Hoy estoy muy emocionado porque voy a presentarles una nueva comunidad a todos ustedes. Sí Nueva comunidad para todos ustedes. El nombre de esta comunidad es Steemit Tigers
Es una comunidad abierta a toda la familia #steemit significa decir eso para todos los steemians. Eres libre de escribir en el idioma que quieras, sobre tus propias ciudades o pueblos, o sobre los animales del mundo que puedas describir fácilmente. Si escribe en inglés le resultará más atractivo y eficaz.
Esta comunidad está hecha para reunir a todos los usuarios de steemit en un lugar que deambulan como el ganado callejero. Esto está hecho especialmente para promover Steemit en todo el mundo y hacerlo más maravilloso e influyente en todo el mundo. Puede escribir aquí sobre los animales, incluidos sus hábitos, sistemas de vida, su alimentación, sus refugios, sus medicinas para la curación, sus beneficios y cuidados para ellos y para ellos. Y todas las demás cosas que sepas sobre ellos.
Pero no te limitas a escribir estas cosas puedes escribir lo que quieras y en lo que tengas mucho interés. Sería muy valioso que compartieras tu publicación con todas tus imágenes originales.
Reglas
Todos los idiomas son bienvenidos.
Tu contenido debe ser original siempre
El plagio está restringido.
Si usa alguna imagen que no sea suya, entonces es necesario que proporcione la fuente de ese material.
Use estas etiquetas de acuerdo con su tema y las etiquetas #yourcountry (en mi caso sería #pakistan) pero #steemexclusive es obligatorio en sus primeras cinco etiquetas.
Manténgase en contacto con nosotros para obtener más detalles
---
---
Cc.
@steemcurator01, @steemitblog
---
CR:
Pakistan ( @rashid001, @hassanabid) Cameroon (@njiatanga), Ghana (@njaywan, @oppongk), Nigeria (@bright-obias, @whitestallion, @beautychicks, @focusnow), Uganda (@yohan2on), Mexico (@leveuf), Argentina (@belenguerra, @fendit), Venezuela (@albenis
@inspiracion, @wilmer1988, @adeljose, @anasuleidy, @edlili24, @mariita52, @tocho2), Bangladesh (@rex-sumon, @tarpan, @toufiq777), India (@neerajkr03, @rishabh99946, @sapwood), Indonesia (@anroja, @ernaerningsih, @nazarul, @radjasalman), Italy (@girolamomarotta), Japan (@cryptokannon), Sri Lanka (@besticofinder, @randulakoralage), Italy (@girolamomarotta), Russia (@filinpaul, @knopka145), Turkey (@alikoc07), Ukraine (@antorv, @olesia) and New Zealand (@kiwiscanfly).