SEC-S5:W3 – The Diary Game with Steem Venezuela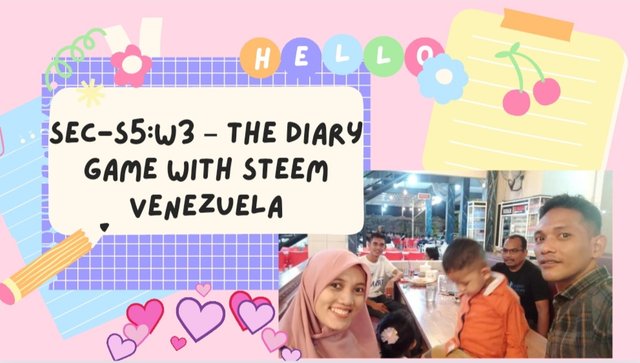 Edited On Canva
Hello all steemian friends wherever you are, may you always be healthy and happy. Today, the theme of The Diary Game for the publication of Steemit Engagement Challenge S5/W3: The Diary Game with Steem Venezuela I write with a lot of love, I will post my daily story today specifically for the Steem Venezuela community. This is my game diary today, happy reading and enjoy every event that will give you a lot of ratings and leave a lot of feelings to convey.
The Diary Game with Steem Venezuela

My mother is a teacher, today is her an official day, she has to go to teach while me and the children stay at home. This morning mom has prepared us breakfast, she never forgets to do it every morning. We had fried rice and hot tea for breakfast as I usually prepare in my house, but her cooking is always better and I really enjoy it.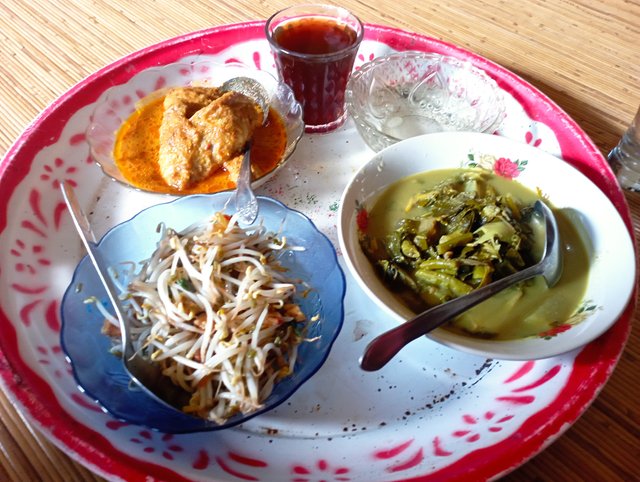 Lunch menu cooked by my mom
During the day I clean my room here, because I will leave it for a long time. I also scrubbed some clothes that I had washed yesterday. Then my husband came and I prepared lunch today that cooked by my mom, there was opor ayam, Kuah Pliek, and also stir-fried bean sprouts and Nescafe brasil coffee which were very good taste, all cooked by my mother, she said that it had been a long time since she cooked it for me and this time she doesn't let me cook, so I just help with whatever she needs. I really love you mom.❤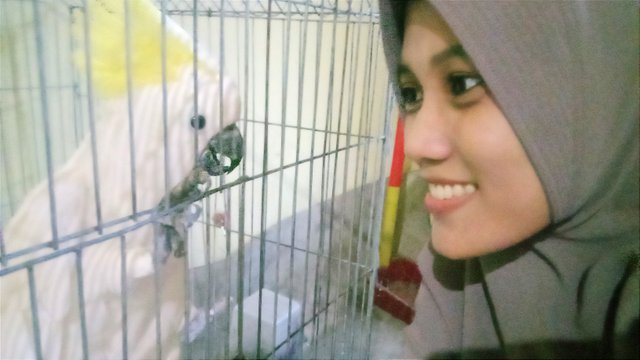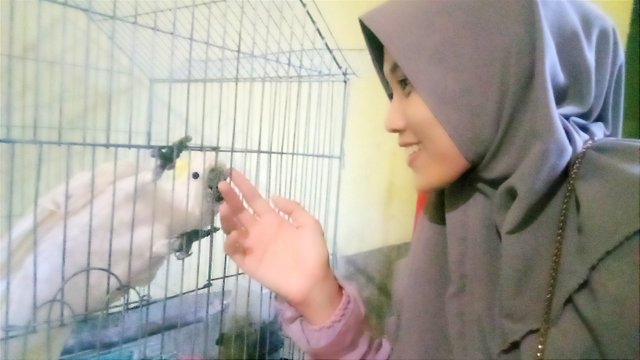 Last meeting with my beloved bird, BoBoiBoy
Before going home I took the time to meet the pet that I love the most, BoBoiBoy, he is a bird that has been our best friend at home for 3 years. Then I also said goodbye to my mother, as well as my little brother who stay home at the moment. The children also asked permission and said goodbye and they became very sad, two days at home seemed like only 2 hours.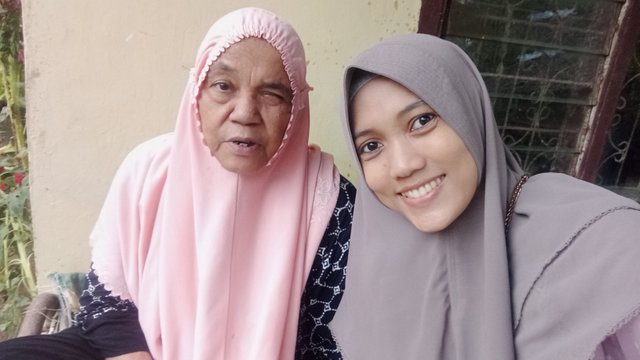 me and my grandma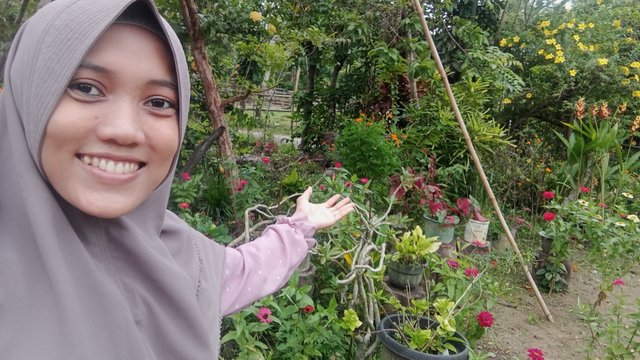 I'm in my grandmother's flower garden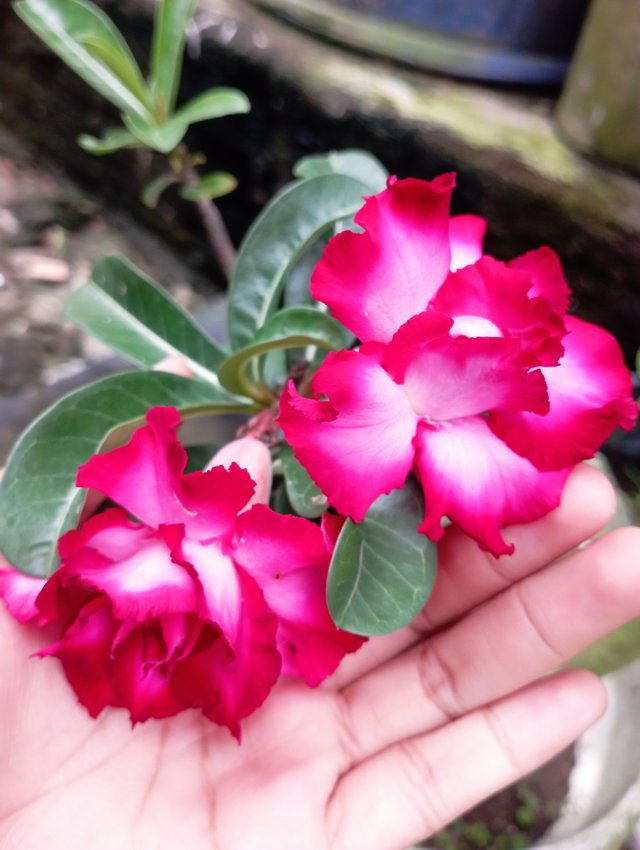 thai frangipani flower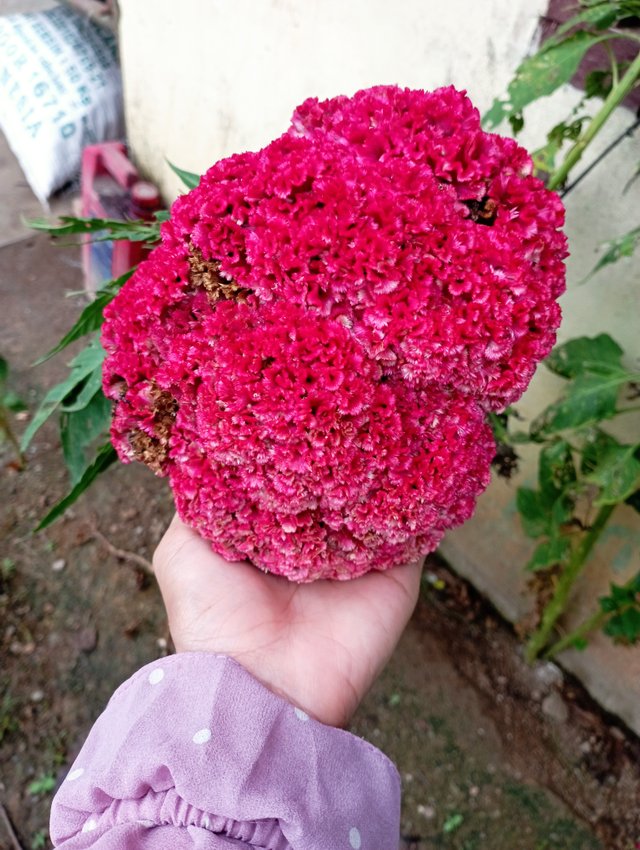 tadpole's comb
In addition, I also take permission and said goodbye to my grandmother who stay in front of her house at that time. Very old grandmother with sore eyes. I lived with her when I was a child. She has a large yard and also a flower garden that has never been without flowers from the past until now. She is very diligent in taking care of her flowers and her expertise is not yet in my soul.
The flowers are blooming beautifully and there is a thai frangipani that is blooming, I captured it because it looks very beautiful, besides that the red color makes my eyes look inseparable from it. In addition there is also a velvet chicken perch that is giant, even twice the size of my hand. Everything is very beautiful. I picked a few but still chose a few. Ah, I'm interested in and in love with the plant world but I don't have any action for it yet.
buy cake at Annisa Bakery
https://what3words.com/santun.paykan.dimengerti
---
After that my husband and I went to buy cakes to visit a sick relative. We bought a cake at the Annisa Bakery shop in Punteut. After that we visited our relatives in the village, there we were greeted in a friendly manner, especially with children. He told how the chronology of his admission to the hospital, he suffered from cancer that was shaped like a lump of flesh in his hand which was getting bigger and bigger until it burst, this is not classified as malignant cancer.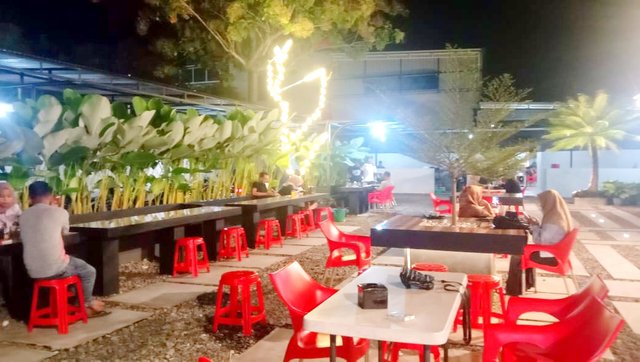 Ghattaf Restaurant's outdoor atmosphere
https://what3words.com/sepsis.ditiupkan.berenergi
---
After that I went home and I cleaned myself up. Feeling tired during the 1 hour journey makes the body very weak. My husband took me to dinner at Resto Ghattaf which is in Teupin Punti. Instantly my spirit returned and I did not change my clothes, only my hijab.
After a while getting ready, our family left, the clock showed 9 pm, even though it was late, we were very happy. We arrived a few minutes later, the atmosphere was already crowded and we chose to sit in the outdoor section of the facilities here. Everything is so beautiful, I was blown away by the interior design here, as well as the street filled with lights below.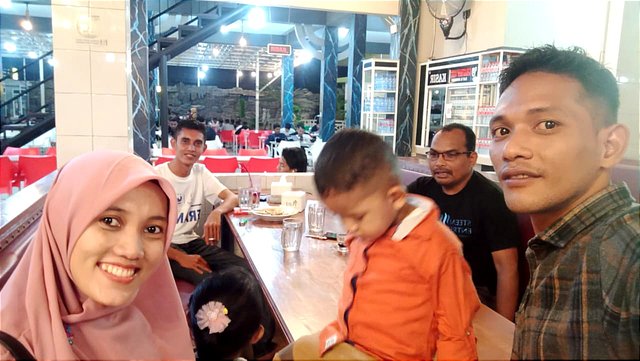 meet other steemian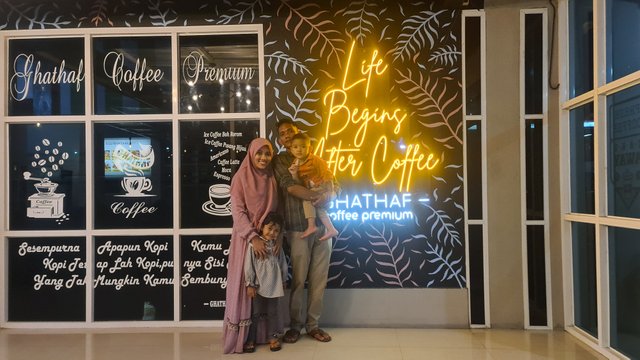 iconic spot photo at Ghattaf Coffee and Resto Premium
When I was going home, I was surprised to see two other steemian @klen.civil @moer were here, we greeted them briefly and chatted, especially if it wasn't about steemit, about increasing CSI voting and also improving writing quality. A brief but meaningful meeting.
After that we took selfies and then we went home, remembering this is the time for the children to sleep and release their tiredness. Before going to bed, as usual, wash your hands and feet and read a sleep prayer before going to bed so that safety and blessings are always with you.
Until here, the story of my game diary with **Game Diary with Steem Venezuela**, for me The diary game is a routine that is done with all my heart, passion, love and dedication that is poured out through writing in real form. So this is a work and also a reminder that our days are passed with many blessings from the Creator.

Let's talk about the dynamics of thediarygame, tell us if you have published diaries, do you think it is a good option for a blogger?
The diary game is a life journey that is packaged in stages (morning, afternoon, evening). The activities carried out are full of enthusiasm and drain a lot of emotions. The beginning of my journey in steemit began by writing a game diary, because I thought that it would hone my writing little by little and I would be able to tell it better because the days that I had spent I devoted in an article.
For me, writing a diary game has given me a lot of positive things, I can improve my writing and get a lot of real lessons from other friends' writings, whether it's how to make food recipes, make crafts, or get a lot of inspiration, education and experience valuable from the experience of others.

What positive aspects can be taken from the publications related to thediarygame?
Everything is positive! The diary game diaries that have been written by friends make everything more real, simple, full of action, funny events, caring for animals and caring for plants, full of meaning and the impression conveyed is also very useful.
Beautiful things to say with love and make lessons for others as well as good aspects and norms to convey.

As you have seen the development of those who usually participate in the diarygame dynamics
From what I have seen and experienced myself, the dynamics of the diary game has provided a more specific container and it provides a more detailed picture of what is going on.in. These details will affect many other things such as better conveyed emotions, improving writing skills on a better theme.
Currently, the publication of the diary game has provided many improvements, both in terms of the choice of words and images to be published. Polite words and beautiful pictures have supported countless publications of game diaries as a whole. By continuing to write regularly in his diary, it will increase and I feel it myself.
In my opinion, there is a very unique advantage in writing a diary where this unique thing gives a high allure, simplicity and also spontaneous activities carried out. I hope that game diaries continue to be published, maybe with season 4.

I would like to invite my friends to participate in publishing the entry here @sailawana @fantvwiki @alee75 @f2i5 @safridafatih
Thank you also for supporting me at every opportunity, greetings
From your friends
❤
ABOUT ME
Where there is a Will there is a Way




Greeting friends!

<br