the diary game 05/05/2021 - Viaje con mi tropa para Araya por @centenojesus
Querido diario, este día casi no dormi preparando los ultimos detalles del viaje familiar, nos despertamos a las 3 am terminamos de embalar todo y nos fuimos al paraíso.
Dear diary, this day I hardly slept preparing the last details of the family trip, we woke up at 3 am we finished packing everything and we went to paradise.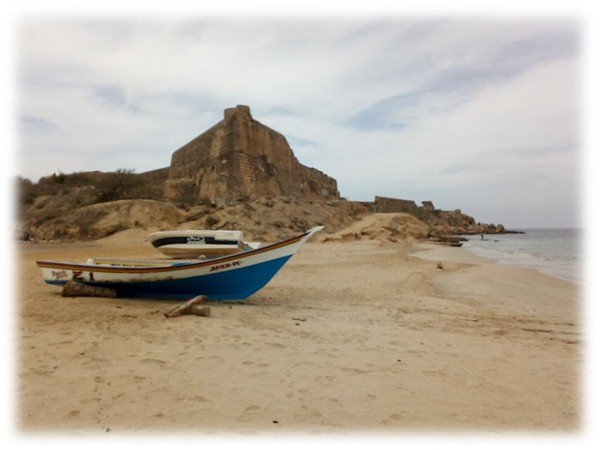 Nuestro viaje desde Cumanà con destino a Araya por mar, en el ferry "La palita", la unica embarcacion de carga vehicular que viaja a diario de Cumanà a Araya hasta en semanas radicales.
Our trip from Cumanà to Araya by sea, on the ferry "La palita", the only vehicular cargo vessel that travels daily from Cumanà to Araya even in radical weeks.
Aquí estamos a primera hora 4:30 am para asegurar nuestro boleto de salida.
Here we are at 4:30 am to secure our departure ticket.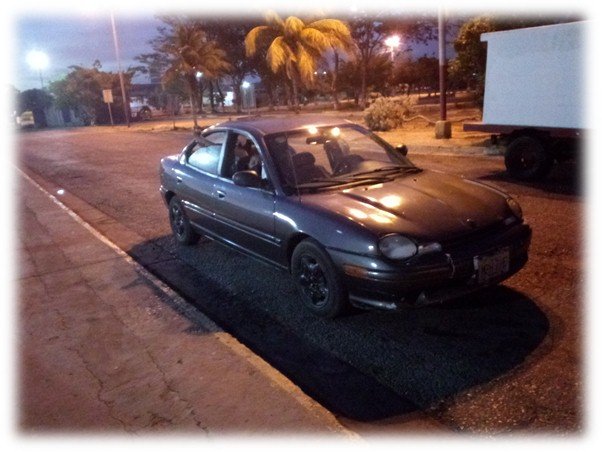 Entre fotos salio el sol.
between photos the sun came out.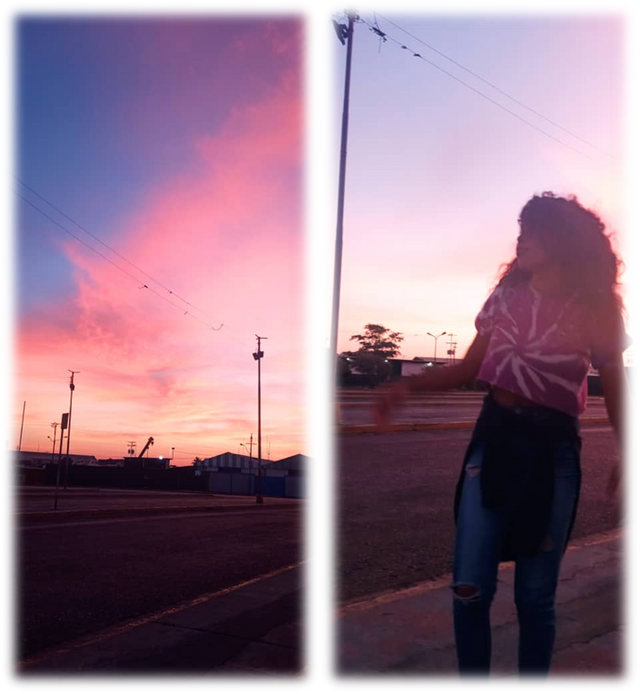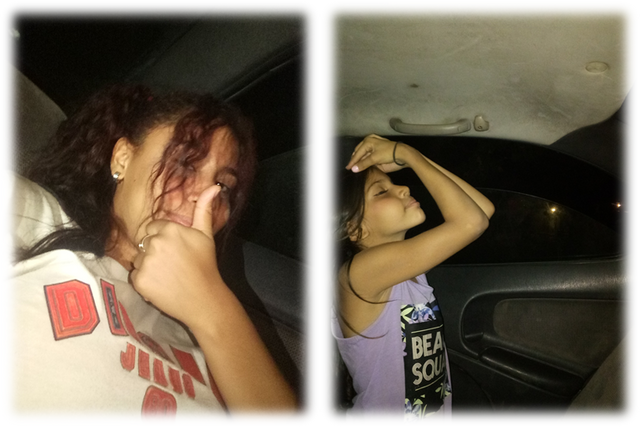 Fue a las 8 am que nos dieron el ticket para cancelar y abordar, lo que demoro casi una hora. ahi se ve las embarcaciones.
It was at 8 am that they gave us the ticket to cancel and board, which took almost an hour. there you can see the boats.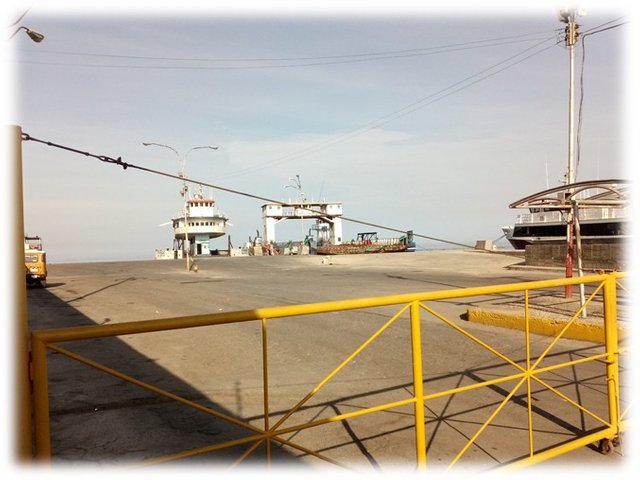 Aquí estamos de primeritos para abordar, pero al final nos metieron de ultimo porque primero meten las cargas pesadas y al final en la punta de la palita meten los carros pequeños.
Here we are at first to board, but in the end they put us in last because first they put the heavy loads and at the end they put the small cars at the tip of the paddle.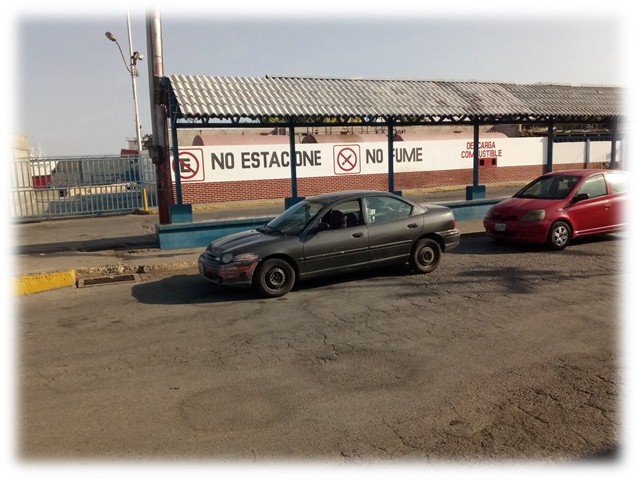 Esta fue la majestuosa vista que nos permitió ser el ultimo vehículo en abordar.
This was the majestic view that allowed us to be the last vehicle to board.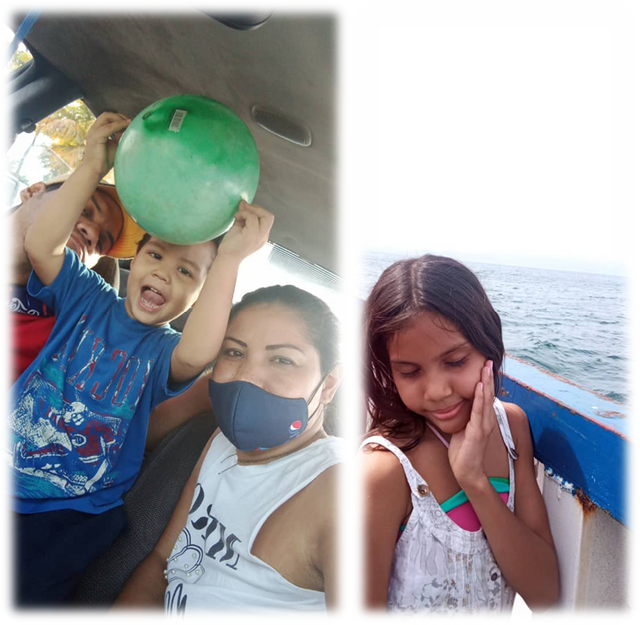 En poco mas de una hora navegando hicimos llegada a Araya y sin pensarlo dos veces y mi tropa ya con trajes de baño listos nos fuimos a la playa del castillo, que por cierto no había ni un alma, prácticamente le regale a mi tropa una playa VIP jejeje. Esta foto panorámica no tiene precio.
In just over an hour sailing we arrived at Araya and without thinking twice and my troop, already with swimsuits ready, we went to the castle beach, which by the way there was not a soul, I practically gave my troop a beach VIP hehehe. This panoramic photo is priceless.

Hasta estacionamiento privado con sombra consegui. jejeje. que dia tan especial.
I even got private shaded parking. Hahaha. what a special day

El paisaje se torno increíble, lo cristalino del agua dejaba ver la sombra en el fondo de la helada playa. Al principio el sol no estaba tan fuerte pero después reventó como es normal.
The landscape became incredible, the crystalline water revealed the shadow at the bottom of the frozen beach. At first the sun was not so strong but then it burst as normal.

Mientras estabamos en la playa la palita cargo y retorno a Cumanà, aqui le tomamos una foto para el recuerdo.
while we were on the beach the palita cargo and return to Cumanà, here we take a photo to remember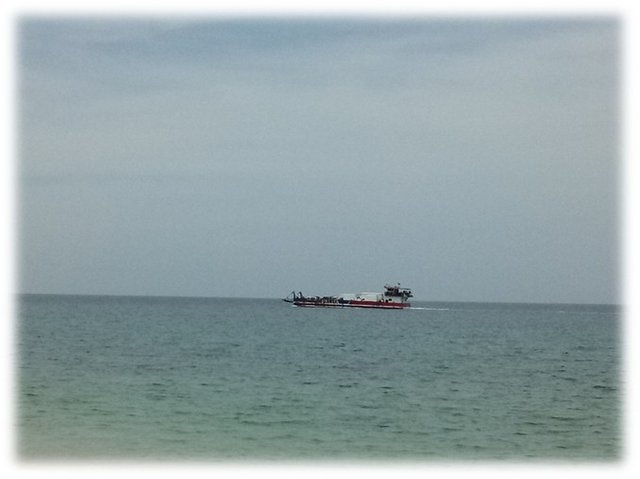 Reímos, jugamos, comimos y nos desestresamos, un día muy feliz y que mejor que ver a mi tropa contenta. en esta foto estoy modo "Super papà orgulloso"
We laughed, we played, we ate and we de-stressed, a very happy day and what better than to see my troop happy. in this photo I am mode "Super dad proud"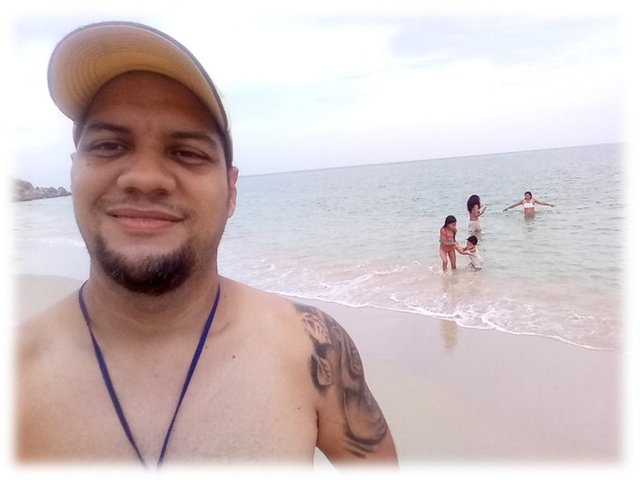 Aquí una selfie con mi novia mía mía mía.
Here a selfie with my girlfriend mine mine.

La sesión de fotos jejeje.
The photoshoot hehehe.
Isabella y Daniela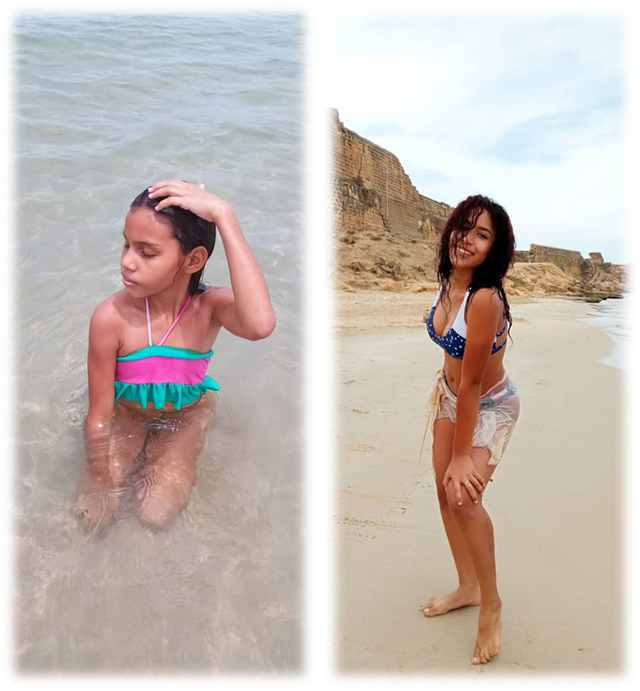 Daniela e Isabella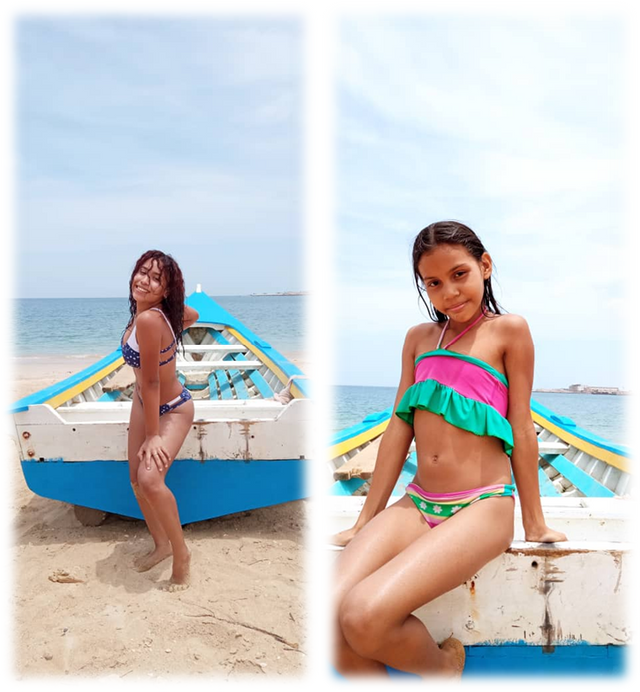 Fabricio Alejandro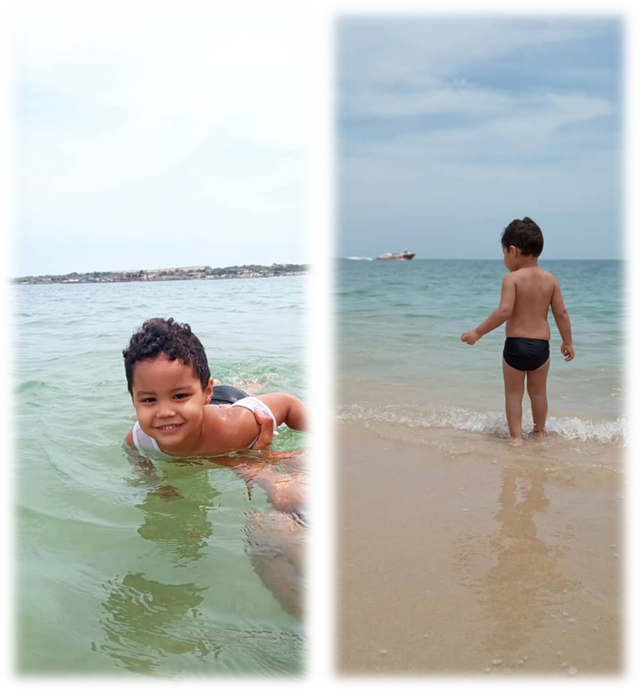 Mamita y Papito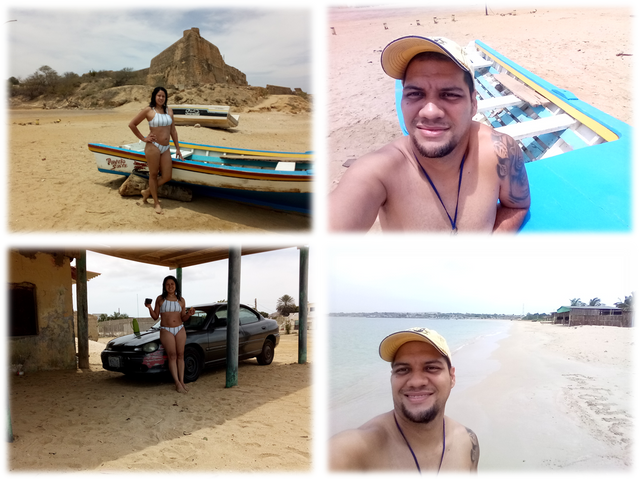 Todo fluyo de una manera tan natural y divertida que no dio tiempo de tantas fotos, pero las que tomamos alcanzaron para mostrarles lo bonito de esta playa.
Everything flowed in such a natural and fun way that there was no time for so many photos, but the ones we took were enough to show you how beautiful this beach is.
En esta selfie se observa el castillo de Araya.
In this selfie you can see the castle of Araya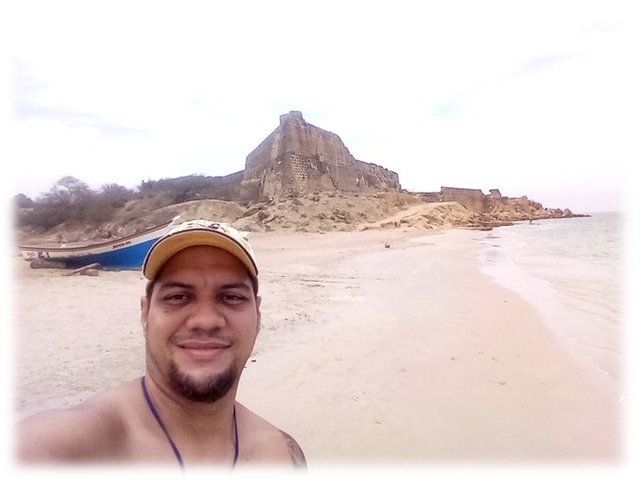 Después de un majestuoso e interesante día viajamos a un pueblo que queda a media hora de Araya que se llama "El Guamache", que es donde tengo familia y actualmente recide mi papa. Espero que sea de su agrado esta publicacion y no se limiten a compartir con su familia porque cuando pasa el tiempo lo que nos queda son los hermosos recuerdos de lo que vivimos.
After a majestic and interesting day we traveled to a town that is half an hour from Araya called "El Guamache", which is where I have family and my father currently resides. I hope you like this publication and do not limit yourself to sharing with your family because when time passes what we have are the beautiful memories of what we lived through.
saludos a todos, deseo que estén bien.
greetings to all, I wish you are well