BITCOIN ANALYSIS ON 07/06 - PARADIGM BROKEN?
Bitcoin #BTCUSDT had a slight rebound on Sunday after the previous two days of declines. From a technical analysis perspective, there is a signal of a short-term recovery for #BTCUSDT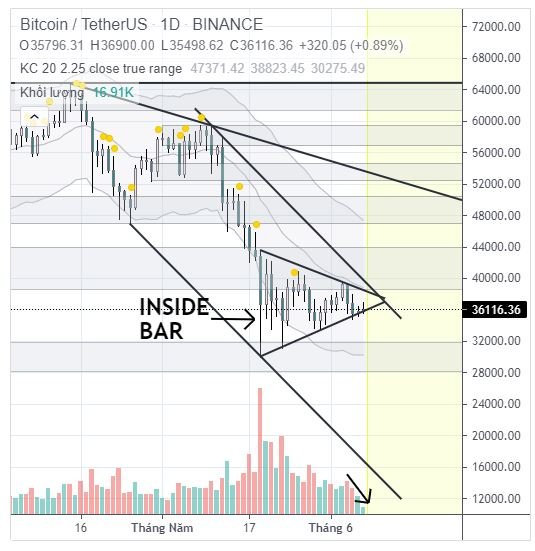 Bitcoin 1 day frame analysis - 1D
The 2-day consecutive decline last week was stopped on Sunday with a small bullish candle formed. This candle acts as the NR - Narrow Range bar - showing that the price is falling into a low volatility state - low volatility - which can create a bounce in the near future.
The volume during the recent decline also decreased, showing that the Bears (sells) were not able to accelerate the bearish momentum and did not have much response in this bearish phase.
Overall, #BTCUSDT is still in the mainstream downtrend and is currently accumulating - in a Symmetrical Triangle. The fact that #BTCUSDT is approaching the peak - apex - of the pattern could lead to a volatility expansion - in the near term.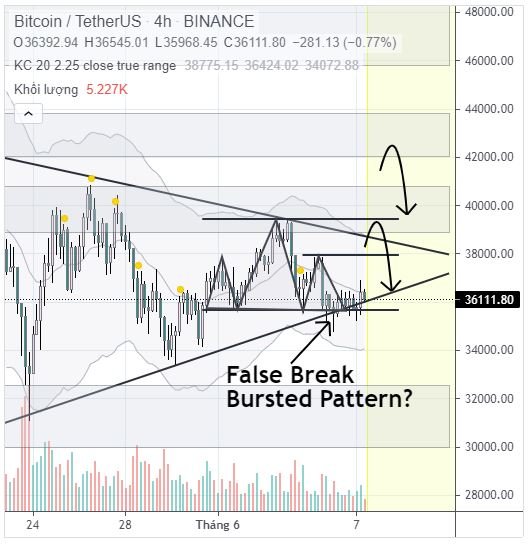 Bitcoin analysis 4 hours frame -4H
The head and shoulders pattern - formed on H4 and #BTCUSDT broke down to the neckline - neckline - but failed to close below this zone and closed below the trendline - trendline - diagonal up below. , causing a false break. This false breakout of price behavior can cause the Head and Shoulders pattern to become a broken pattern - bursted pattern - and cause the price to bounce back up. The broken pattern will be complete if the price breaks above the right shoulder of the pattern. The price target could then be the head region of the pattern.
Conclude
#BTCUSDT is still in accumulation phase at D1 after downtrend. The longer the accumulation, the larger the upcoming price movement is likely to be.
H4 has the potential to form a bursted pattern - after a false break below the neckline and trendline. This technical factor could provide short-term bullish momentum for #BTCUSDT. However, the overhead resistance is still strong.
Note that this article reflects personal opinion, not investment advice.
Wishing you a very successful new week
---

RESTEEM
this post I will respond with upvote on
your blog
. Upvote may not appear right away and hopefully your blog isn't empty :)
Connect with me on other foundation
facebook || youtube || twitter || blogger || wordpress || d.tube || minds || reddit || linkedin || tumblr || instagram
🔥🔥🔥

Follow ME to get more interesting things in the future. If you are on HIVE.BLOG please don't forget me

💰💰💰

If you want to earn more rewards with your Steemit account, you can refer to the ways from

this post


Recent posts