Club5050 Tool Update | Transfer History Added | Steemcryptic Updated To Version 3.2.5!!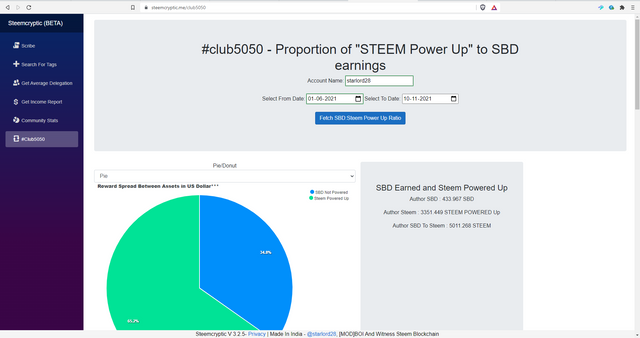 Club5050 Tool in Action
Hey all. So, I have added a new feature to the club5050 tool on steemcryptic. You will now be able to view the transfers of liquid assets made by any user between the said period. This helps all community admins and the moderators know how many liquid funds are cashed out by numerous users. You can access the tool by heading over to
https://www.steemcryptic.me/club5050
Let me now walk you through the reason behind why I added this feature.
Problem:
#club505 has been one of the most used tools on Steemcryptic and I'm really happy to see so many of you using it to actively check your account's status and make the necessary changes. Some of the users contacted me over discord to inform me that they run giveaways to contests, for which they use their author rewards.
However, there's no way for Steemcryptic to know if the user is actually giving Steem to the winners of a contest or just cashing it out to an exchange/ transferring to alt accounts.
This is where the new transfer history on #club5050 tool comes in very handy.
Solution: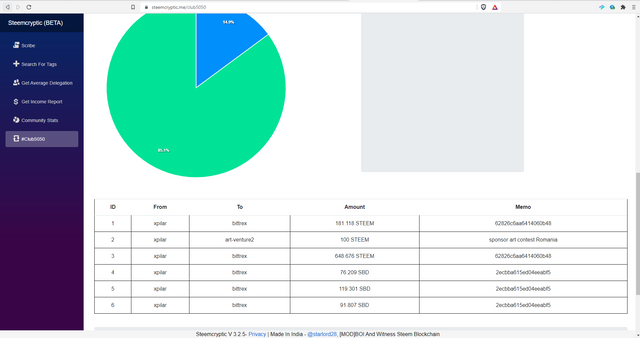 This is what the transfer history looks like
Using the SDS transfer API by
@steemchiller
, I was able to fetch all the transfers made from a particular account. This list is then rendered below the two pie charts. This would help give anyone a fair bit of idea regarding how often a particular user cashes out his rewards.
While I did consider adding the exchange accounts onto a constant list to determine if the transfer was made to an exchange or not. However, there was still no way for me to know if the transfer was made to alt accounts for contest winners. This is why I feel the transfer table makes much more sense.
Currently, transfers made from exchange to your account are not visible. I believe that the powerup metric provides sufficient data to know if any funds were transferred from an exchange.
Future Updates and Developments:
So, Steemcryptic is running quite smoothly the last few days. This stability of the tool gives me a lot of time to work on some other developments here on Steem.
Like many of you know, I have been working on my first DApp for the platform. The development there has been going quite smoothly. I am at a point to say that my DApp would definitely be live towards the end of November or the First week of December.
I would be running a lot of tests to ensure everything is working as expected. Since these tests don't really add any value to the platform itself, I decided to run them on another account called @lordbot. I made that decision because it seems like a few users have scheduled auto vote on my posts and a Test post clearly does not deserve any payout. By having it on my testing account, no one's VP would be wasted either. So, it's a win-win situation.
Also, I would like to thank all my supporters who have voted for me as their witness. If you do want to support my work further(and haven't voted me yet), please do consider voting me as your witness by heading over to https://steemitwallet.com/~witnesses and voting starlord28 as your witness. Currently, I'm ranked 47 on this list.