Panther Quant -$PNTQ- First Blockchain based Revolutionary Algo Trading Platform | Artificial Intelligence Based Sentiment Analysis | First ever 'Functional' NFT marketplace.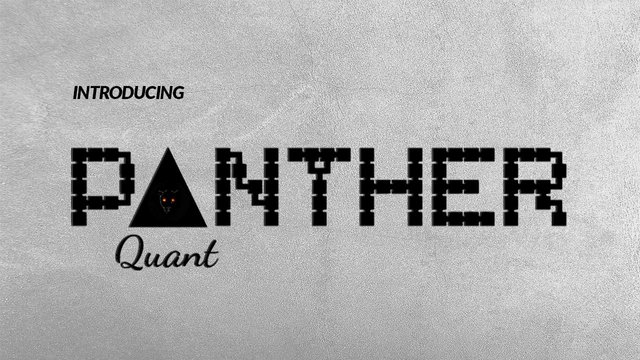 Panther Quant - $PNTQ : First highly revolutionary Algo-Trading platform built on the Binance Smart Chain to use A.I. based Sentiment Analysis of the live Crypto Market & much more.
The First highly revolutionary Algo-Trading platform built on blockchain technology- "Panther Quant", is coming to guard your exposure in the crypto markets.
Panther Quant is Artificial Intelligence -based Sentiment Analyzer of the live crypto market that provides actionable insights around crypto markets.
The crypto market is largely driven by sentiment. As it has ballooned in the past one year, the valuation of the entire crypto industry has jumped to over $2.2T in market cap from a mere $350B in mid-2020. There is no doubt that there is an increasing number of investors that have jumped aboard the crypto bandwagon. With the launch of various financial products like ETFs, there is now an ever-increasing interest in the space. While every trader/investor is here to maximize their profits and hedge against inflation, there is a problem.
The crypto market is largely driven by sentiments of crypto traders than concrete fundamentals. This also adds to being one of the reasons for the Highly Volatile nature of the Crypto market !
This is where Panther Quant comes in !
The Need for Sentiment Analysis
Our platform is being launched with one clear objective — to provide our users with actionable insights on the prevailing sentiments in the market. In that pursuit, we use high-quality AI bots that scan the market and the news on various websites like CoinDesk, Twitter, CoinTelegraph, Messari among others to look for the ongoing sentiment on the chosen assets. Users can leverage this information to craft their trading strategies.
What does Panther Quant Offer ?
Here are the most noticeable features that Panther Quant offers.
Back-testing Strategy Based on Historical Data: Users have the option to backtest their strategy on historical data, which will be provided by our platform.
Hyper-Optimize Your Trading Strategy: Once you have had a chance to look at the historical data, you can easily optimize your trading strategy to squeeze the most out of it in the current market conditions. At this stage, you can easily calculate the risk-reward ratio per the data analyzed.
Dry Run on Live Market: Once the trading strategy is completely optimized, then it can easily be dry run on the market. This is where real-time sentiment analysis (on the trading pairs identified by the users previously) will be done. Based on that data, you will be suggested the top trading pairs at that given instant in the market.
But, What Makes Panther Quant "Unique" !?
You might ask, there are hundreds of trading bots out there — so what is unique about Panther Quant ?
Well, pretty much Everything! We provide you with real-time data on the prevailing sentiment of the market. This helps you craft top-notch and high profit grossing trading strategies. You have the option to stress-test these strategies within a live market (or even do a dry run for it).
Panther Quant X- Factor : Create an NFT of Your Trading Strategy
Yes, it is true. And we know that this is something that you have probably never heard of before. With Panther, you have the option to create an NFT of your favorite and/or most successful trading strategies. Once you have stress-tested your strategies in all markets and have made consistent profits from it, you can simply tokenize that strategy and Sell/Lease/Auction it to fellow traders on our platform. Panther will guide you throughout the process of creating an NFT of your strategy.
When was the last time you heard about a functional NFT of trading strategies? Probably never!
Follow Panther Quant on their official social media handles only and do not miss any important announcements !
Twitter : https://twitter.com/PantherQuant
Telegram Group : https://telegram.me/PantherQuant
Telegram Channel : https://telegram.me/PantherQuantAnn
Website : https://pantherquant.io (Website going live on 25th Oct, Monday)
"Panther Quant is going to be one of the most transformative and cathartic experience in the Crypto space !"