Anuncio Oficial: Cotina, el Witness de la Comunidad Latina | Anúncio oficial: Cotina, a Witness da comunidade latina | Official Announcement: Cotina, the Witness of the Latino Community [ESP-ENG-PORT]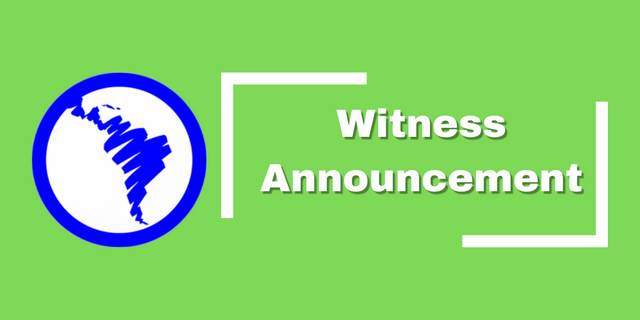 ESP
---
Saludos,
Estamos más que felices de finalmente anunciar el Witness oficial de Comunidad Latina, que es algo que hemos estado planeando desde hace bastante tiempo. La iniciativa es solo otra forma de consolidar nuestra participación en la mejora de Steem, además de nuestro compromiso de construir una comunidad auto-sustentable y con visión de futuro para los creadores de contenido latino. No queremos ser una comunidad que tenga como objetivo explotar el valor del Steem Blockchain, sino una comunidad que pueda explorar e innovar y, al mismo tiempo, apoyar plataformas que están desempeñando un papel importante para facilitar las interacciones de los usuarios.
---
Nuestras metas
Convertirnos en el primer Witness que representará los intereses de la comunidad latina.
Aunque entendemos que existe un aspecto económico al usar el Steem Blockchain, iniciar un nodo witness también tiene como objetivo apoyar los esfuerzos de la comunidad para asegurar y descentralizar nuestro blockchain, además de salvaguardar los intereses de los que poseen el token Steem.
Tomamos un gran interés en promover el Steem blockchain en el mundo exterior y tenemos la intención de promover la expansión del Steem en el futuro mediante la organización de eventos.
Incorporar a los usuarios latinos y hacer lo que podamos para mantenerlos como usuarios activos y de calidad en Steemit, además de abordar el camino hacia la auto sustentabilidad de ** Comunidad Latina ** para asegurar su longevidad.
---
Especificaciones del servidor
  8 núcleos de vCPU
  30 GB de RAM
  SSD de 800 GB
  Puerto de 600 Mbit / s
  Tráfico de 32 TB (100 Mbit / s)
  Tráfico entrante ilimitado
  https://contabo.com

---
Cómo puedes apoyarnos
Si desea votar por nuestro witness, puede usar SteemLogin siguiendo este enlace o usar SteemitWallet.

Gracias por su apoyo y nos vemos pronto.
PORT
---
Saudações,
Estamos mais do que felizes em finalmente anunciar a Testemunha oficial da ** Comunidade Latina **, que é algo que planejamos há algum tempo. A iniciativa é apenas mais uma forma de solidificar nosso envolvimento na melhoria do Steem, além de nosso compromisso em construir uma comunidade com visão de futuro e autossustentável para criadores de conteúdo latinos. Não queremos ser uma comunidade que visa explorar o valor do Steem Blockchain, mas sim uma comunidade que pode explorar e inovar e, ao mesmo tempo, apoiar plataformas que desempenham um papel importante na facilitação das interações do usuário.
---
Nossos objetivos
Torne-se a primeira Testemunha que representará os interesses da comunidade latina.
Embora entendamos que há um aspecto econômico em usar o Steem Blockchain, iniciar um nó de testemunha também visa apoiar os esforços da comunidade para proteger e descentralizar nosso blockchain, além de proteger os interesses daqueles que possuem o token Steem.
Temos grande interesse em promover a blockchain Steem no mundo exterior e pretendemos promover a expansão da Steem no futuro através da organização de eventos.
Incorporar os usuários latinos e fazer o que estiver ao nosso alcance para mantê-los como usuários ativos e de qualidade no Steemit, além de abordar o caminho da autossustentabilidade da ** Comunidade Latina ** para garantir sua longevidade.
---
Especificações do servidor
  8 núcleos vCPU
  30 GB de RAM
  SSD de 800GB
  Porta 600 Mbit / s
  Tráfego de 32 TB (100 Mbit / s)
  Tráfego de entrada ilimitado
  https://contabo.com

---
Como você pode nos apoiar
Se quiser votar em nossa testemunha, você pode usar SteemLogin seguindo este link ou usar SteemitWallet.

Obrigado pelo seu apoio e nos veremos em breve.
ENG
---
Greetings,
We are more than happy to finally announce the official witness of Comunidad Latina which is something that we have been planning for quite some time now. The initiative is just another way to consolidate our involvement in the improvement of Steem in addition to our commitment to building a sustainable and forward-thinking community for the Latino content creators. We do not want to be a community that aims to extract value from the Steem blockchain, but a community that can explore and innovate and at the same time, and support platforms that are playing a major role in facilitating the interactions of users with the Steem blockchain such as Steemit.
---
Our Goals
Becoming the first witness that will represent the interests of the Latino community.
Even tho we understand that there is an economical aspect of operating on Steem, starting a witness node also aims to support the community's efforts to secure and decentralize the Steem blockchain in addition to safeguarding the interests of the Steem stack holders.
We took a high interest in promoting the Steem blockchain to the outside world and we are intended to follow up in the future by organizing events and do sorties.
Onboarding Latino users and do what we can to retain them on Steemit in addition to paving a way toward sustainability for Comunidad Latina to ensure its longevity.
---
Server Specs
  8 vCPU Cores
  30 GB RAM
  800 GB SSD
  600 Mbit/s Port
  32 TB Traffic (100 Mbit/s)
  Unlimited Incoming Traffic
  https://contabo.com

---
How you can support us
If you want to vote for our witness, you can either use SteemLogin by following this link, or use SteemitWallet.

Thank you for your support and see you soon,