Go for your crush, It's Worth It!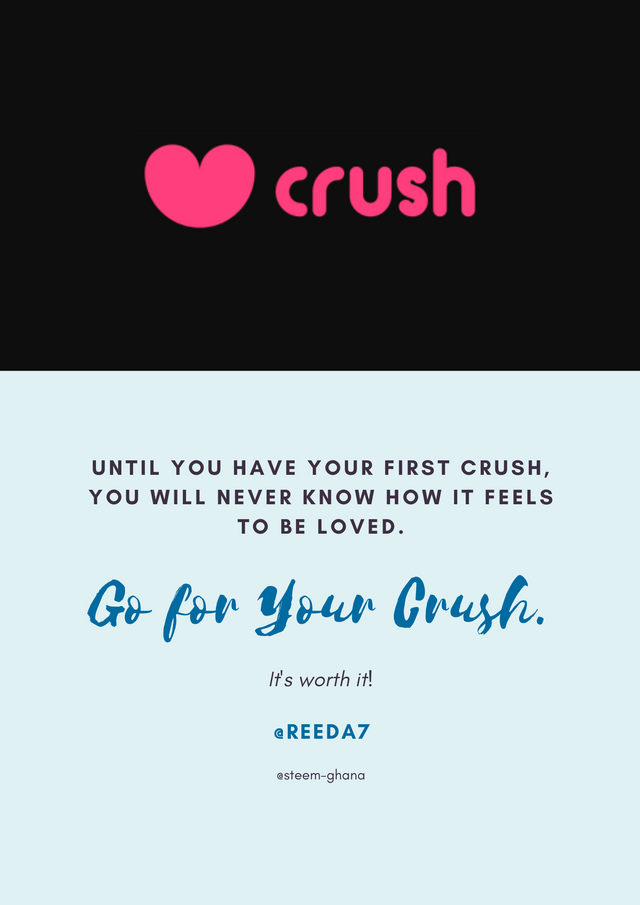 Thanks, @reeda7 for giving me this humble opportunity to express my views on crush. Listening to my words carefully. It's written down, but I believe you can hear my voice while reading.

Crush is a basic matter that plays a major role in love. Many have different ideas about it. from my favorite poet who says "It takes a minute to get a crush from someone, an hour to like someone, and a day to love someone. But it takes a lifetime to forget someone." This is telling us that, no matter how true your love is, it will first start from crushing on that individual. So how will you know it's love or just a mere crush.

When I had my first crush. It stayed with me for years. I kept it within me and it woke me up every single day. I yearned for that individual but I said, it's just a crush. Not knowing it was love. love came in when I and the crush. From how I interacted with her to how we stayed free with each other, the furnace of love set in. I couldn't control myself anytime I was around her. That was when I said to myself, "A crush is worth having. And until you have a crush you will never know how love feels like."

Crush is real and that's the beginning of love. When you come to know you have a crush on someone, it tells you to adore everything about that being and you wish to just stay close to them. This is when you feel you have a great day anytime you have a chance to hear or see them.

Crushing on someone isn't lust. It tells us we are humans. It gets us ready to get into the world of love. When you don't know how love feels like how do you keep it when you finally have it in your hands? That's what crush does. It serves as the starter of love and helps us grow in the field of love to find our soul mates.

Your crush can be your love. It's a matter of how well you position yourself to access that gift. Give yourself the time to make your mind relax and allow your heart to decide for you. Because when it comes to love, the heart is the master planner.

@reeda7
, crush and crush well. One thing you have to remember is, the person you are crushing on, can be the one you have been waiting for. Make sure you evaluate that person well to make a good decision. When it comes to love, it heals the world when we choose the best and destroys it when we don't make the best of decisions.
Choose your crush well, and go for him. There is no harm in trying dear.